The Beginner's How-To Guide for Ecommerce Packaging and Shipping
As a small or new business, eCommerce packaging and shipping may be one of the last things on your mind. After all, you're already thinking about your products, marketing your business, optimizing your website, posting on social media—AKA all the things. 
So, we totally get it if you've put product packaging and shipping on the backburner. 
However, these processes are crucial, especially for small businesses. Why? Because they're the foundation of everything you do as an online store. 
In a world where 72% of consumers consider packaging a vital part of their buying decision, you can no longer afford to ignore it. On top of that, 49% of shoppers are willing to spend more if the packaging is well done. 
So, paying close attention to product packaging can actually have a positive impact on your bottom line. 
When it comes to shipping, having effective processes in place can help you guarantee delivery dates and save money on shipping fees, which are both a win-win for everyone. 
Now, the big question is how to develop "big-business" eCommerce packaging and shipping processes as a small business. It's not always straightforward, so we created this guide to walk you through everything from start to finish. 
Let's dive in!
Step One

: Professional Packaging Design
Whether you plan on designing your product packaging yourself or outsourcing it to the pros, there are a few things you need to do before you can kick off the design process. 
First, you need to document your brand, colors, fonts, and assets. It helps to combine everything you have into one document you (or your designer) can reference throughout the project. Doing this ensures the end product matches your brand. 
If you don't have a brand or logo just yet, 99designs is an excellent (and affordable) way to hire a professional logo designer without breaking the bank. You can either hire a designer directly or start a contest to get various logo concepts and ideas. 
Alternatively, you can choose Dox.Design for packaging design or head over to Looka Design to leverage the power of AI and DIY for a professional logo and complete branding kit. 
From there, you have to decide what type of packaging you should use. This heavily depends on the product, but the most popular options are shipping boxes, mailer boxes, rigid mailers, or flexible packaging. 
However, it's crucial to make sure your products make it to their destination in one piece. 
It's not uncommon for boxes to get tossed around, dropped on the ground, or exposed to elements like rain and snow. While you can't always control what happens, you can help reduce product damage by being thoughtful of the packaging you choose, especially if you're shipping fragile items. 
The next step is measuring your product and all the extras you plan to include inside the package. 
This gives you a better idea of packaging dimensions, so you or your designer know how much real estate you have to work with. 
If you need help deciding which size is right for your products, we recommend checking out our How To Measure page. It covers everything you need to know and there's even a user-friendly box size calculator to make the process as easy as possible.
The good news is that custom-sized boxes also help you save money and are easy to order. 
Lastly, you need to understand the message you want to portray with your packaging. Knowing and communicating this will help you (or your designer) stay focused. 
To recap, you should do all of the following before kicking off the design process:
Document your branding assets

Decide what type of packaging you want to use

Know the dimensions of your packaging

Understand the message you want to portray
Now that you have all of your t's crossed and your i's dotted, we can move on to the actual process of designing your product packaging. There are two options: you can either design it yourself or hire someone to do it for you. 
One isn't better than the other. The right option for you depends on your budget, the amount of time you have, your expectations, and your skill level.
Option 1: The "Design It Yourself" Method
The DIY method is better suited for anyone with a keen eye for good design and a decent amount of time dedicated to the project. 
Doing it yourself is much cheaper than hiring a designer but can be incredibly frustrating and result in poor packaging design if you're not sure what you're doing. 
However, you can always try doing it yourself first. If you're unhappy with your DIY efforts or run out of time, you can then outsource it to a professional packaging designer (which we'll talk more about in a second). 
To make the process as easy as possible, we developed a custom 3D proofing tool (click that link to open it up!) you can use to design your product packaging. 
The first thing you need to do is choose your packaging style. You can select from mailer boxes, shipping boxes, product boxes, and Econoflex shipping boxes. Note: product boxes aren't designed for shipping, so we recommend staying away from that option. Also, Econoflex boxes are limited to black ink and half-tone designs on kraft corrugated.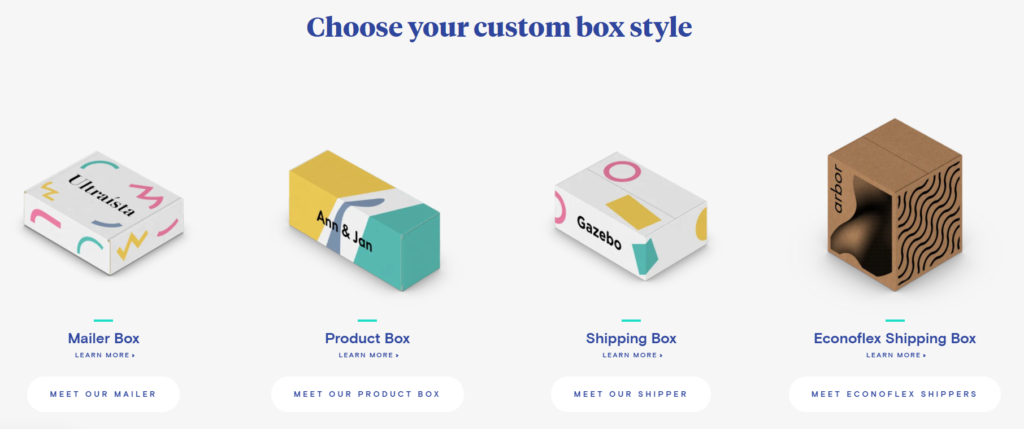 Then, select the size you determined earlier. You can ignore the quantity for now since we're only focusing on packaging design. 
Whenever you're ready, click "Customize Now" to start designing.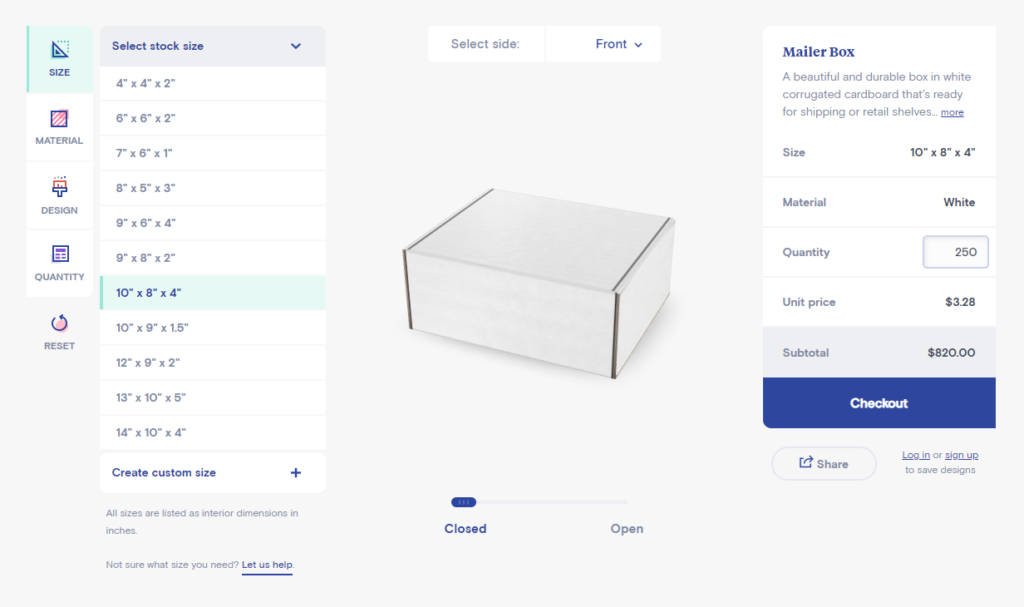 Here, you can choose different box sizes, create a custom size, change the material, change the box's color, upload images, and add text. 
Don't forget to refer back to your branding document to make sure you're staying on-brand. And always consider the overall message you're trying to portray with your product packaging. 
Pro-tip: you can print on both sides of the box to maximize the amount of space you have. You can also use the inside of the box to display a custom "thank you" message, encourage social sharing, or share more about your product and brand. 
Here are some additional resources you can use as you go through the process:
Whenever you're ready, enter the quantity you'd like to order (our minimum is ONE) and finish the checkout process. 
Note: it's crucial to think about dielines while you're designing. There's an option to request dielines or upload your own within our design tool. With that said, we highly recommend hiring a designer that understands how they work if you're unfamiliar with dielines. 
Option 2: The "Outsource to the Pros" Method
If it's in your budget or you don't have a lot of time, hiring a packaging designer is an excellent option. With your branding documents, package size, and your overall message in hand, you're ready to hand things over and kick off the process. 
There are dozens of places you can turn to hire a designer, but we highly recommend:
99designs

– A marketplace full of qualified packaging designers

Dox.Design

– Our favorite world-class creative design studio

Looka Design

– An AI-powered logo and branding generator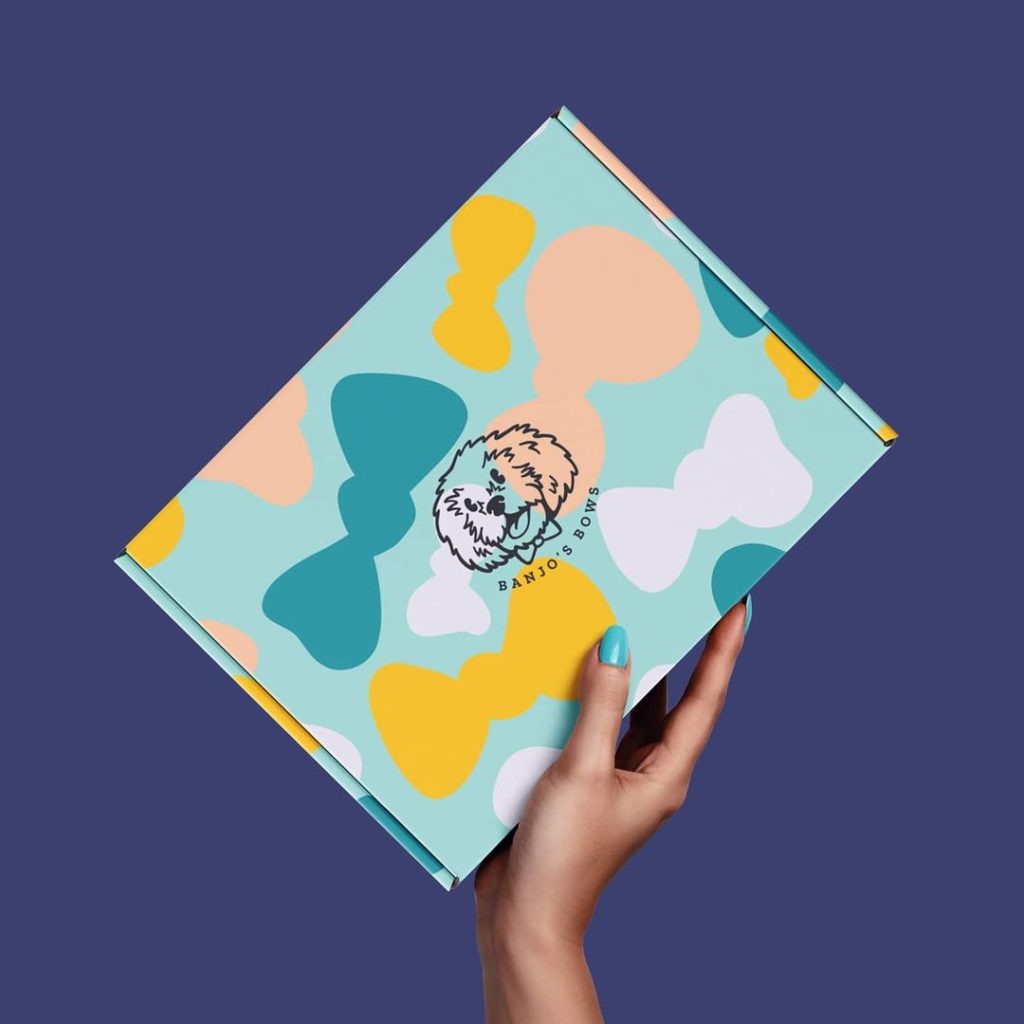 Step Two

: A Powerful & Insta-Worthy Unboxing Experience

 
Now that you have the outside done, it's time to create a powerful unboxing experience. From your products' presentation to the little extra details you include, it's just as important as the product itself. 
And according to BigCommerce, it's no longer a differentiator; it's a must-have. 
Not only does it help increase the perceived value of your brand, encourage social media shares, and enhance brand loyalty, it also helps tell your story. 
It shows that you've thought about the experience and pay attention to the finer details. But the most important part is that it shows you care. 
There are dozens of ways you can go above and beyond to create an Insta-worthy experience without spending hundreds of dollars. From offering free samples and gifts to a simple hand-written "thank you" note, these small details go a long way. 
You can also consider adding things like:
Custom tape instead of opting for clear or plain brown

Stock or

custom tissue paper

to add a refined element to the box

Branded stickers customers can use however they want

SpiroPack void fill for protection and a fun surprise

Packaging sleeves for extra brand recognition

Custom packaging inserts

to up-level the presentation
Step Three

: Streamline Your Shipping and Fulfillment Processes
Now that the design work is done, we can talk about pulling everything together. This includes the entire process that goes on behind the scenes after someone clicks "buy." 
If you're just getting started or running a small business, you probably fulfill and ship orders yourselves. And while packaging up a new order is fun and exciting, the process should also be efficient and streamlined. 
So, let's walk through how to organize your fulfillment and shipping processes like a big business without the big-business price tag. 
Manage Inventory Like a Pro
Effective inventory management is key to efficient fulfillment and shipping processes. This is true whether you have thousands of products stored in a warehouse, have a few products sitting in your garage, or run a made-to-order business with no inventory. 
The best thing you can do is get organized. Most eCommerce platforms include basic inventory management features like stock levels, SKUs, and more. 
We highly recommend taking advantage of those features. If those aren't enough or don't work for your business, you can create a simple spreadsheet you revisit and update once or twice a month. 
It may help to document your step-by-step process for everything that happens after someone places an order, even if all you do is walk to your studio, grab the product, throw it in a box, and mark the order as fulfilled within your commerce platform.
How do you print the shipping label? Where do you go to find it? Do you take the package to the post office, or does someone from UPS come to get it from you? 
Documenting the process in detail can help you better understand potential bottlenecks and prepare your business for growth. 
It may also help you identify areas you can improve and streamline. 
Organize and Track Your eCommerce Packaging and Shipping Materials
We talked about organizing your inventory, but you also need to manage and keep track of packaging materials. Otherwise, you run the risk of running out at inopportune moments. 
When you're just getting started, you can use a spreadsheet to keep everything in one place. Then when you ship out a new order, you can update your spreadsheet to show you've used up X amount of each packaging item. 
Don't forget to track things like shipping labels, tape, and any other extras you include inside your packages, like tissue paper, business cards, stickers, or custom inserts. 
Doing so will help you stay on top of material levels so you always know when to order more.
You may also want to note how long it takes to receive each item. Custom orders tend to take longer, so you may have to order them sooner than you think to ensure you never run out. 
Aside from tracking these materials, you should also develop a system to keep them physically organized as well. When you know where everything is, it takes less time to grab what you need. Plus, it ensures nothing gets damaged while sitting on the shelf. 
Standardize Your Order Fulfillment Workflow
Now that you have systems in place for managing inventory and shipping materials, we can talk about standardizing your fulfillment workflow. This includes everything from gathering the product to slapping a shipping label on the box and every step in between. 
The best place to start is by outlining your existing process. 
Is the first step grabbing a box? If so, where do you go to get it? Do you put a packaging insert or void fill in next, or does your product go directly in the box?
Where do you put the shipping label? Do you update your inventory and shipping material trackers when you're done or as you go? 
Going into this much detail may seem silly, but it's crucial for standardizing and streamlining the process. Once you have a clear picture of every step you take along the way, you can start identifying what's working and what isn't. 
Plus, you can give this document to someone else if you hire someone to help you out. 
After you've documented your entire process, we highly recommend implementing Shiplane. It's a free service we offer to share our high-volume shipping discounts with small businesses like yours. 
With it, you can save up to 80% off retail USPS shipping rates and print labels for free with no minimums, no monthly fees, and no catches. 
It can also help take care of tracking and shipping confirmation emails to keep customers up to speed on their orders' status. 
All you have to do is sign up for a free account. From there, you can export orders from your eCommerce platform or type them directly into the system. Then, choose your shipping method, print your discounted shipping labels, stick it on the box, and send the package on its way.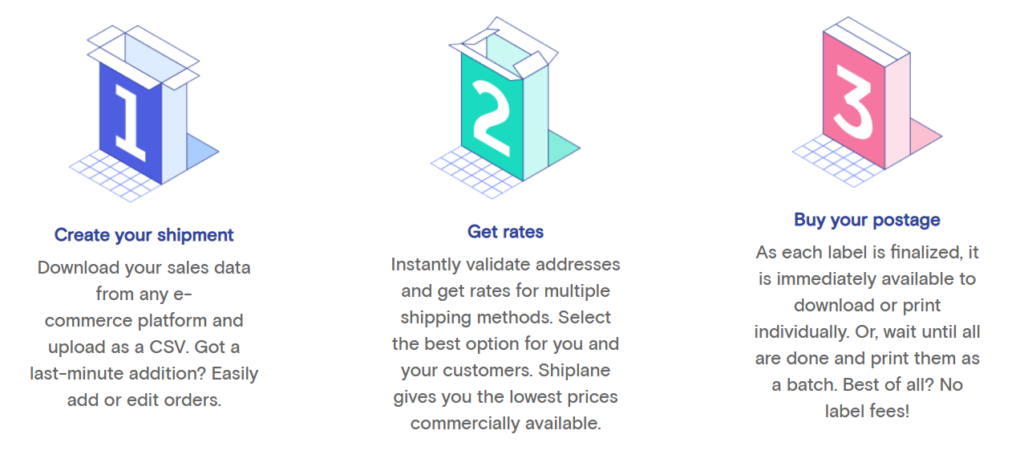 Struggling to Keep Up with Orders? Outsourcing Is Easier Than it Sounds!
If in-house fulfillment takes up too much time or causing a delay in orders, outsourcing order fulfillment is an excellent next step for your business. 
And the good news is that ShipBob makes the process as easy as possible. 
The service can also help improve in-transit times while lowering your shipping costs with warehouses closer to your customers and world-class technology designed to make your life easier. 
When you partner with ShipBob, you can spend more time actually running your business rather than fussing with orders, fulfillment, and shipping. 

Future-Proof Your Business with "Big-Business" eCommerce Packaging and Shipping Processes Today!
Whether you're brand new to selling online or looking for ways to improve your business, reimagining your packaging design, order fulfillment processes, and shipping processes are an excellent place to start. 
Here at Packlane, we're in the business of helping people do business better.
As such, we designed our 3D proofing tool and innovative packaging options to help you kickstart the process of creating the packaging your products (and customers) deserve. 
P.S. Don't forget to sign up for Shiplane to save up to 80% on retail USPS shipping rates today!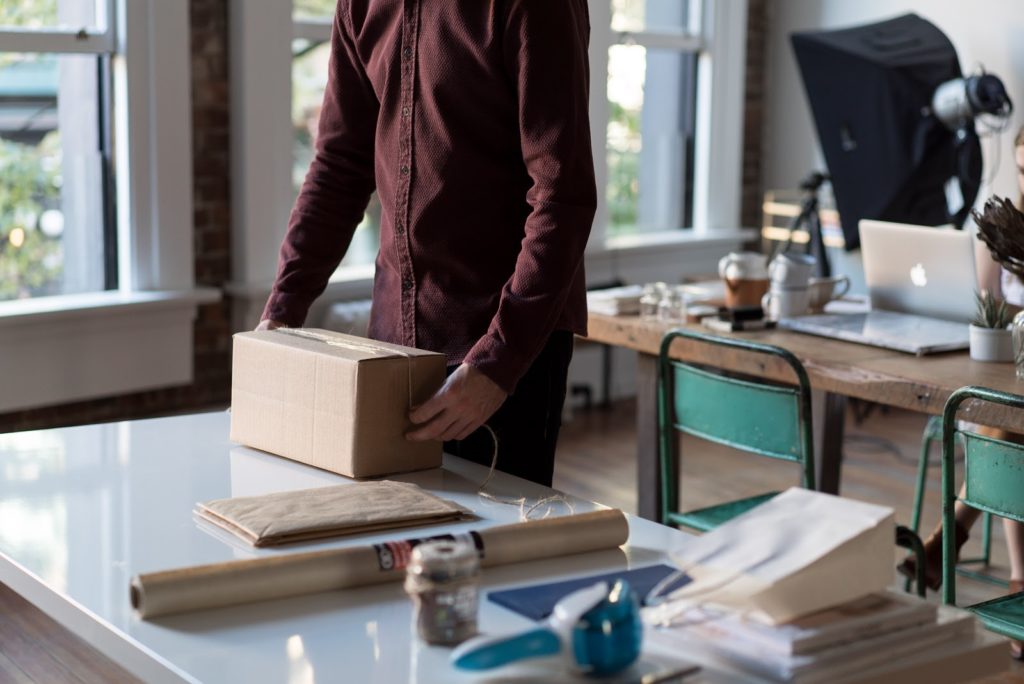 FAQs
How Do I Ship an eCommerce Product?
Once you receive an order through your website, you can box it up (preferably using custom packaging). From there, you can print your shipping label, attach it to the outside of the box, and drop it off or have your preferred carrier pick it up. Pro-tip: you can save up to 80% off retail USPS rates using Shiplane! 
How Do I Design Custom Shipping Boxes?
Before you start designing, you should know what size your packaging will be and what message you're hoping to portray. From there, you can use our 3D drag-and-drop design tool to bring your ideas to life. It's easy to use and best of all… it's free!
Where Can I Buy Custom Packaging?
We may be biased, but we take pride in delivering the best custom packaging design tools and finished products. Whether you're looking for custom mailers, shipping boxes, or eco-friendly options, Packlane has you covered with top-notch materials and printing processes. You can order as few as one (YEP, just one!) or as many as you'd like with high-volume discounts available. 
What Are the Best Ways to Save on Shipping Costs?
There are two things you can do in the next few hours to help you save big on shipping costs. First, you should invest in custom-sized shipping boxes that fit your products like a glove. Using oversized packaging is costly because they take up more space on the delivery truck, thus hiking your shipping rates (even if it's mostly empty space). The second thing you should do is sign up for a free Shiplane account. Doing so can help you save up to 80% off retail USPS rates in just a few clicks. Did we mention it's free!?
How Can I Get Discounted USPS Shipping Rates?
With Shiplane, we extend our high-volume shipping discounts to small and midsize ecommerce stores. When you sign up for a free account, you can start saving up to 80% off retail USPS rates on your very next shipment. Plus, it's free so you have nothing to lose!