How to Elevate Your Brand With Custom Gift Boxes
Imagine a world where custom packaging and custom gift boxes don't exist.
Everything you ship through the mail goes in identical boxes with nothing to differentiate your products from the rest. Nobody shares pictures of your packages on social media and people don't make buying decisions based on packaging alone.
It sounds awful, doesn't it? Good thing we're not stuck in 1995.
Running a business in today's modern world means keeping up with marketing trends to compete with other businesses like yours. Many people buy things online in the comfort of their PJs. Which means your top competitors are only a few clicks away.
It's no surprise that in our fast-paced business culture, the most human businesses win.
And… custom gift boxes are an easy way to add that human (read: emotion-filled) element to your brand. They'll help reinforce the human/business connection many e-commerce businesses struggle with.
Don't believe me? Well, my friend, you've come to the right place. We'll go over a number of ways that gift boxes can and will benefit your business:
Custom gift boxes elevate the customer experience (ka-ching!)
Custom gift boxes are easy to incorporate into your packaging and shipping process. They're cost-effective, durable, and tell your story from the outside in.
At the end of the day, they help attract new shoppers and keep current customers coming back to your brand. The extra thoughtfulness custom gift boxes offer will wow your customers and reinforce why they chose you.
When done well, that added thoughtfulness helps your brand:
Create space between you and your competition
Increase the perceived value of your products
Turn everyday shoppers into brand ambassadors
Show appreciation for your customers
Improve the buying experience
And… when you have happy customers, you generate more revenue. All while building a loyal brand community. What's not to love?!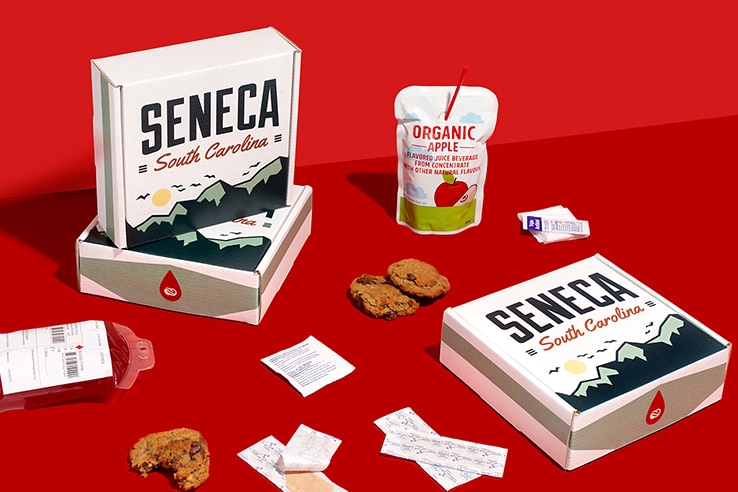 Encourage repeat purchases to build brand loyalty
40% of shoppers state that gift-like packaging encourages them to make a repeat purchase. When your customers love what you do and the experience you deliver, they're going to come back when the time comes.
Infusing custom gift boxes into your packaging process shows customers how much you care about their experience. That care and sense of belonging are what bring them back to your brand.
A cost-effective way to improve the customer experience
Many aspects of the buying experience are expensive to revamp. But, custom gift boxes add your mark and story to materials you already have to buy. After all, you probably can't ship or deliver your products without a durable box.
And, 44% of people say that high-quality packaging reinforces the money they spend. Because you're increasing the perceived value of your product, you can absorb the extra costs by raising your prices.
"Building a good customer experience does not happen by accident. It happens by design." – Clare Muscutt
Brand loyalty + an excellent customer experience = more revenue (and crushing your business goals)
Let's talk money (and a bit of math) for a minute.
Increasing your customer retention rate by as little as 5% can increase profit from 25% – 95%. And, finding new customers costs five times more than keeping existing ones.
You already know custom packaging is an easy way to encourage brand loyalty. Now you know why it's a smart move from a mathematical standpoint. Incorporating custom gift boxes into your marketing strategy means you can:
Deliver an exceptional buying experience (which encourages them to buy again)
Charge more per product because of an increase in perceived value
Absorb the extra investment into your pricing structure
Save money by retaining existing customers rather than finding new ones
Make more money and increase your bottom line
They're an easy way to say thank you
Nothing says "thank you" quite like genuine care throughout the buying experience. With so many businesses out there, your appreciation could be the difference between your brand and your competition. Customers notice the little things. So, it pays for you to pay attention to them, too.
Custom gift box packaging goes a long way in showing them how much they mean to the heart and soul of your business. Without them, your business wouldn't be where it's at today. So, take the time to craft custom gift boxes that show them they've made the right decision in choosing you.
"Courteous treatment will make a customer a walking advertisement." – J.C. Penney
Dribbble: a real-life Packlane customer use case for custom gift boxes
Dribbble is home to some of the best digital designers in the world. They're also an excellent source for inspiration and hiring your dream designer. Every year, they host several meetups for designers to get together and get to know each other.
At these events, they give away free swag from their own brand and from event sponsors. These swag boxes wouldn't be complete without custom gift boxes to match. Dribbble uses their custom printed gift boxes to leave a lasting impression on everyone in attendance.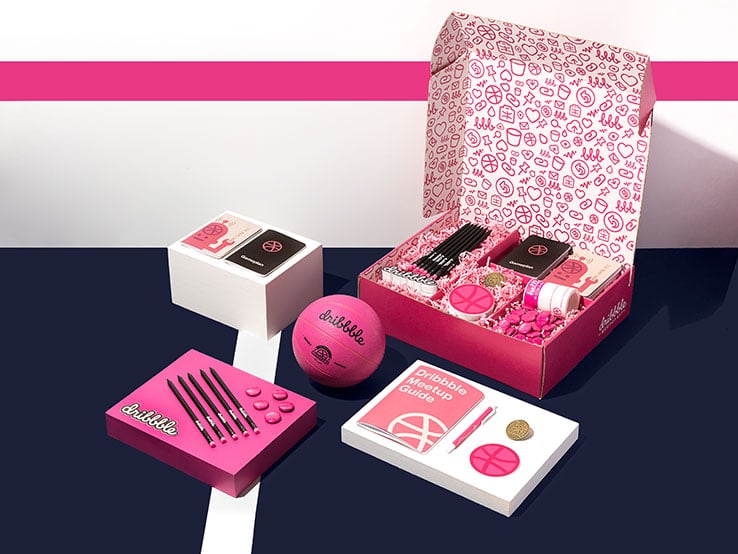 Custom printed gift boxes are way cooler than stock packaging
Let's go back to 1995 for a moment. Every box on the shelf looks exactly the same. Every package on your porch is the same shade of brown and the same size. There's nothing to differentiate you from a sea of other boxes. How… drab.
Stock packaging may cost next to nothing. But it's a colossal waste of valuable marketing space and makes for an awful buying experience. In a market where 75% of consumers care about package design, custom gift boxes are no longer optional. They're required to:
Exceed consumer expectations and draw them to your brand
Allow your products to stand out on the shelf (and online)
Make your customers feel appreciated and cared for
Encourage word of mouth marketing
Plain brown shipping and gift boxes are so… last decade
Amazon is a powerhouse but they lack the ability to customize their packaging. They're so large that they've lost the human aspect of their brand. For them, it doesn't make sense to personalize the user experience.
Many businesses thrive because of their ability to humanize their business. So, it's no surprise that custom gift boxes are an easy and smart step in the right direction. Why? Because they help consumers fall in love with the why behind what you do.
The undeniable link between brand perception and gift box design
68% of shoppers agree that a custom gift box design makes your product and brand feel upscale. And… stock packaging isn't going to give your customers that feeling of high-end value. That's where custom gift boxes come in and save the day.
Not only do they add perceived value to your brand, but they also:
Improve the last step of the buying experience
Show your customers you care about their experience
Give you a chance to showcase the why behind what you do
Add the perception of elegance to your brand
Custom packaging leaves your customers feeling like they're getting more value without changing the product at all. Plus, it goes a long way in developing a human connection with your brand.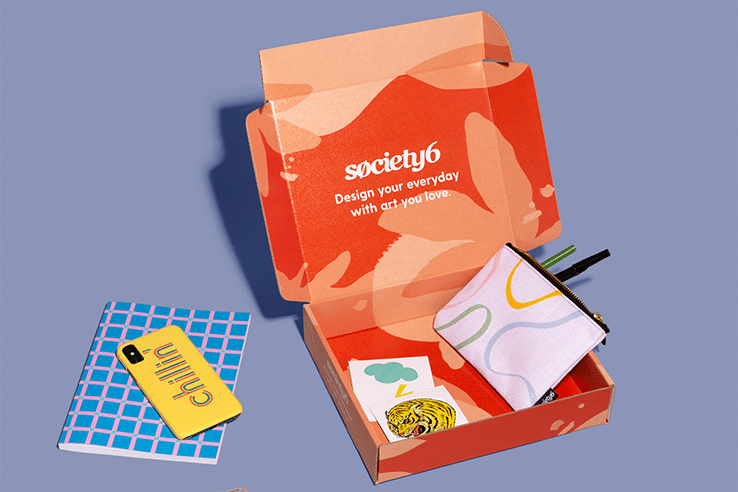 Rigid boxes add to the elegant perception of a top-notch brand
Rigid boxes are often associated with luxurious and elegant brands. And, they help showcase your care and attention to detail because of their durability. Without changing the design or functionality of your product, rigid boxes help improve your brand's perception in the market.
In today's world, 90% of consumers reuse product packaging when they can. So, using durable, rigid boxes means YOUR marketing message will be seen and heard time and time again.
Not only is this great news for your packaging but also for the environment (hey, Mother Nature!).
Word of mouth marketing and customer-generated content rule them all
Word of mouth marketing and customer-generated content aren't easy to achieve.
But, they're both:
100% free for your business
Useful when building a brand community of raving fans
Incredibly effective
92% of people trust recommendations from friends and family more than advertisements. And 74% of consumers say that word of mouth marketing influences their buying decision.
"Word of mouth customers come with built-in levels of trust and confidence that other channels don't." – David Mercer, Founder, SME Pals (via BigCommerce)
Which… is cool and all but what does that have to do with custom gift boxes?
40% of consumers are more likely to post pictures of your brand on social media because of your custom packaging. So, custom gift boxes offer an avenue of free PR for your business. That alone pays for the extra investment.
Custom mailer boxes + your brand = the best custom gift boxes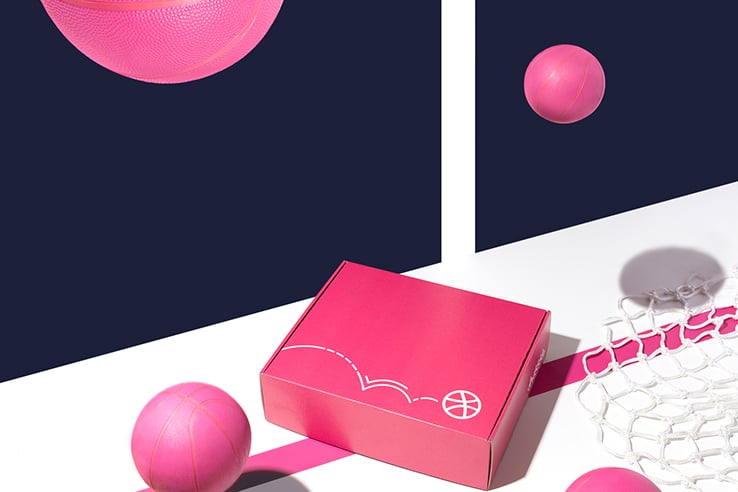 Mailer boxes are a durable and stylish option for brands that desire custom gift boxes. They feature a self-locking top with protective dust flaps and are 100% recyclable.
One of the many great things about custom mailer boxes is they're completely customizable and designable from the inside out. And they make excellent gift boxes sure to leave a lasting emotional impact.
You can (and should) say yes to mailer boxes for primary packaging
Mailer boxes are an excellent choice to implement into your primary packaging process. In addition to being fully customizable, they're:
100% sourced in North America using the highest recyclable content available
Available in e-flute 1/16" and b-flute ⅛" to meet your packaging needs
Digitally printed using CMYK colors for a clean, crisp appearance
Constructed using single-wall corrugated cardboard
Shipped flat and easy as pie to assemble
Durable and protective for up to 30 lbs
Create brand recognition the moment a customer sees it
Consistent brand colors and branding help improve brand recognition by 80%. And, consistent branding across all channels can improve revenue by 23%. It's no surprise that one of those channels is your product packaging.
Think about Tiffany & Co's little blue box.
You know the brand right off the bat without seeing a logo or knowing what's inside. THAT's the ultimate goal of your packaging – instant recognition.
The moment a customer sees your package on their porch, they should know who sent it. Custom mailer boxes give you the opportunity to expand your branding to cover the packaging channel. And they help create brand recognition for your business.
The down-low on gift box packaging design
Gift box packaging design may sound like a difficult process but it doesn't have to be. Once you know what your customers expect, designing a box that exceeds those expectations becomes a seamless process.
Don't forget you can print on the outside AND inside of your box. Use each space to tell your story and add a layer of elegance to your packaging. Let your brand personality shine!
Pro-tip: If you aren't a designer, outsourcing packaging design is a cost-effective way to get Insta-worthy packaging.
Step 1: Revisit your unique selling proposition (USP)
Your unique selling proposition is what sets you apart from your competitors. Before you get started, take a moment to revisit what makes your business… your business.
Dive deep into the why behind what you do. Revisiting this keeps it fresh in your mind as you move forward through the design process.
Step 2: Understand your customers and their expectations
Your customers have certain expectations for your brand. It can be hard to design the perfect packaging without knowing what they expect. Combine their expectations with your USP and keep those front and center.
This helps you develop a great experience the moment a customer sees your package on their porch.
Step 3: Show off your brand using custom gift boxes with your logo
Your logo and brand colors are important parts of your brand identity. And, they help create a connection between your customers and your brand. So, start by adding your colors and logo in a way that demands immediate recognition.
Remember customer expectations and your USP. Use these to drive design choices your customers can't help but love.
Step 4: Include custom graphics using your brand colors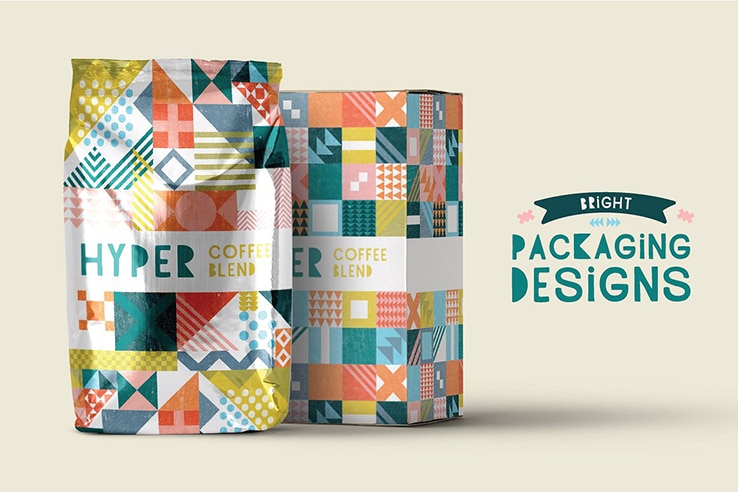 Next, take your brand colors and combine them with unique shapes and patterns. Make sure they accent your branding rather than detract from it. Think about your values and why customers choose your business.
Use these ideas to add shapes and patterns that will spark happy emotions and reinforce their decision.
Step 5: Amplify your story and values with thoughtful messaging
Don't forget to include friendly, personal messaging that helps portray your story. These short, but thoughtful passages will show your customers how much you care about their experience.
You may also want to include instructions or social media information on the inside. Always encourage them to continue engaging with your brand after they open your box.
Shipping (and protecting) custom gift boxes is easier than you think
Earlier, we talked about how custom gift boxes (mailers) are ready to ship. But shipping fragile items presents a new challenge. And if you ship mailer boxes on their own, you run the risk of your customer getting a damaged box.
So, what are your options?
Box inception: ship your custom gift box inside another box
If you're worried about shipping fragile items or the potential of a damaged custom gift box, consider using an external shipping box. Doing so adds cost and time to your shipping process but ensures your customers get their goods in one (beautiful) piece.
Alternative idea: internal packaging safety precautions
Using a secondary outer box isn't the only way to protect your products during transit. Internal protection is an alternative (or additional) option to keep your goods safe.
Custom packaging inserts – custom inserts help ensure your products stay in place throughout their journey. They also present a golden opportunity to add elegance and branding to the inside of your package. Custom packaging inserts are perfect for fragile items or boxes with multiple products inside.
Internal padding – padding helps keep your products from moving around or hitting each other during transit. You'll want to pad all sides of your box using void fill, bubble wrap, foam, or packing peanuts.
Custom tissue paper: tissue paper adds an elegant layer to the unboxing experience and an added layer of protection. Custom tissue paper gives you the opportunity to emphasize your brand while protecting the contents of your box.
But, tissue paper alone isn't suitable for fragile items.
FAQs
How do I design custom gift boxes?
Start by measuring the product(s) you want to include and choosing the right style of box for your needs. Then, use your logo, brand colors, and unique messaging to customize your gift box. Lastly, double-check your design, submit your order, and let us do the heavy lifting!
Where can I buy custom printed gift boxes?
Custom printed gift boxes are an easy choice for businesses looking to add branding to their packaging. Packlane's 3D design tool lets you design gift boxes in real-time and receive a quote within seconds. Choose your box style to get started.
What is custom packaging?
Custom packaging allows your business to put your brand front and center. It utilizes your logo, brand colors, messaging, and style to ensure a consistent experience throughout the buyer's journey.
Where can I get custom printed boxes with no minimum?
Here at Packlane, you can order custom printed mailer boxes with no minimum requirements. You can start by ordering as little as one box (which is as low as we can go – sorry!). We also offer high-volume discounts if you need to order in bulk.
Can I design my custom gift box with a logo?
Absolutely! Packlane's 3D proof tool makes designing custom gift boxes with your logo easier than ever before. And, you'll get a quote… instantly!
Consider Packlane your custom packaging pal
Many online-based businesses struggle with creating human connections through a digital screen. And I'm not going to lie… it's not easy to do. But, putting your stamp on the one thing your customers get to experience in real life is an easy step in the right direction.
Custom gift boxes make the perfect product packaging because they:
Increase the perceived value of your product and brand
Improve an otherwise digital customer experience
Can help your business generate more revenue
Encourage customers to buy from you again
Lead to 100% free word of mouth marketing
Are way cooler than plain stock packaging
Show appreciation for your customers
Are easier to design than you think
Whether your next project is big or small, we take pride in helping businesses like yours get the packaging they deserve. If you're ready to get started designing top-notch custom gift boxes, you're in good hands.