How to Find a Fantastic Packaging Designer
What does all great packaging have in common? It starts with great graphic design. Finding the right packaging designer can mean the difference between your product gathering dust or flying off the shelf.
Everyone wants something amazing, but how do you make it happen? Finding a fantastic packaging designer isn't as easy as just doing a quick online search for "designers." Knowing a bit about finding the right designer will make your life easier.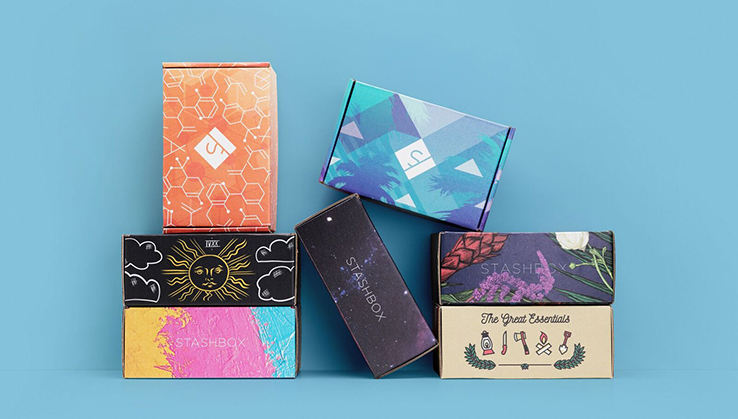 While you may have some great ideas on how you want your design to look, you may not have the time or skills to do-it-yourself. Finding a design professional will bring your creative concepts to their full potential.
Here's a brief outline of what we'll go over: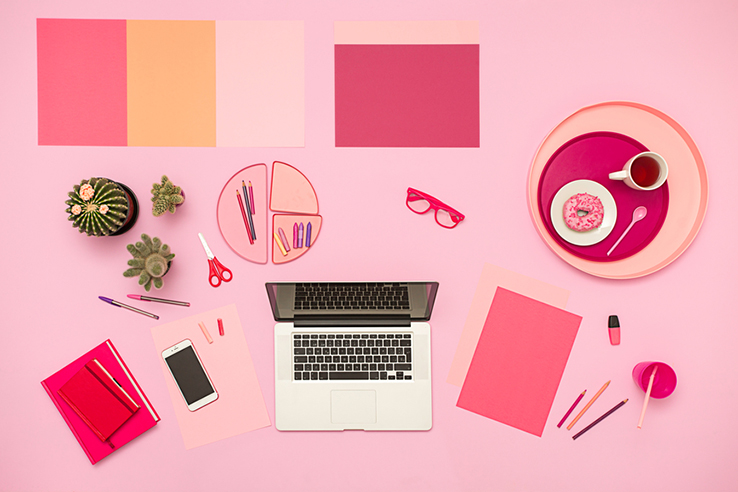 How to write a design brief
One of the easiest ways to kick off the process is to write a design brief you can share with your designer. Many designers will ask you to fill one out anyway so this is a good way to save a little time going forward.
Think critically about your design needs–and if you're looking to find a designer on your own, some of the types of questions you could include when you write a creative design brief:
What we do
Give the designer a quick summary of your product or service. Describe the values that are important to your company so it can translate into your design.
Who is your target market?
Does your product target a specific niche or demographic? Be as specific as possible so your designer knows who they're trying to reach. For example, trying to reach busy female executives who don't have time to plan meals is very different than saying you're trying to reach women between the ages of 25-40.
What are your goals and inspiration for your design?
Establish direction and tone for your designer. How you want your audience to react when they see your packaging is critical to the final design. Be specific. For example, do you want your audience to reuse their boxes for gift-giving or do you want them to share photos of them on social media?
This is also a good time to create a mood/inspiration board. As a non-designer, you may not know how to describe a concept to your packaging designer but showing them a mood/inspiration board is a good way to convey what you want. If you're not sure how to get started creating your board, check out Creative Bloq's 24 Pro Tips For Creating Inspirational Mood Boards.
Who are your competitors?
Let your designer know who you compete with. Identifying your competitors will help the designer understand key elements of your product and industry so they can make sure you stand out from the crowd.
What's your deadline?
This is a key element to any project. With packaging design, it's important to establish deadlines with your designer because you'll need to allow for design time, the date you place your order, production time, fulfillment time, and the date you actually need your packaging.
Michael Sacca, former President of Crew and now VP of Product at Dribbble, says that the best advice for someone seeking a packaging designer is:
"The more specific you can be with what you're looking for the better. Inspiration and style examples go a long way. Having your brand assets and creative assets readily available also goes a long way to a smooth kickoff, allowing a designer to jump right into the project. 
Throughout the project, be ready to give quick feedback to keep it moving forward. Remember to be specific and direct with your feedback and what you're expecting – it helps you get to a final product that much faster."
What to look for in a box designer
Portfolio sites
Every good box designer will have a unique portfolio they'll want to showcase. Keep in mind that even designers with amazing portfolios aren't always the right fit for your project.
Look for someone with packaging design experience, print or creating vector graphics. When you look through their portfolio, look for a variety of different projects. A box designer that can emulate more than one style of work may be better suited to creating your custom design.
It's fine to go with someone who utilizes a certain style, but you need to be aware that they may not be able to create a unique aesthetic for your brand.
If you're having custom packaging designed, you want it to reflect your brand and the product you're trying to sell.
Where to find a packaging designer
Design agencies
Hiring a design agency means you're probably looking at getting your product to a large market. Agencies have a talented pool of professionals who are efficient and reliable.
Hiring an agency will probably be more expensive due to their overhead costs, and they may not be as flexible to work with as a freelance packaging designer.
If you're looking to hire a design agency, The Dieline has an excellent directory of agencies across the United States that specialize in package design.
Freelancers
The gig economy is booming which is a good thing if you're looking to hire a packaging designer and finding a freelance designer isn't difficult but finding one that you can rely on and trust is another story.
The quality of freelance design ranges from amazing to dreadful. A good starting point for finding a reliable freelance is to check out designer's portfolios on sites like Behance and Dribbble.
If you're lucky, you may even know a freelance packaging designer. That was the case for Melena DeFlorimonte of M. Shonell Photography who hired Danielle Sykes of Caryberry Designs to create custom client boxes for her photography business.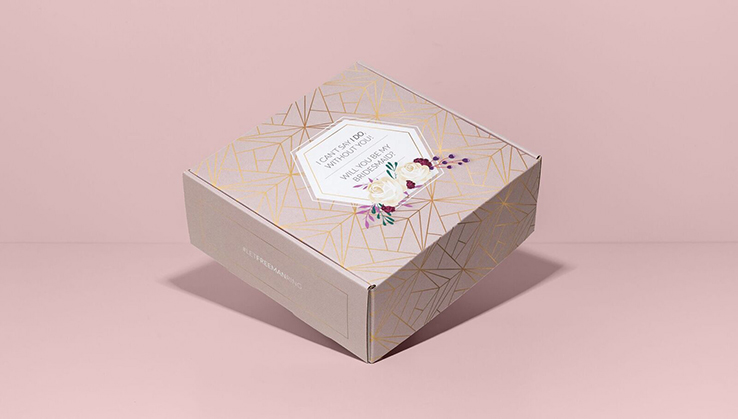 Melena was introduced to Danielle through a mutual acquaintance and was impressed with the quality of her work. When Melena decided to rebrand her business, she knew that Danielle was someone she wanted on her team.
"I wanted someone that was affordable. That's what everyone wants, right? But more importantly, I wanted someone who would be able to bring my vision to life in an efficient and timely manner. Someone who gets my brand and style, and could anticipate my desires in those moments when I have trouble articulating what I want. 
Take my custom client boxes, for instance. I didn't have a clear and concise design in my mind, but Danielle knew my style and was able to deliver a design that I fell in love with. That's the mark of an exceptional packaging designer."
But Danielle's design skills weren't the only thing that mattered to Melena. She knew she valued a good, solid, working relationship,
"I wanted someone I could mesh well with. Let's face it, not all personalities work well together. I am thankful that Danielle and I have a great working relationship. We have worked together on just about every aspect of my branding and I have also provided photography for her branding and personal life.
I look forward to collaborating on future projects to take our brands to higher heights."
Portfolio sites
Behance
Behance is a free platform for freelancers and other creatives to showcase their work. A designer uploads images of their recent work to create a digital portfolio that is accessible to anyone online.
The quality of designers on Behance is excellent. You'll find a wide array of packaging designers that specialize in fields from branding, architecture, photography, packaging design, and just about any other creative field, you can think of.
Behance offers excellent search functionality and with the filters provided, you can really hone in on who and what you're looking for.
Let's search for packaging that looks "retro" on Behance and apply the following filters:
Projects
All Creative Fields > Packaging
Most Recent > Time > This Month
Location > US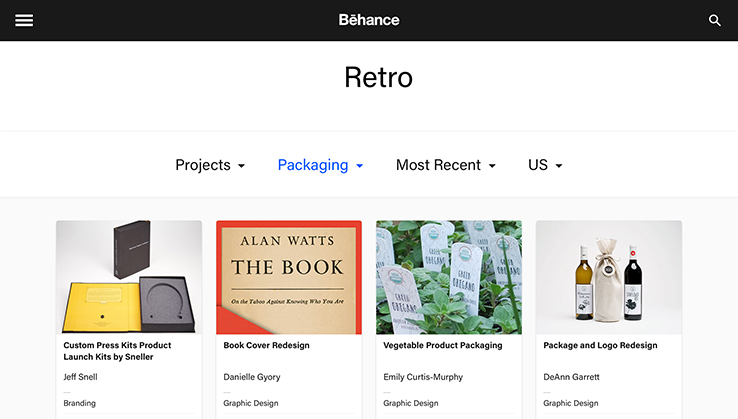 Behance also has Curated Galleries which showcase some of the best work on the site. Check out the Curated Gallery for Graphic Design and select "Packaging" to see more examples of the amazing work available on the platform.
If you find a designer you like, you can contact them on Behance through direct message. In most cases, designers will have links to other social networking accounts or their own web pages.
Dribbble
Dribbble is an invite-only platform for freelancers. Designers on Dribbble are invited by their peers to showcase their work. This helps increase the quality of designers available.
You can sign up for a free (limited) account in order to find the designer that's right for you.
Searching on Dribbble is easy. You are given the option to search through "Shots" or "Designers." Shots are small images posted by members to show what they are working on. Designers can tag shots with their skills which makes them searchable on Dribbble.
When you search for a packaging designer, you can filter your results for designers, design teams, or both. Searching for a designer in this way will show you multiple pieces of the designer's work and lists their skillset.
Here is an example of a search for a designer using the skill set as "packaging." To do so, use these filters:
Choose Designers > Designers Only in the top navigation menu
Search By Skill > packaging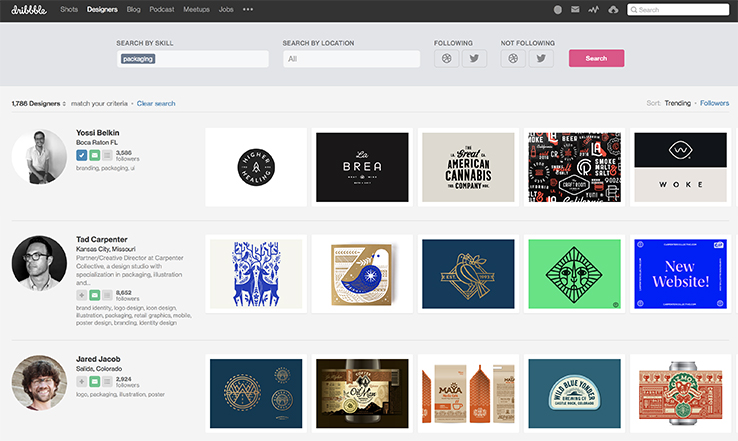 When you find someone you'd like to work with, visit their profile and find their contact information on their website.
Dribbble offers a direct messaging feature but it is only available to designers who have been invited to the community or businesses using Scout (Dribbble's monthly business plan).
While Dribbble and Behance are similar in nature, Dribbble is more of a community where designers and freelancers network with one another. Behance is more of a portfolio site where designers post case studies of their work. It's a good idea to search both Dribbble and Behance because designers aren't always on both sites.
Crowdsourcing sites for packaging designers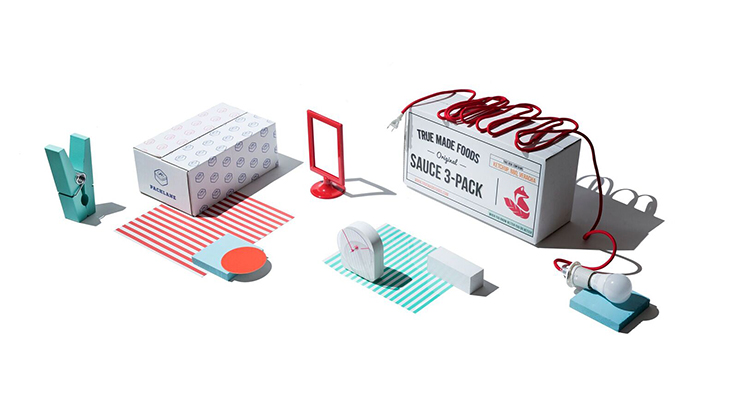 Crowdsourcing sites have grown in popularity over the last decade. Increasingly, businesses are turning to crowdsourcing sites because they offer a variety of work to choose from with little risk.
In most cases, you'll prepare and upload a brief along with other relevant information to your project such as budget and deadline.
When you submit your project, designers will compete to be the winning design. After your deadline is up, you can choose from a number of designs to see which will work best for your project.
Advantages to crowdsourcing:
Faster turnaround
Cheaper
Low risk
More choice
See work before you pay
It's an affordable way for businesses to see multiple iterations on a design without having to pay multiple designers.
Disadvantages to crowdsourcing:
Difficult to build a lasting relationship with a trusted designer
Quality of results varies
Can be time-consuming to review all the work
Promotes spec work because some designers won't be paid for their work
Some designers recycle their work for crowdsourcing sites
Can be an unreliable way to get design accomplished
Crowdspring
At Crowdspring, you can select from 4 different packages in order to find your designer. They vary in the number of designers that you'll have access to and the amount of money that will be awarded to the designer you'll hire.
Then, create and upload your design brief to Crowdspring. Designers will be able to find your brief on Crowdspring's marketplace and then start working.
Once designs are submitted, you're able to choose the winner and they'll complete your project. 
DesignCrowd
What's great about DesignCrowd is the emphasis it gives to selecting appropriate designers based on the type of project. So whether you're hunting for a Facebook image, a logo design or a packaging design, you can specify the kind of design you need and narrow down to the designers who are able to take this sort of job on.
You also won't need a big budget to make the most of this site—designers pitch their concepts to you for a small budget and you can pick the design you like best.
Launch your project with a brief and budget to start receiving unique designs. Then select and approve your favorite design. A typical design project receives between 25-100 designs. If you don't like any of your designs, they offer a 100% money-back guarantee. You choose between 3, 5, or 10-day deadline.
Freelancing networks
Upwork
Upwork is one of the most popular sites to find freelancers.
You'll start by submitting information to Upwork about your project and the skills required. Freelancers on Upwork will be able to view your job and submit bids.
As freelancers submit bids to your job, you'll be able to review their profile to see client ratings, portfolios, Job Success scores, and more.
Once you've reviewed bids to your job, pick a finalist and go to their profile and click the "Hire" button to get started. Schedule a chat with them to finalize any details about your job.
You and your designer will be able to communicate through Upwork's platform to share feedback and files if necessary.
You are able to pay designers by the hour or with a fixed price for your project. If you are paying your designer by the hour, Upwork offers features that can track the designer's billable hours so you are able to verify that they are accurately billing your project. For fixed priced projects, you are able to set milestones with your designer that ensure your work is being completed. Paying your designer is easy on Upwork and can be done with most major credit cards or PayPal.
Fiverr
If you're on a tight budget, Fiverr is your go-to service. For as little as, you guessed it, $5 you can get a design in a very short turnaround. You can find designers who do custom packaging on Fiverr.
Fiverr is known for its $5 price point but some services are priced much higher. A quick search for "packaging design" shows prices vary, starting as low as $15 up to $180.
While Fiverr might not be the best place to find a designer to manage a large packaging project, it's a handy place to source logos and graphics for very little money.
FAQs
How do I write a packaging design brief?
There are a few simple questions you'll want to consider when writing your packaging design brief:
What you do?
Who is your target market?
What are your goals?
Who are your competitors?
What's your deadline?
What's your budget?
What is a packaging designer?
A packaging designer is a graphic designer that creates packaging that helps build brand loyalty for a company's products. Packaging designers are essential create strong emotional connections with customers while also helping to market a product.
How do I pick a packaging designer?
Picking the right packaging designer is subjective. You'll need to consider the designer's style and whether it aligns with your branding and messaging. Cost and pricing will play a key role in choosing a packaging designer. Finding a designer who is cheap may seem like a great solution at first but you'll want to consider how your packaging is perceived. It may be worth investing a little more in your packaging design when you're able to deliver an amazing unboxing experience to your customers.
How do I find a product packaging designer?
Finding a packaging designer will be dependent on both your product and the type of connection you want to make with your customers. Utilizing the resources of porfolio sites, design agencies, and freelancing networks will help you find a packaging designer.
Roundup summary
Designing your own packaging doesn't need to be terrifying—with the right help and tools, it can actually be a lot of fun!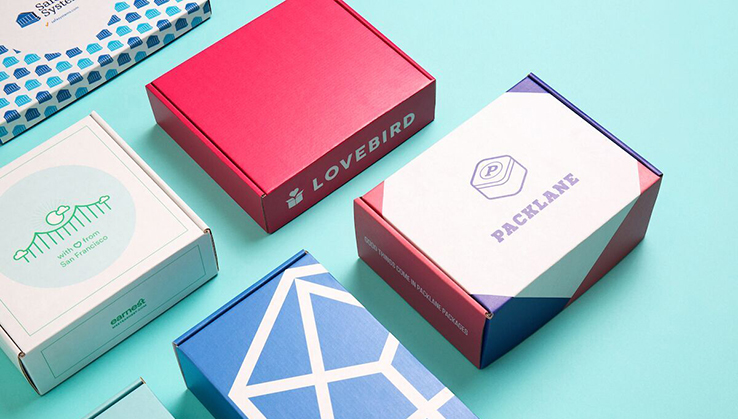 Best Inspiration
Behance – if you're looking for inspiration on your next design, Behance is your go-to site. With a huge catalog of design work and Behance's enhanced search functions, you'll be sure to find something that will inspire your next design.
Best Place to See What's Hot in Design
Dribbble – has the best design community on the web and you'll find designers who are networking with one another. Designers on Dribbble drive design trends and you'll be able to see what's new and exciting.
Conclusion
Whether you seek outside help by approaching an agency or freelance designer or use online apps or software to create your own logos and graphics, you'll find that the packaging design process can be incredibly rewarding.
For many entrepreneurs, the process of packaging their products can feel very cathartic, as this marks the moment your product is ready to be shared with customers.
Have your packaging design ready to go? What are you waiting for? You can start to mockup your design on Packlane.com and before you know it you'll have a printed box to call your own!