How to Work Smarter, Not Harder Running Your Brand
Running an ecommerce brand can be time-consuming. No matter if your team is small or large, finding time to allocate across marketing, customer support, or fulfillment can be challenging. In order to get everything done, and still have time to grow your revenue, you have to find ways to do more with less.
"Work smarter, not harder" is an adage that many of us have heard. The idea behind it is that you should work on the things that make a big difference in achieving your goals. We all have limited time and resources, so it is important to try to spend them on the things that will make the biggest difference.
In this article, we'll share how you can start working smarter, not harder today–And spend more time on the activities that matter.
Identify the most important tasks
Creating a to-do list is great, but ensuring that you prioritize your tasks is critical to working smart. When thinking about your tasks, identify and focus on the most important tasks that will help achieve our goals. After you create a to-do list, mental or written, think about the order in which you should complete the tasks.
Leah Morassut, who is a marketer at reviews platform Junip, said, "I think one of the easiest things a business can do is get off track and lose sight of the end goal, so too much time gets spent on the wrong tasks. It's important to set clear goals and continuously circle back to that goal and decide if it's still relevant and whether your project or task is actually helping you reach that goal."
A great example is if you have open customer support tickets, but spend time focused on planning for your next product launch, the customer experience will be negatively impacted for those who are waiting on support answers. Prioritizing timely tasks or ones that align with your goals to provide a positive experience will help you get the best results. 
MakeUseOf suggests the "three-strike system". If you don't achieve important to-do list items three times, start a new list and re-prioritize.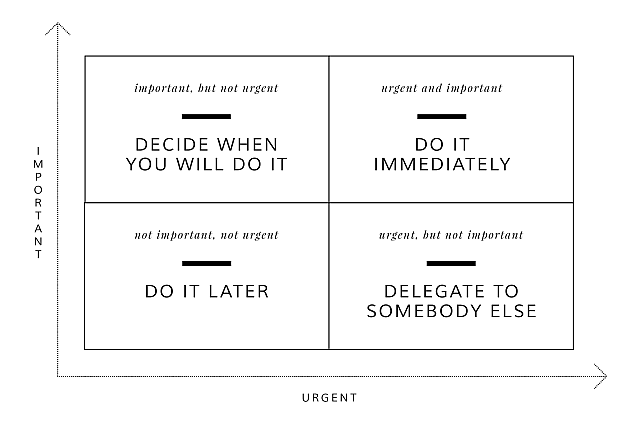 Automate the process
Automation allows business owners to save time by offloading repetitive tasks using ecommerce automation tools. These can be tasks like fulfilling orders, updating quickbooks accounting software, or sending reporting updates automatically. Automation allows ecommerce businesses to free up their schedule and reclaim lost time so they can refocus on what matters most–growing the business.
How does automating work for an ecommerce brand?
Using software for automation, you can recreate manual tasks in a workflow builder. For example, every time an order is flagged to be fraudulent, notify your team via email or Slack. This saves time from anyone having to check manually. 
You can do this across the different platforms you use including Shopify, Klaviyo, Shipbob, Gorgias, Slack, Google Sheets, and more.
Who benefits from automation?
Founders:

Automation for ecommerce founders is critical. Cut down on context switching and cut your todo list in half. 

Marketers:

Automation for ecommerce marketers saves time switching between marketing platforms, running day-to-day marketing operations so marketers can focus more on marketing strategy.

Operators:

Streamline your shipping logistics and operations by directly connecting your spreadsheets with your 3PL, while automating internal reordering communications.

Engineers:

Automation for ecommerce engineers means engineers can stop dealing with messy APIs without sacrifices.
Delegate to outsourced team members
Delegate. If you've found a part of your job that you don't enjoy or that is extremely manual, it's okay to hand it off to someone else. Someone else will be happy to take over so you can spend your time on things that move the business forward.
Whether it's writing content for your website, answering customer service emails, or doing basic accounting tasks, outsourcing a job is a great way to get things done within a smaller time frame. If you're unsure of how to find someone or what types of projects are available, check out sites like Upwork, Fiverr, Freelancer.com, or PeoplePerHour.
Use a customer relationship management system (CRM)
A CRM helps you keep track of your customers, their behavior, and the services you provide to them. A CRM organizes all of your customer data into logical groups (called "customer profiles") that correspond to particular types of customers, projects, and needs. 
You can then use the CRM to create tasks or reminders that automatically trigger when certain conditions are met (e.g., when a new customer is added to a list or when an old customer has not logged in to the system in 90 days). You can also use the CRM application to automatically send emails or text messages to remind a customer that an important event has occurred.
Setting up automatic follow-ups, reminders, or scheduled communications will help keep track of what you need to do so you don't have to. Plus, all data on customers and your interactions will be kept in one place. 
Use tools to stay organized
If you're like most people, you're probably juggling a lot of tasks at once. Between work, family, hobbies, and other commitments, it's tough to keep track of what needs to get done when. That's why it's important to use organization tools to help you stay organized and make sure that everything gets done. 
One of the biggest advantages to using organization tools is that it makes it easier for your team to stay on top of things. Theoretically, if everyone is managing their own tasks and projects, you could have someone assigned to manage a project that's already been completed by another person. That way, the person who had originally worked on the project can easily review the work and make any necessary changes before the project is moved on to the next person. 
Two examples of organization tools are Notion and Asana. Notion and Asana are task management apps that allow you to create projects, assign tasks to people (or yourself), and set due dates for tasks. You can also attach files, photos, and notes to your tasks. 
Take a break
It's very common to get so focused on getting everything done that we end up working all the time. Sometimes you need to slow down and take a break if you want to work smarter. 
Numerous studies have shown that taking a break can help you be more productive.
For example, in a study on the effects of physical exercise on mental performance, researchers found that people who exercised for 30 minutes showed significantly greater mental performance than people who did not exercise at all. Taking a break to focus on yourself, can actually improve your performance at work.
Start working smarter, not harder 
Whether you start automating or outsourcing manual tasks, taking more breaks, using organization or CRM software–working smarter will help you achieve your business goals faster. 
With less time spent on repetitive tasks or non-priority projects, you'll have more time to spend on product development, revenue growth, and strategy. For a more in-depth guide on how to work smarter, not harder, Alloy Automation created a full playbook to help you achieve your goals with automation.
This is a guest post written by Katie Krische at Alloy Automation. Alloy Automation is a no-code platform for ecommerce brands to build automated workflows that save time and increase efficiency. Alloy has integrations with Shopify, BigCommerce, Magento, & 100+ other support, marketing, loyalty, & fulfillments apps. Top brands use Alloy to automate tedious operations tasks and to power more personalized marketing. At the end of the day, lean teams can use automation to get more done.