How Welcome Kits Make New Employees Feel Like Part of the Team
When it's time to welcome a new hire to the team, employee welcome kits are the first opportunity to make good on all those nice things you said about your business during the hiring process. But more importantly, it's a creative way to make new hires feel at home.
Changing companies and starting a new job is already a stressful experience for employees. They have to navigate a foreign workspace, assimilate into a group of people that may have been working together for years, and find out the basic job stuff, like what they're responsible for.
When you're unprepared for a new employee's first day, it only adds to that stress. It may even make them feel like a burden.
Existing employees might already love your company culture, but someone walking in the door for the second or third time knows very little about it. They might be nervous. They might even be skeptical that this was the right choice for them.
It's important to make them feel comfortable, to ensure they're well-equipped to take on the new role. It doesn't take extravagant perks or some mind-blowing presentation to get them to feel this way.
Sometimes it can be as simple as a well-thought-out employee welcome kit, and that's exactly what we're going to talk about here.
Make new employees feel like they belong with a custom welcome kit
Some businesses include employee handbooks when they create a custom welcome kit, and others go heavy on the company swag with branded T-shirts, stickers and reusable water bottles. You might see gift cards to a nearby coffee shop or something more practical, like your benefits package or the device you'll use in the office.
Whatever you put in your employee welcome box, and however it is designed immediately communicates a message about your company culture and the way you view new employees.
This article can help you tailor that message to your vision, and create welcome kits that are truly reflective of how you see your company.
But first, let's ask a few questions to get started.
Questions to help you start your employee welcome kits
You might want to think about starting with some of these questions, as they can lead you to the purpose behind your employee welcome kits.
What information do you want to give a newcomer about your company?
What message are you trying to communicate, and what do you hope new employees will think about your company? If you don't have answers to these questions already, it's time to start considering them.
How do you want to convey this information?
This is all about your business branding. What should this kit look like? What should be the tone of any writing? Should you invest in design work? You should even consider things like design and packaging.
Will this make a newcomer feel welcome and want to stay?
Does this kit prepare them for their job or is it more about making them feel like a part of the team? Realize that it can do both.
What training will you provide this employee with?
Is this a position that requires a large amount of training? Think about how this kit can prepare them for that. Think about how you can get their mind ready to learn the job and embrace this new opportunity.
Now that you know what questions to ask, you can start thinking about what you want to include and how you want this presented.

What goes inside a custom welcome kit?
What goes inside your custom welcome kit is the most important question you can ask.
Your welcome kits should be more than official documents and materials your employees need to sign and return to you by the end of the week. This is about your internal branding and your company culture. It's too important to ignore.
When SeatGeek designed their welcome kit, they wanted something exciting for new hires first day at the office. Their box design is colorful and includes a custom illustration of New York City's landscape. It was quirky and meaningful and each new box was filled with a SeatGeek branded baseball t-shirt, a t-shirt branded with the same logo as on the box, a leather notebook, pens, sticks, USB sticks, keychains, and ID badges. Wow, that's a lot of swag!
What's inside your employee welcome box?
Here's just a small sample of what you could include in your employee welcome box:
A list of company values, rules and onboarding instructions.
Information about the company and team structure.
Employment contracts, NDA agreements, and new employee forms to be filled in and signed.
Onboarding survey or feedback form asking about their experience on their first day.
Electronic pass to office facilities.
Office supplies, like branded stationery items such as pens, pencils, sticky note blocks, staplers, and notebooks.
Clothing items, like branded T-shirts, caps, jackets, scarves, socks, etc.
Fun items, like cups, mugs, key trinkets and stickers.
Accessories like flashlights, bags, wallets, etc.
Food items, such as a chocolate bar or coffee beans in a branded package.
Some employee welcome kits include devices (laptops, tablets) or branded accessories such as headphones, microphones, mouse pads or USB sticks.
It's about getting some official documents out of the way and giving the new employee some company merchandise.
Let's be clear, there's nothing wrong with this, but does it move the needle? Does it make this new hire feel like this place is special in any way? Think about how you can do that.
Make your welcome kits feel special
Set a precedent for how someone should feel about your company based on what you give them in your welcome kits.
If they show up and find a bunch of items tossed into a blank cardboard box, will it feel the same as getting a tastefully-designed custom mailer box filled to the brim with company clothing, notes from other employees, a handwritten message from the company's founder, and a gift card to the tasty lunch spot down the street?
It absolutely would not. What you do with your welcome kits says a lot about who you are as a company.
That might seem like an oversimplification, but it isn't. Employees really feel these things, and these things really matter for company culture, which we get more info below.
How employee welcome kits reflect your company culture
Welcome kits are not only a bunch of merchandise – they are also powerful tools to engage new employees, introduce them to the company and create an unforgettable first impression.
Here, we'll focus on specific areas where internal branding and messaging can benefit from welcome kits.
Introduce your brand
A welcome kit that is designed well – from colors and fonts to packing – will give new employees an idea of the company's culture. If done well, it will make them feel like they are already a valuable team member. This is one moment where you get to set a precedent for how employees will feel about your brand. The little things matter.
Smart companies invest in internal branding in their welcome kits. One way to do this is by including the company logo or design elements in the welcome kit. Packlane can help with this – you can create your own packaging by choosing a custom box style, size, and design with our easy-to-use website.
This worked wonders for Mailchimp, which used Packlane to create these custom boxes for employee welcome kits, designed by Chris Sandlin: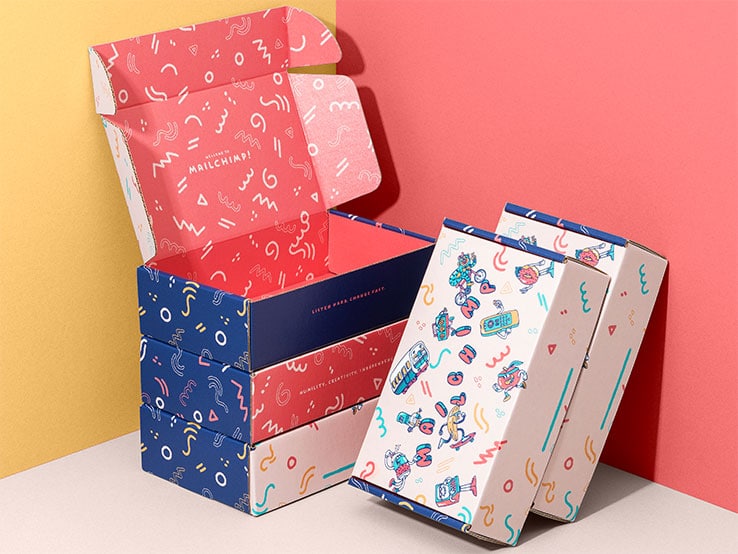 Motivate new employees
A properly assembled and designed welcome kit for new employees will engage newcomers and motivate them to be productive right away. It is always frustrating to come to work on the first day and not know where to begin.
With a welcome kit, you can include instructions, team calendars, and expectations. Having these instructions will make it easier for them to jump in and get started as early as possible. This can motivate new hires to lock in and know their roles without having to navigate and find it themselves.
Keep new hires informed
If your welcome kit for new employees includes answers to frequently asked questions, it will give your new employees more time to concentrate on work rather than figuring out the landscape of the company.
These can be frank and straightforward, and if they have still questions, include contacts of a person that can help, such as an HR manager or direct supervisor.
Promote brand awareness
If newcomers share the images of their welcome kits on social networks, this may draw the attention of potential clients or future employees to your brand. Your company can even show what they give new employees via a blog or social media post.
This may seem like a small thing, but it positions your company as one that cares about its employees, and doing something like this can spread that message about your brand.
Level up your employee welcome kits
Now that you know what an employee welcome kit usually includes and the benefits you can create if you execute correctly, let's get into some ways you can really take it to the next level. Using these methods, you can make a definitive statement about your culture and how you want employees to feel.
Focus on quality
High-quality items will show that company management really cares about new hires and wants to provide only the best. No one will be happy if a corporate T-shirt logo fades away after a first wash or if it's poorly designed.
Remember: that the first impression is the best impression, and it starts with your company's welcome package for new employees.
Design a beautiful employee welcome box
Package materials also matter a lot, so investing a little bit in design and materials can go a long way. This is something that Packlane can help with.
You can package your welcome kit in a custom box that is designed, styled and sized according to your exact specifications. There are different styles of boxes, too. You can choose from options like mailer boxes, folding carton boxes, or shipping boxes, and you can add your company's logo and design style to the outside.
You can get an instant quote and order as many as hundreds or as few as one, and give your employee welcome kit a unique touch that can speak volumes about the way your company feels about its own brand. If you want to see how it works, click here.
Communicate your message in a clear and simple manner
Use clear and simple language free of any company jargon to simplify onboarding. In your welcome kit for new employees, you can give details on how communication is handled across the organization.
Some companies use different communication channels for different purposes, such as Slack for solely business questions and Hangouts for informal chatting. Make sure these things are clear. The less someone has to figure out on their own, the more comfortable they'll feel.
Hand over the welcome kit at the offer stage
Some companies hand over the welcome kits to newcomers on the first day of work. This is a mistake. You should do it immediately after they accept the offer. This allows the new employee to explore their new employee packet in the comfort of their home or another familiar place.
They also get to know the office structure and schedule of their team even before their first working day. This gives them more confidence when walking through the doors as an employee for the first time.
FAQs for Employee Welcome Kits
What is a welcome kit?
A welcome kit is a way to give new clients or new employees information about your business. It's a way to establish a relationship with new hires who are joining your company by giving them expectations of what your brand and mission is all about.
What should be in an employee welcome box?
There are many things that can be included in your employee welcome box. These are just some of the things you could include in your welcome kits:
A letter from the CEO welcoming new hires to the team.
New hire paperwork and forms.
Information about company culture and your mission.
Employee handbook
Training information
Staff directory
Swag - t-shirts, coffee cups, stickers, pens, etc.
How do you welcome an employee on the first day?
When a new employee joins the team, it's a good idea to get the ball rolling by giving them a custom welcome kit. Employee welcome kits will send a message to your new hire that they are appreciated and belong to a team. Be sure to check in with your new employee after they've received the welcome kit and see if they have any questions.
What will your employee welcome kit say about your company culture?
If you read through all of this, there are probably a lot of thoughts about your company culture and internal branding swirling around your head.
That's a good thing because these are important things to consider when you're running a business. You need to instill confidence and comfort in all new hires and a good way to do that is to put together a stylish, comprehensive employee welcome kit.
If you're thinking about changing the way you do welcome kits, consider using Packlane for packing. Find out more about how it works here.