How to Choose the Best Packaging Material for your Artwork
Packaging plays a major role in each customer's experience with your brand. Font, color, and box design choices are what highlight the products you've worked so hard to create – and set your brand apart.
After you've taken the time and energy to create a perfect brand design and packaging inspiration, there's nothing more frustrating than realizing it doesn't work with certain materials. So, how do you avoid this and create a stellar design that complements your choice of package materials?
The best way to bypass a bit of that stress is to become familiar with some of the materials used on products featured at Packlane.
Whether you're looking to redesign your current offering or you're new to the process entirely, understanding the different available materials helps you to narrow down your choices and create a design that catches your customer's eye and shows off your products the way you envision.
Want to learn more? Consider these tips when it is time to craft your artwork.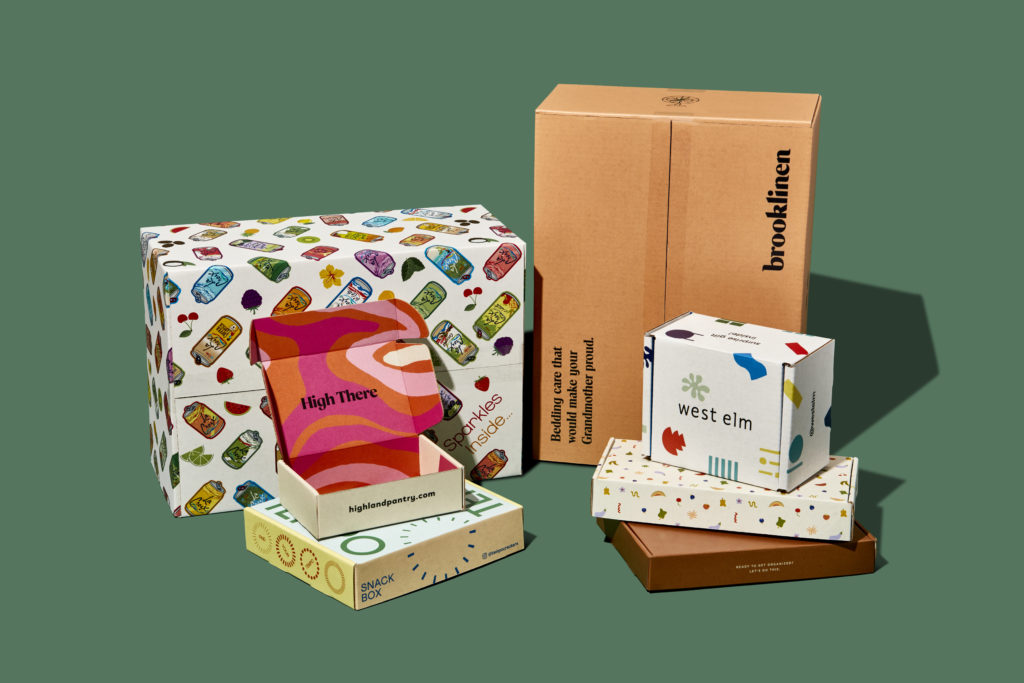 Choosing the right materials
The color and branding used on your packaging is important, and the material you choose serves as the ultimate foundation for this artwork.
First, choose a packaging material that best fits your product in size, weight, and aesthetics. 
Here are two common options:
Corrugated Board:

Sturdy and flexible, corrugated material is best for heavier products and works well for a variety of needs, including shipping, ecommerce goods, and subscription kits. Packlane's corrugated products consist of Mailer Boxes and Shipping Boxes, and Corrugated Product Boxes.

Paperboard:

Lightweight and foldable, paperboard is often used to package products like cosmetics, retail products, and food goods. Packlane offers product boxes made of paperboard material.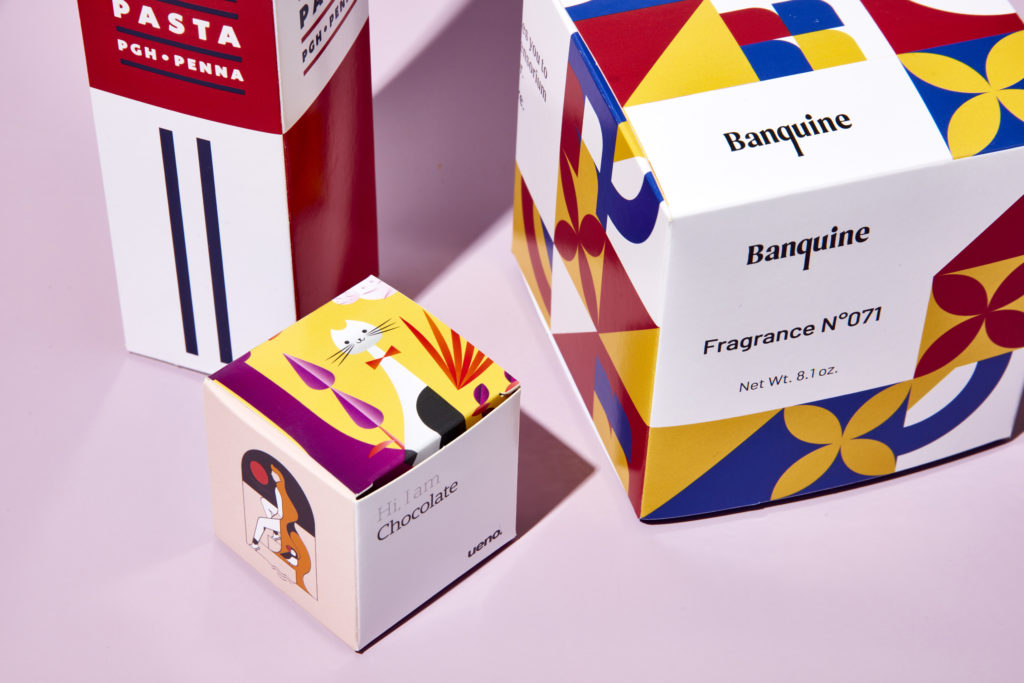 Once you've figured out which material option works best for your product type and brand, the next step is to consider how your desired colors and artwork will look when printed on that material.
Here's the good news: when it comes to paper-based packaging products printed with the latest in digital technology, there's a lot of flexibility to create the look you want!
Want a simple breakdown of the different options to consider? Take a look at these to see which material fits your brand's needs best:
Kraft Corrugated
This material offers a natural, matte feel with traditional natural brown coloring on both the inside and outside of the package. This material often works best with darker colors, as the base color of the cardboard liner will alter the aesthetic of lighter colors (with the exception of digital white ink). Our digital white ink printing method ensures that white is printed vividly and makes a bold appearance on kraft. On areas featuring branding and artwork, inks are cured to create a durable and scratch-resistant finish – ideal for keeping logos and art looking clean and high quality.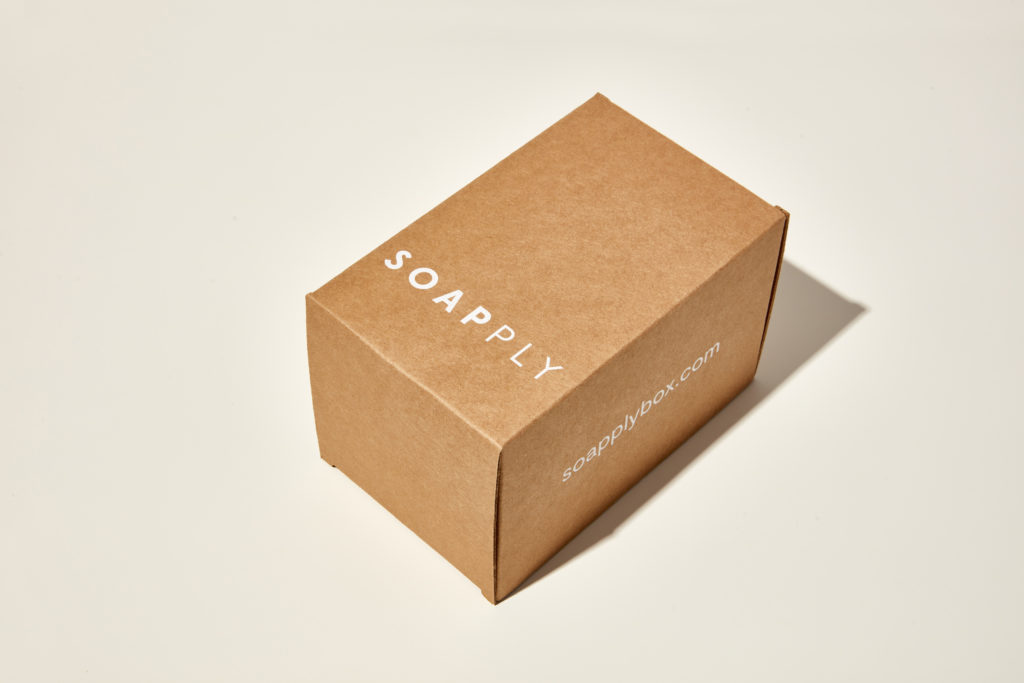 Standard White Corrugated
While similar in feel to Kraft, the difference with Standard White is that the liner on the inside and outside of the box is white. This means that all colors of the spectrum will print well on this material, and essentially 'true-to-hue. While inks are semi-transparent, and mottling on the liner (due to natural paper fibers) can alter some lighter colors slightly, artwork comes out sharp and vivid in appearance. Printed areas on Standard White are cured to a satin finish – ideal for limiting potential scuffing or scratches on your packaging while in transit.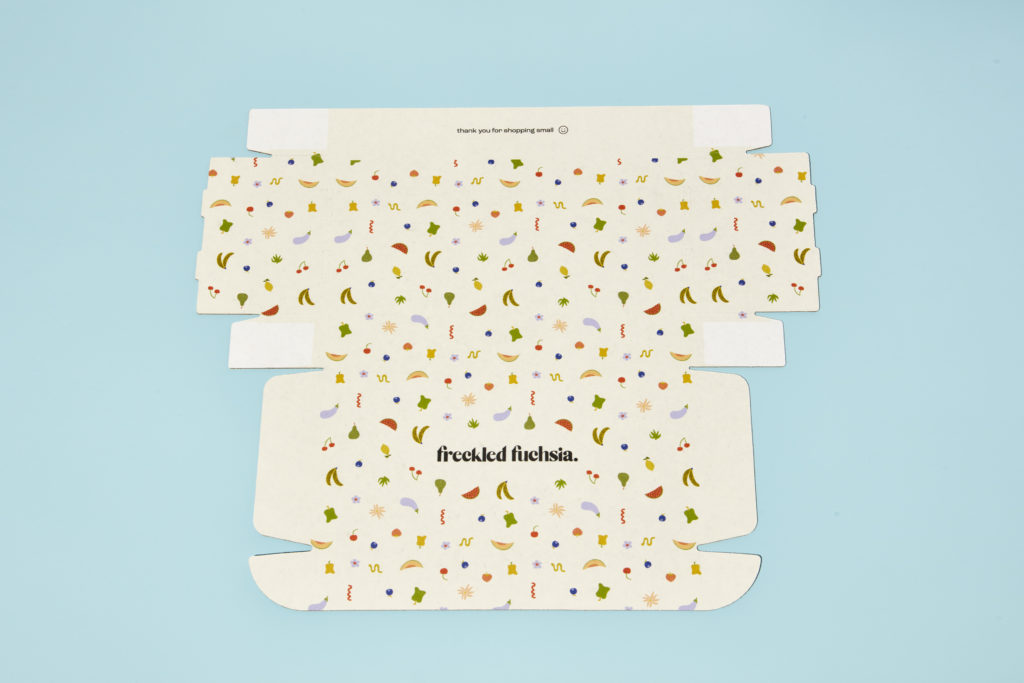 The difference between Kraft and Standard White Corrugated
When creating your artwork and choosing the best material for it, it is critical to consider how the same design will appear on different corrugated material types. On Standard White Corrugated, lighter and bright colors are more vivid and truer to their natural hues; while on Kraft Corrugated light and bright colors often register as darker, muted tones. Typically, we recommend choosing darker colors for Kraft corrugated as that material renders them more true to their natural pigment versus lighter shades.
As an example, reference these West Elm boxes that were designed and printed with the exact same artwork. The ink colors for each are the exact same – the only difference is the material that the artwork was printed on. This is why it's so important to be mindful of what material will represent your brand and desired aesthetic best.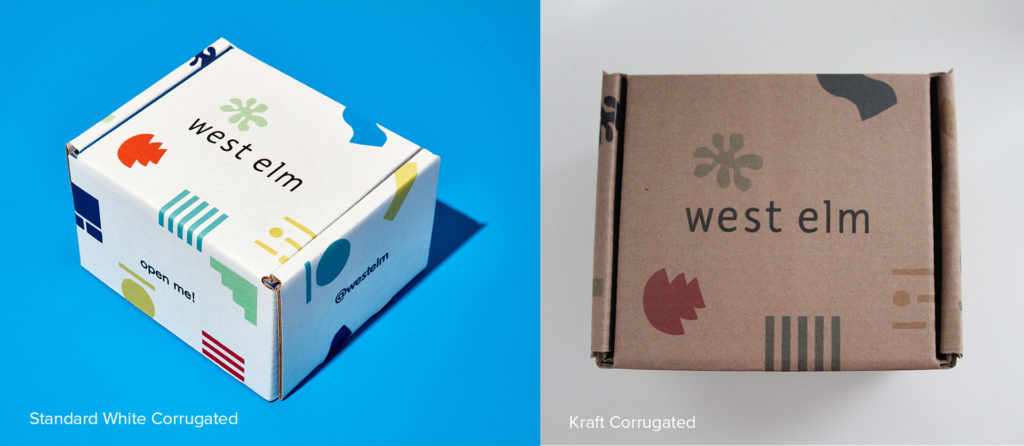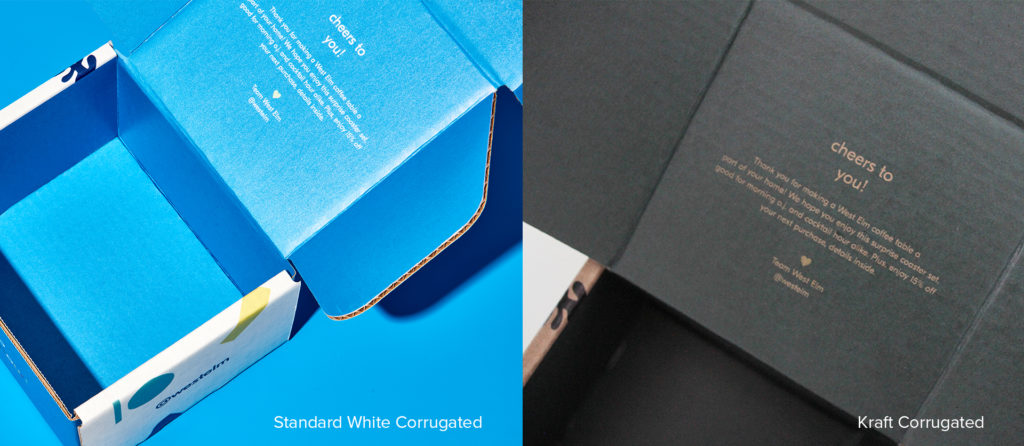 100% Recycled Corrugated Kraft
If you're in need of an affordable and sustainable shipping solution, recycled corrugated kraft fits the bill! This material is only available in Packlane's Econoflex print option, so custom designs need to be created to print in only black ink (with halftones). Because it's budget-friendly, fully recyclable, and customizable for your brand needs, it's a versatile choice.
This material is made with 100 percent recycled and recyclable corrugated Kraft cardboard. Although printing is limited to black ink on this material, the ability to use halftones helps produce details in gradient shades. With print quality comparable to the crispness of flexography, Econoflex guarantees the biggest bang for your buck to highlight your brand's design. And if you choose to go this route, you don't need to figure out the halftones yourself – we do that for you!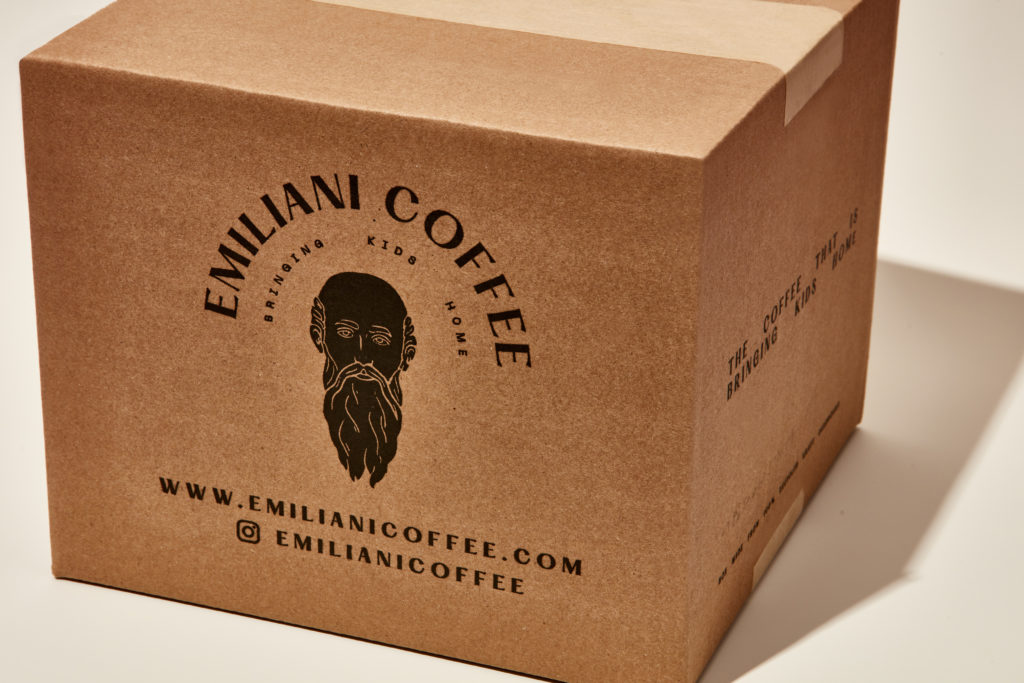 Dreamcoat
Soft to the touch with a smooth, solid white finish compared to Standard White or Kraft, Dreamcoat (also known as Kemi) is a premium clay-coated corrugated material. With this material's coating, your colors have a pure white foundation which ensures a more bold printed aesthetic and vibrant colors. If you're looking to create a more vivid and high resolution unboxing experience for your customer, Dreamcoat can be an exceptional option. Artwork printed on this material is cured to create a satin or high-gloss finish (with HDPrint), depending on your selected preferences.
Packlane's HDPrint method on Dreamcoat adds a wow factor to your packaging's presence. With HDPrint, the quality of colors used in your artwork adds an extra element of design aesthetic to the packaging. Any dark or deep colors used will be extra glossy, while lighter colors will come out to a finish that's more shimmery or nearly matte.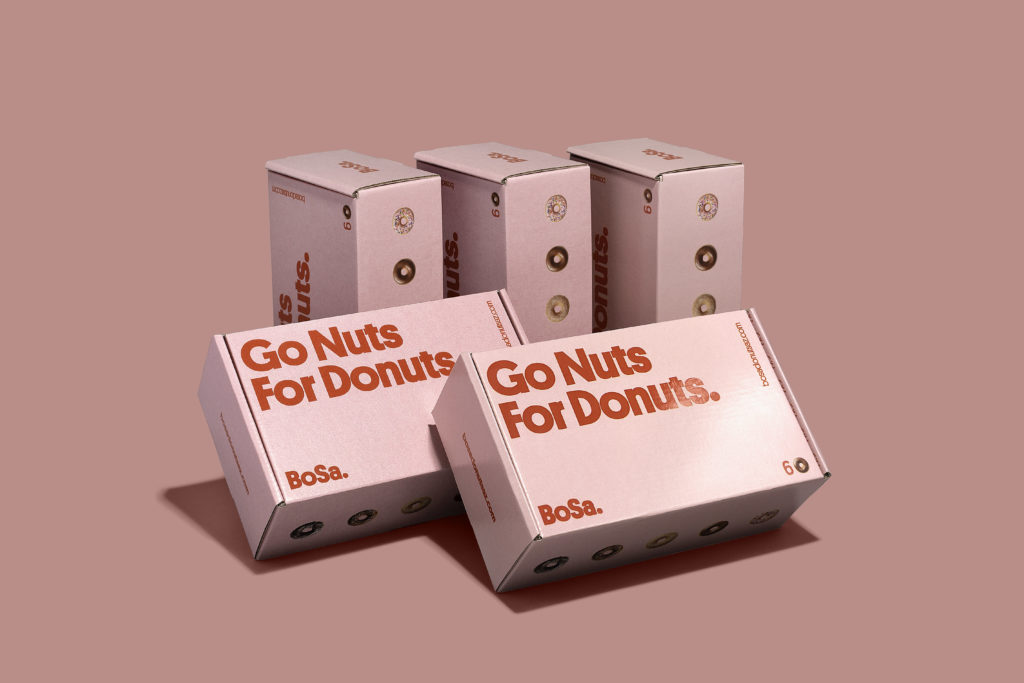 What is HDPrint Gloss?
Thanks to technology advances in digital printing, HDPrint Gloss takes your artwork to the next level. 
Here are just a few of the features to consider when selecting Dreamcoat and this specific printing option:
Finer linework

: If your artwork has fine details or thinner lines, HDPrint is the way to go. Compared to standard digital printing on corrugated materials, this new technology uses smaller ink dots and precision to elevate your brand's art and design, ensuring a higher definition print than what you'd typically receive on cardboard. 

High

–

quality finish:

When combined with our premium Dreamcoat material, the resulting effect is an exceptional package design that speaks volumes and replicates the high-gloss finish of expensive printing methods (without the hefty price tag). Printed areas are high gloss while unprinted areas showcase the foundational white matte material.

Design flexibility:

Update your artwork whenever you want – with as many colors, copy changes, and image additions as your heart desires. HDPrint Gloss requires no cost of print plates or setup, which saves you time and allows you to change your artwork frequently without being locked into any particular design.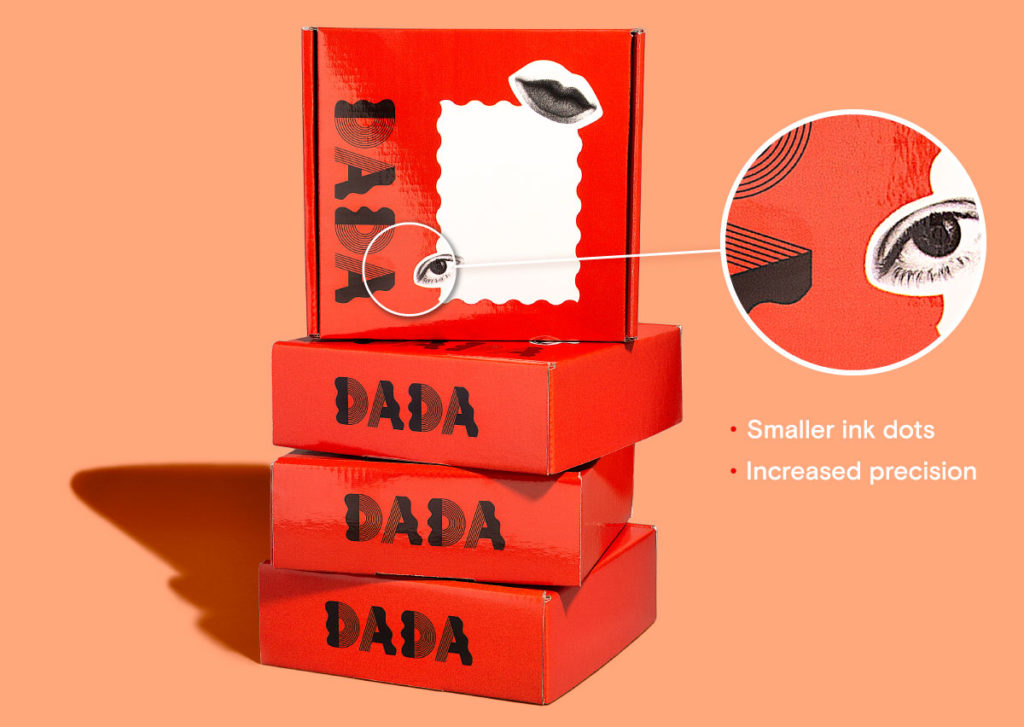 Paperboard
At Packlane, we offer one style of paperboard material, specific to our Product Box offerings only. This material is smooth with a clay-coated white top side, and an uncoated bottom side. Digitally printed boxes are finished with a semi-gloss aqueous coating to protect the box and prevent scuffs or scratches. Paperboard is a great option for small text and detailed artwork; it's a top choice for primary packaging. 
Creating custom packaging with success
With Packlane's different options more clearly defined, choosing the best material on which to adorn your products with your branding should be a little easier.
A final point of consideration when designing your custom packaging: be as consistent and customer-focused as possible. Your brand may require more single-serve options, or perhaps the priority is for your packaging to hold up a little better during transit. Any of our materials can be used as a solid foundation to showcase your branding!
When done well, with just a little extra consideration, the packaging and materials you choose should appeal to your customers and complement your products beautifully.
P.S. Not seeing a material that meets your needs? Reach out to Packlane Plus for a variety of material options available at volumes of 2,000+.