It's better to give than to receive, right? While gift giving certainly makes us feel warm and fuzzy all over, there is something to be said about opening a perfectly wrapped gift around the holidays. Luckily, it's not too late to send us your custom designs for decorative mailers or shipping boxes to celebrate the season! You're guaranteed to get your packaging in time as long as you submit your designs by November 12th.
Of course, holiday packaging provides an extra special experience for customers, but you might be wondering if it's actually worth the investment. Here are a few reasons why we recommend seasonal packaging, and a few tips so you can do it right.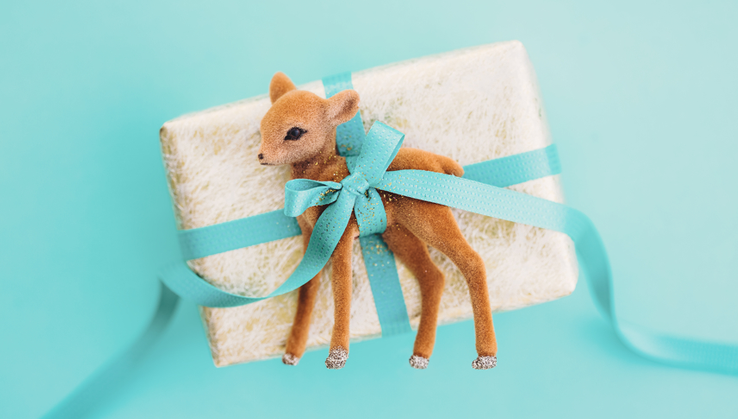 It makes the unboxing feel even more exciting and helps you stand out
There's a certain magic in a unique unboxing experience—in fact, 49% of people feel excited to receive an item from a brand when it has standout packaging. Just imagine what consumers will think when your product shows up at their door, adorned with graphics of green and red Christmas ornaments, outlines of falling white snowflakes, or a heartfelt holiday message from your company.
In his piece The Lost Art of the Opening Ceremony, Fred Richards, Chief Creative Officer and Managing Partner at Kaleidoscope, mentioned, "An unexpectedly branded package gets attention, provides brand awareness and leaves a lasting memory, which can result in additional purchases." Custom printed packaging adds to the thrill of the season, making it an experience they'll remember.
So how can you achieve something unforgettable with your boxes or mailers? The answer is in those fine details. When designing decorative gift boxes, treat them as such: a gift, from you to the consumer. Consider, for example, an ornate border around the "Mail to" section or a bow graphic that wraps around the package. By using Packlane's double-sided printing, you could even write a note inside the box, adding a personal touch that will feel extra special.
Seasonal packaging shows the personality of your brand
With a solid brand identity and effective year-round packaging, you may feel hesitant to stray and use something different during the winter holidays. But your brand has a personality, so it's time to let it shine! This is a wonderful way to take the core elements of your brand and put it in a new, festive light.
This may seem like an overwhelming task to tackle before Christmas, but luckily you don't have to start from scratch with seasonal packaging. Packlane saves your designs indefinitely, so you can go back and revise them at any time. By tweaking the packaging you usually use and putting a holiday twist on it, you can stay true to the heart of the brand.
It may seem like a silly question, but when making edits to your design, ask yourself, "How would my brand celebrate the season?" Would it cozy up by the fire with a glass of eggnog? Would it host a dinner party with friends and family? Would it wear ugly Christmas sweaters every single day?
By thinking of your brand as a person and imagining the personality traits it has, you can decide what design elements are nice extra touches on your decorative mailers or shipping boxes. For example, your response can help inform the color palette (bold green and red or a sophisticated purple and goldenrod), copywriting (something cheeky that makes consumers laugh or something more sincere), or the overall appearance (a calm minimalist approach or something a little bit retro).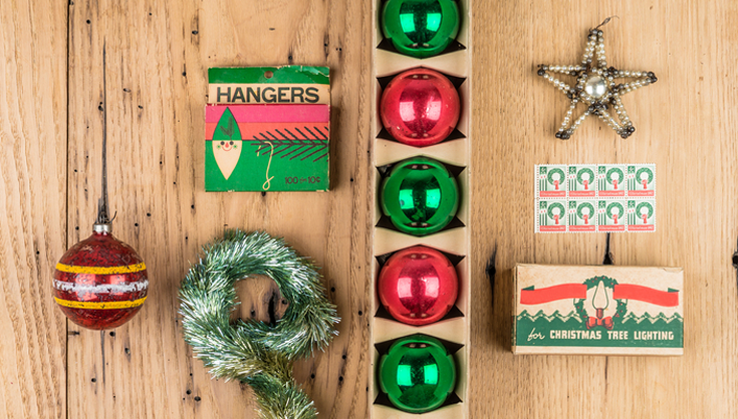 Holiday packaging feels like a collector's item
Why do people save their grandparent's holiday decorations, complete with the Christmas box they came in? Because they feel like something valuable worth hanging onto. The item itself might be special, but when it also comes in delightful packaging, then it feels like a beautiful piece of history, right in your hands.
Decorative Christmas gift boxes harness this nostalgia. Packaging has the power to stir up some wonderful memories, not to mention help transport us to a different place and time. Your consumers will get to live that extraordinary sensation when your item arrives. And since Packlane uses high-quality materials that are going to last, who knows—maybe decades from now someone's great-grandchild will be unwrapping something saved in your brand's seasonal packaging!
Decorative mailers and shipping boxes are extra shareable for social media
Social media has completely changed the game for beautiful packaging, turning it into a keepsake you'll also post online. From 2013 to 2014 alone, unboxing videos on YouTube received 57% more views. But even if your consumers aren't going to post a video, Dotcom reports that 39% of consumers are going to share a one-of-a-kind unboxing experience, in some way.
If you'd like your consumers to get social with your holiday packaging, be straightforward about it and say so right on the box. With Packlane boxes, you can print on any surface, inside or out,  We encourage clients to print their social media handles or special hashtags directly on the box, prompting anyone with an Instagram, Twitter, or Facebook to hop online and share.
Our top 3 useful tips when giving your boxes a merry makeover
Ready for some holiday fun with your packaging? Here's how to celebrate the season with decorative mailers and boxes for shipping:
Extend the life of the packaging by making it seasonal. Unless your demographic primarily celebrates Christmas or Hannukah, for example, try using "winter" or "holiday" instead. If you add in the exact year, just keep in mind that it won't be reusable for the following year.
Go beyond green and red. Yes, those are the traditional colors packaging designers use when creating something for this time of year, but you can go beyond that, too. Imagine using Packlane's matte standard white or our sleek Dreamcoat with your Christmas boxes for an elegant, minimalist approach. Or if you prefer something colorful, you can incorporate other holiday hues—because we print CMYK, we can bring any color to life on your packaging, including green, red, or anything else!
Submit designs early. The holiday hustle is upon us, so be prepared with seasonal packaging. It's not too late to get custom holiday boxes printed with Packlane—send in your design by November 17th so that you can send some extra happy holiday shipments this year. Start designing your decorative mailers and boxes today with Packlane's interactive design lab, and if you have any questions you can contact us directly.