The new Packlane GOLD standard for custom-printed boxes is now HDPrint Matte. ⭐️
HDPrint Matte will be the standard finish for our Standard White and Kraft materials.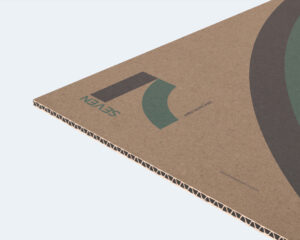 HDPrint Matte offers the same crisp, high-quality print as our HDPrint Satin product, with little to no sheen on the entire product. This flat matte finish provides a very consistent, natural feel across printed and unprinted areas. The smooth, matte feel of our classic white or kraft material allows your artwork to take center stage and almost feel like it's part of the material!
The result? An affordable alternative to lithographic printing that can help your business level the playing field. 
Low minimums – The minimum order for this product is one! Yes, I said 1. 
Budget-friendly – Staying within a budget doesn't mean sacrificing quality. HDPrint offers retail-quality printing comparable to traditional, high-cost methods. 
Fast Turnarounds – Traditional print methods like litho and flexo can take anywhere from 3-5 weeks. With HDPrint Matte, we can get your order shipped in 10-14 days.   
Color – What is a design without color?  Here at Packlane, we give you the flexibility of using as much color as your project requires. 
Eco-Friendly- The inks are water-based, environmentally safe, and comply with even the most stringent global food safety regulations, including Nestlé Guidance and Swiss Ordinance. ♻️
Semi-Gloss was the old standard print for Packlane. The print is a UV cured finish. The ink sets up on top of the paper, meaning printed areas have a small but noticeable raised texture. HDPrint Matte uses less ink with a water base that sits flatter on the box providing a more seamless, clearer, and crisper finish.
Now, what's the difference between all HDPrint finishes? Great question!
HDPrint Satin vs. HDPrint Gloss Vs. HDPrint Matte Vs. Semi-Gloss
HDPrint

Satin

offers a satiny coating that has a sheen over the entire box. HDPrint Satin is printed on our Dreamcoat material only. 

HDPrint

Gloss finish is printed on our Dreamcoat material and

 

provides

a high gloss sheen over the entire printed area. This means that unprinted (white) areas on your box will remain the original texture of the material itself, while printed (ink) areas will be cured to a high-shine gloss for a striking contrast. 

HDPrint Matte offers a flat matte finish on our Standard White and Kraft materials.
You can see a comparison with all the materials and finishes below.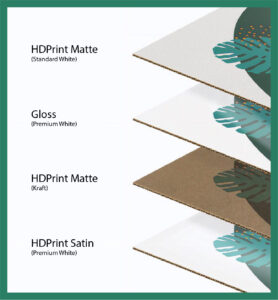 All HDPrint options deliver crisp full-color graphics with lower minimums. Basically what we're saying is that if you order from Packlane, you'll get the best! It's all a matter of preference… Do you like a satin sheen? A glossy shine? Maybe a rich matte finish… You can't go wrong! 
If you have any questions, please don't hesitate to reach out to our awesome support team here.