How to Get a Direct ROI by Showcasing Packaging in Your Ads
5 Ways To Incorporate Custom Packaging Into Your Digital Advertising
Maybe you're considering upgrading to custom packaging for your brand. Or maybe you've already made the switch and are looking to maximize the return on your investment. Why wait until your beautiful new packaging is at your customer's front door to leverage its advantages?
Editor's note: This is a guest post by Ben Philabaum of Biddyco, a performance marketing agency for e-commerce. Brands choose them because they produce visual creative, don't bill a percentage of ad spend and keep their client roster small.
At Biddyco, we help eCommerce brands sustainably scale. We do this with a methodical, deliberate approach to paid traffic and creative design. The clients we've seen be the most successful are the ones who prioritize the complete consumer experience, from the online storefront to unboxing. And that first experience often starts with your ads.
From working with our clients on their paid social, we've seen that showing off your packaging in ad creative can lead to lower costs per acquisition and higher returns. By testing the different formats we'll share below, you can test if highlighting your packaging increases paid marketing performance.
But right now, the world is a little different and you may want to consider whether it's the right time to readjust your ad spend.
To Advertise Or Not To Advertise During COVID-19?
It's no secret that these are extremely trying times for individuals and businesses alike. We're hoping that everyone's #1 priority is the safety of their loved ones and community, and where possible, supporting local businesses who are being forced to make some very tough decisions in order to continue paying their employees and providing essential benefits like healthcare.
As one would expect, some businesses are being hit harder than others. At Biddyco, our mission has always been to help customers discover great products that enhance their lives. Right now is no exception.
While the world shifts to a new normal, demand for certain verticals is skyrocketing. We've been working with our diverse roster of clients to help navigate them towards profitable solutions and things are really sticking. Here's some proof. We also put together some guidelines of our best practices that may help you:
Get into digital advertising if you have a product relevant to the current climate
Social media usage has spiked to record levels in recent weeks and many brands have pulled out of the ad auctions if their product isn't relevant. Combine these two factors and the costs of digital advertising have never been lower.
For years, everyone's been complaining about the rising ad costs and how they wish they were lower. Now's your chance. If you can still manufacture and ship goods, now is the time to go on offense.
Create content and gather leads
It costs $0 to create a 'Work From Home' guide. Exchange this for an email which you can retarget for free when the economy bounces back.
Choose your copy carefully.
It is okay to address the current climate in your advertising. If you sell a product that will help people thrive while working from home, let them know why. Be sure it comes from a place of empathy and caring, not fear-mongering or panic. Communicate how you are helping your community in a genuine and honest way.
Avoid opportunism
Do not try to sell face masks or sanitizers. Not only are the optics of taking advantage of a crisis terrible – these resources should be left to healthcare professionals. If you happen to be sitting on an inventory of N95 masks, contact your local hospital and they will arrange to purchase them.
Walk the talk
If your margins allow, find a way to contribute a percentage of proceeds to an organization combating the crisis. Offer discounts to healthcare workers. The goodwill earned by prioritizing humanitarian efforts will return itself tenfold in the long run.
Lean on each other
The market is not a zero-sum game. Collaborate with other brands to create new resources and opportunities to support each other and your customers during these unprecedented times. If you'd like to strategize how your brand can make lemonade out of these lemons, drop us a line. We'd love to talk, no strings attached.
Making the decision to invest in custom packaging can be challenging. Sure, great packaging enhances the customer experience, builds your brand, and makes it more likely that customers will share your product on social.
But it's hard to attribute a direct ROI to your packaging. Or is it…
Let's take a look at some examples of successful eCommerce brands and how their custom packaging enhances or detracts from the overall impact of the ad.
Cheers: User Generated Content Unboxing
Cheers helps reduce alcohol's negative effects. Their brand promotes healthy consumption while recognizing we (most of us) aren't 21 anymore, and sometimes need a little extra help to get through the next day. Here's an ad they've been running that puts the packaging front and center. Let's take a look:
Great example of a UGC unboxing. The ad puts the delivered product in the customer's hand – and she even mentions she bought from an ad. The power of suggestion at work!
The offer in this ad is to take a quiz and get a free sample of the product. By showing the packaging and product, you can more tangibly understand what you get at the end of the quiz
The low camera angle makes it feel like she's FaceTiming with a friend. Feels very authentic and not forced
She holds the box up so that you get a feel for its size. This is pretty hard to do with a box on a plain background
Notice the shipping label: they package and ship their product all in one
They include subtitles on the video, so you can follow along if you have sound off. And the text ties in their brand color and color of the box
Cleancult: POV Unboxing
Cleancult wants to clean up the cleaning product market. In an industry that generates massive amounts of waste from disposable plastics, they're working to change the way we care for our spaces from top to bottom – which of course includes their packaging (no packing peanuts)!
This is a simple unboxing walkthrough. This is easy to make since it doesn't require anyone to get on camera. Someone on your team could make this in 10 minutes.
Environmental impact is a big part of the brand and the way they ship plays into that. Highlighting the recyclable packaging reassures the purchaser they are making an environmentally responsible decision.
People love a 'kit'. The way the box presents the product makes it feel like you need every part of it (not just the dryer balls, for example) which should increase their average order value.
CAUSEBOX: The Box Stack
CAUSEBOX is a curated seasonal delivery of ethically sourced products that help make the world a better place. We're a little biased here (we worked on their campaigns), but we feel they do just about everything right when it comes to custom packaging.
From working with CAUSEBOX in the past on their ads, we've seen how much care and attention they put into not only the actual products, but the packaging too. They hire an artist each season to design a totally unique design that ties in with the products within.
With each new season's box, they tease out the contents, and start by unveiling the packaging design to get their community excited.
The box IS the product (it's literally in the name). Since the contents rotate, the box is their entire brand. And they have very intelligently incorporated the rotating packaging designs to their advantage.
This ad creates exclusivity to each unique box. The winter box running out creates a sense of urgency when the spring box becomes available.
The hands grabbing the boxes give a sense to the size of the package and also conveys that supply is going fast!
Sock Fancy: Playful GIF
Sock Fancy wants you to "rock out with your sock out". As a rotating monthly subscription, the box is their constant while the contents vary. Without the uniquely defining characteristic of the packaging, it could be a plain ol' sock delivery from just about anywhere.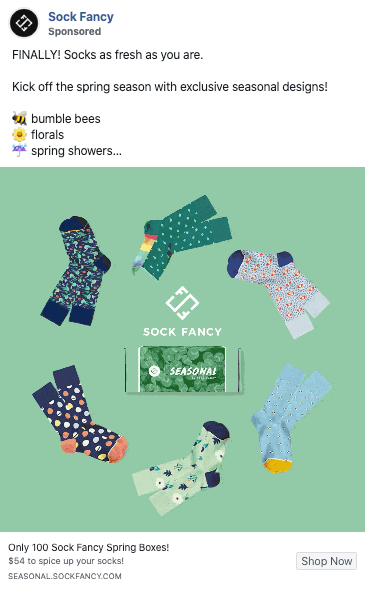 Like CAUSEBOX – the packaging design changes seasonally.
This is a flat lay GIF that shows the packaging as well as the product in the same frame.
Socks aren't the most visually interesting product, but by choosing fun patterns and creating the subtle movement, they make it eye-catching and fun!
From a design perspective, the green on green isn't great. Change the background so the coloring of the box pops!
"Only 100 Spring Boxes Available" creates a strong sense of urgency.
The Sill: The Walkthrough
The Sill aims to plant ownership more accessible to everyone. They deliver healthy plants to your front door and provide guidance and support to help them flourish.
This is a good example of an unboxing GIF that includes people but is not user-generated. It's very professional and polished. This takes a lot more effort to produce than the Cleancult example, but the human element and fast cuts make it more visually interesting.
Ordering a plant off the internet is probably a foreign concept to 99% of people. The obvious first question is how? So we show them! The packaging also reassures they will receive their product in good condition. This does a good job overcoming a big hesitation most people probably have about purchasing: will it arrive with dirt everywhere and broken?
To the first point: show is always better than tell.
Quality packaging will make a difference in your bottom line. If a big percentage of the plants arrived damaged, that would be very, very bad.
This will look very distinct sitting on someone's porch after delivery.
So what's consistent in all the above? Each company uses their packaging to frame and further their brand BEFORE the customer has decided to purchase the product. eCommerce offers the advantage of customers being able to convert at any point after they've "left the store".
The disadvantage is that we, as digital marketers, have to "bring the store" to our customers. This means communicating the experience had by visiting a brick & mortar location – from company voice & values to aesthetic branding and attention to detail.
Unboxing is EVERYTHING these days. For just about any commercially sold product, you can find multiple videos on YouTube of influencers and everyday consumers alike sharing their unboxing experience with the internet – and people are ready and willing to watch. Highlighting that moment of gratification is a huge opportunity for your brand, and ads are a great place to do it.
Want more? Download our "Top 100" deck to see examples of some of the top ad creative we've produced for brands like yours.