How to Find Stunning Patterns for Packaging Design
Image credit: Rorygez Fresh. Font credit: Connary Fagen
Carefully crafted packaging can become your silent seller: long after your customer has purchased an item, the aesthetic style you've built into its container sends messages about your brand's values, preferences, and beliefs. Regardless of the kind of box or wrapping you select to protect your product, there are specific design elements that help you reinforce these brand messages.
Aside from typography and color, a pattern is certainly one of the most versatile tools at your disposal. A vibrant, seamless pattern can be replicated across multiple brand assets including, but not limited to, packaging. Ideally, you want to land on a pattern composition that is both versatile and representative of your brand's visual style. Let's take a look at a 3-step method to find and design a stunning pattern for your brand's packaging.
This is a guest post by Laura Busche, a Brand Content Strategist at Creative Market who regularly blogs about branding and business at laurabusche.com/blog. She is the author of O'Reilly Media's Lean Branding book. Laura earned a summa cum laude degree in Business Administration from American University in Washington DC, and a Master of Arts in Design Management from the Savannah College of Art and Design (SCAD). She is passionate about design, branding, and their exciting crosspoints.
Step 1: Define Your Brand's Visual Style
The first step to creating packaging that works for your brand is honing in on exactly what your brand is about and figuring out all of the essential components that will allow you to express that message consistently in the world.
To find your brand's visual style, start by looking through the styles of brands that appeal to you or offer complementary products to your company. Notice what typefaces they use, what colors they prefer, and what visual style they rely on. Then, decide which of these elements work for your company, and which won't help you relay your own message. You can also look at some great examples of packaging to curate visual cues that seem effective for your own brand.
Inspiration sources
Go to Pinterest, search keywords related to your company's values or products, then browse through boards and pin images to help generate inspiration.
Flip through online and offline magazines and newspapers to see ads for products that speak to your own.
Build a physical or digital mood board compiling different elements that match the visual aesthetic you'd like to build into your brand's packaging. Make sure to select different types of artifacts, including photography, 2D illustrations, fabrics (this works much better with a physical mood board), textures, color swatches, sketches, packaging samples, stationery pieces, among others.
Get specific about your audience
Who are they?
What do they do for a living?
How do they spend their free time?
What colors do they prefer?
What design trends influence them on a daily basis?
Once you've done all of the above, you can write down a brief description of your brand's style. It should be a quick guide that allows you to make decisions about visual brand applications like packaging, stationery, and beyond. If it's helpful, use this template to describe your overall visual direction:
[Your brand name] helps [target audience] achieve/solve/satisfy [need or desire]. Our visual style will reflect that value proposition by combining [describe type choice] typography, [describe color palette] hues, [describe patterns] patterns, ] and [describe illustrations/photography/iconography] imagery.
Granted, describing visual decisions like your type scheme, color palette, pattern, or imagery directions can be challenging. Here are some helpful design descriptors you can use to pinpoint your preferences. This list isn't exhaustive by any means, but it provides a good starting point to get more precise about your brand's visual aesthetic.
Type descriptors
Color descriptors
Pattern descriptors
Imagery descriptors
Modern
Grotesque
Thin
Retro/vintage
Hand-drawn
Script
Calligraphy
Layered
Elegant
Warm
Cool
Vibrant
Worn out
Desaturated
Monochrome
Vintage
Earthy
Futuristic
Minimal
Geometric
Random
Artistic
Floral
60s/70s/80s/90s/00s
Ethnic
Natural
Handmade
Flat
Realistic
2D
3D
Isometric
Hand-drawn
Rustic
Outline
Vintage
Step 2: Curate and Select Patterns that Match Your Style
Once you've clearly articulated your brand's visual style, start gathering inspiration and design assets to apply those principles in your packaging. While you can design these patterns from scratch, leveraging pre-designed assets that are ready to tweak can help you beat the blank canvas syndrome and get a head start.
To begin, browse through available patterns that seem to match the style you've defined for your brand. Use the descriptors you selected in Step 1 to get more relevant search results. Favorite the patterns that you like best, or create a collection to save them for later.
Here are some great pattern options to consider for your packaging projects. They were created by independent designers around the world, using various techniques that fit different kinds of visual styles.
180 Sublime Surfaces
Blixa 6 Studios created 180 Sublime Surfaces to be used in a wide variety of projects. These 180 versatile textures are inspired by ancient Japanese design. Consider these textures if your brand has an East Asian feel.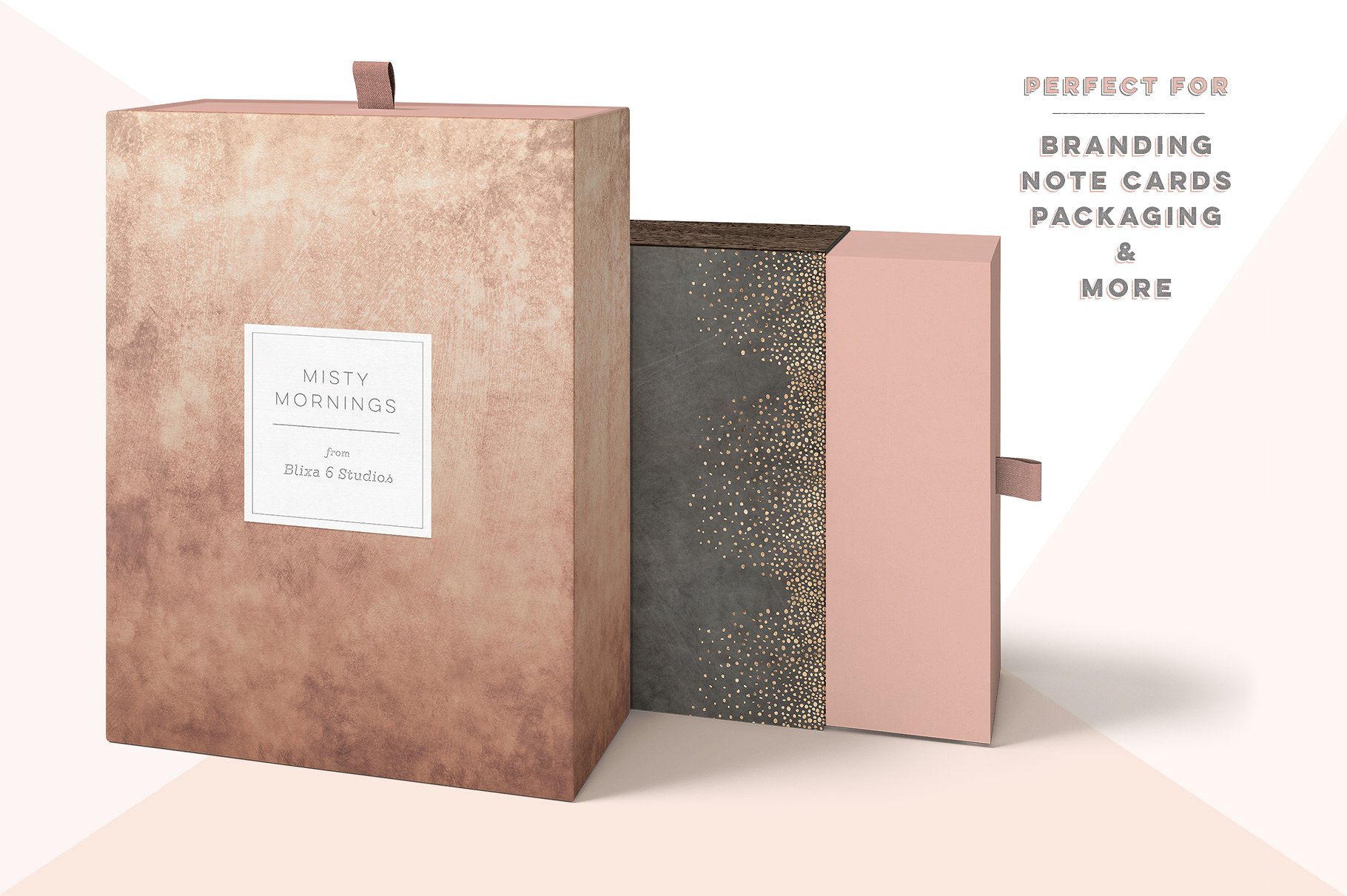 Elegant Patterns & Illustrations
Choose Elegant Patterns & Illustrations by Lara's Wonderland if you're trying to convey elegance and sophistication. This set comes with 70 unique designs.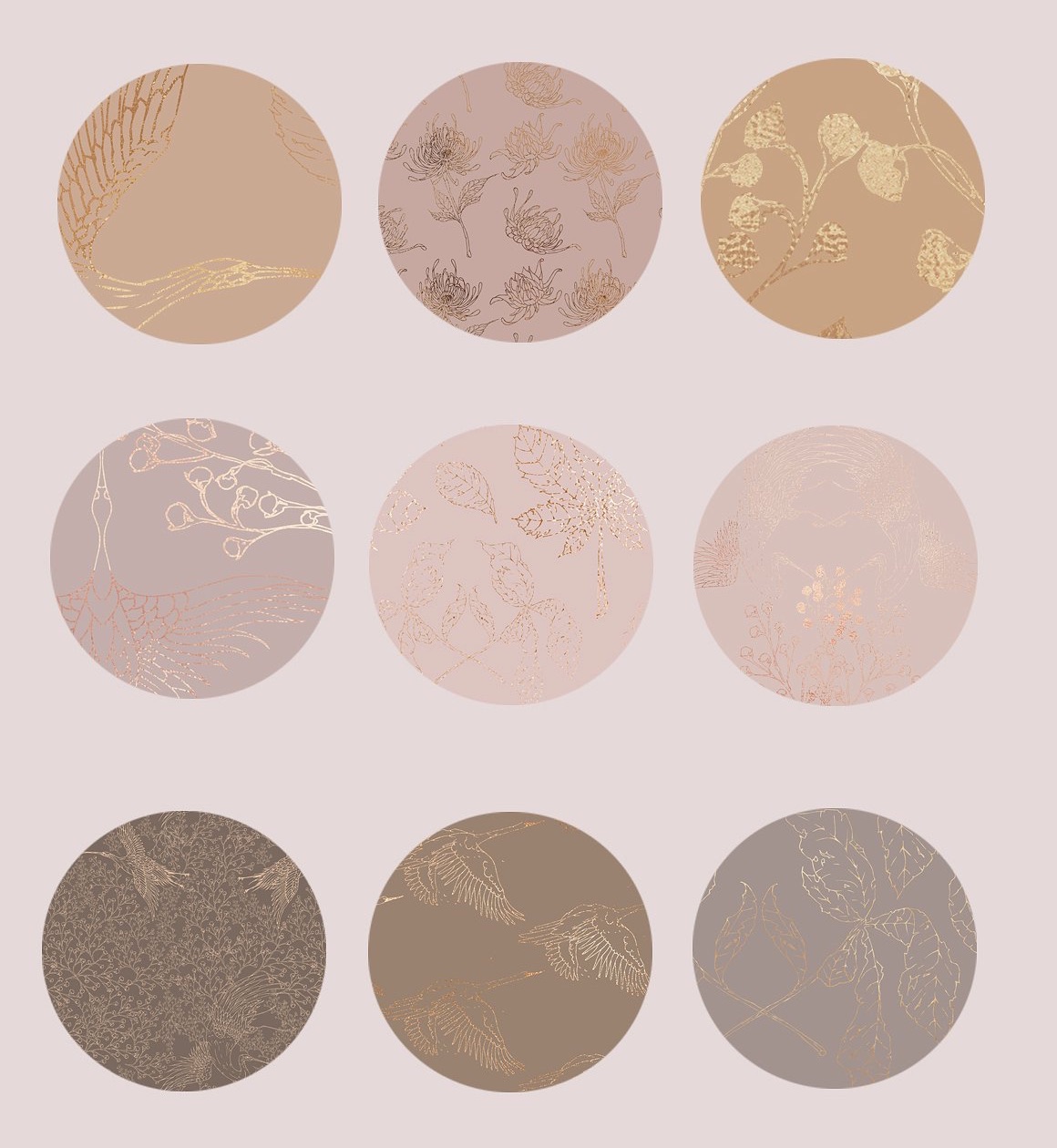 Terrazzo/Granito Seamless Patterns
New Public's Terrazzo / Granito Seamless Patterns are fun and funky. There are 7 patterns to choose from, all inspired by an intricate flooring technique called Terrazzo.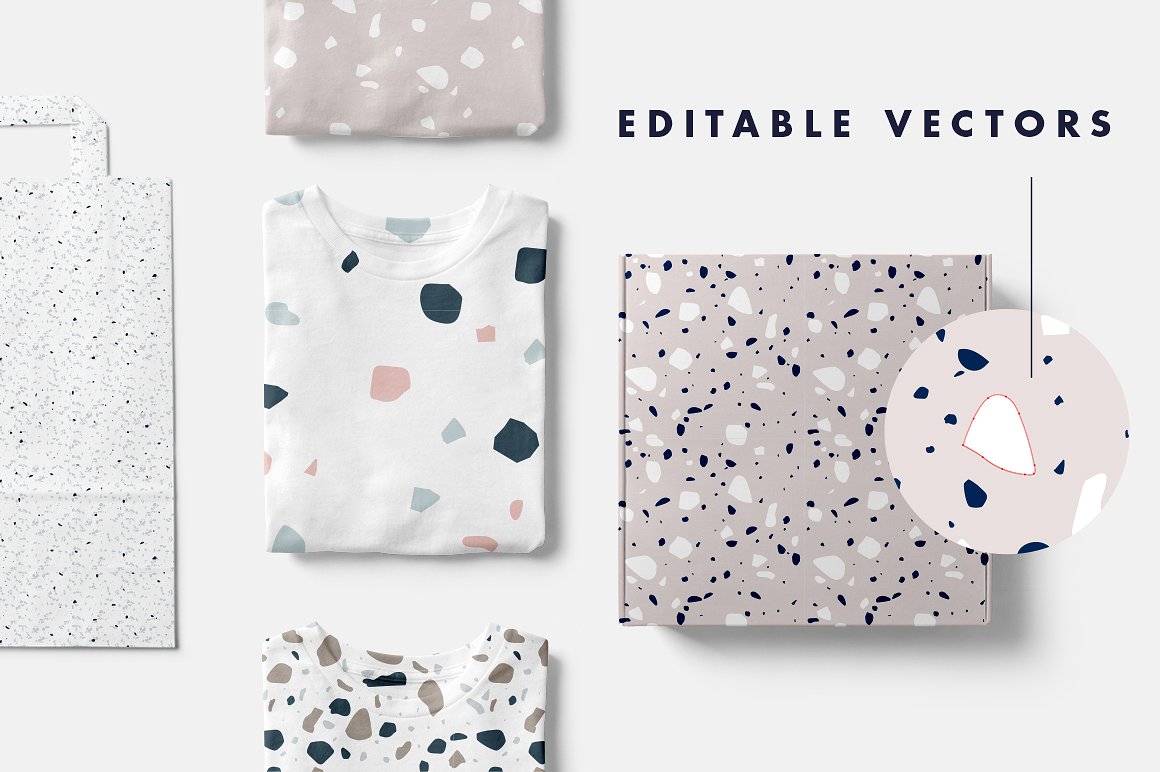 Owls & Floral patterns
Work nature into any project with Pinata's Owl & Floral Patterns. This set comes with 20 vector patterns that contain delicate elements like ferns, owls, pine cones, and more.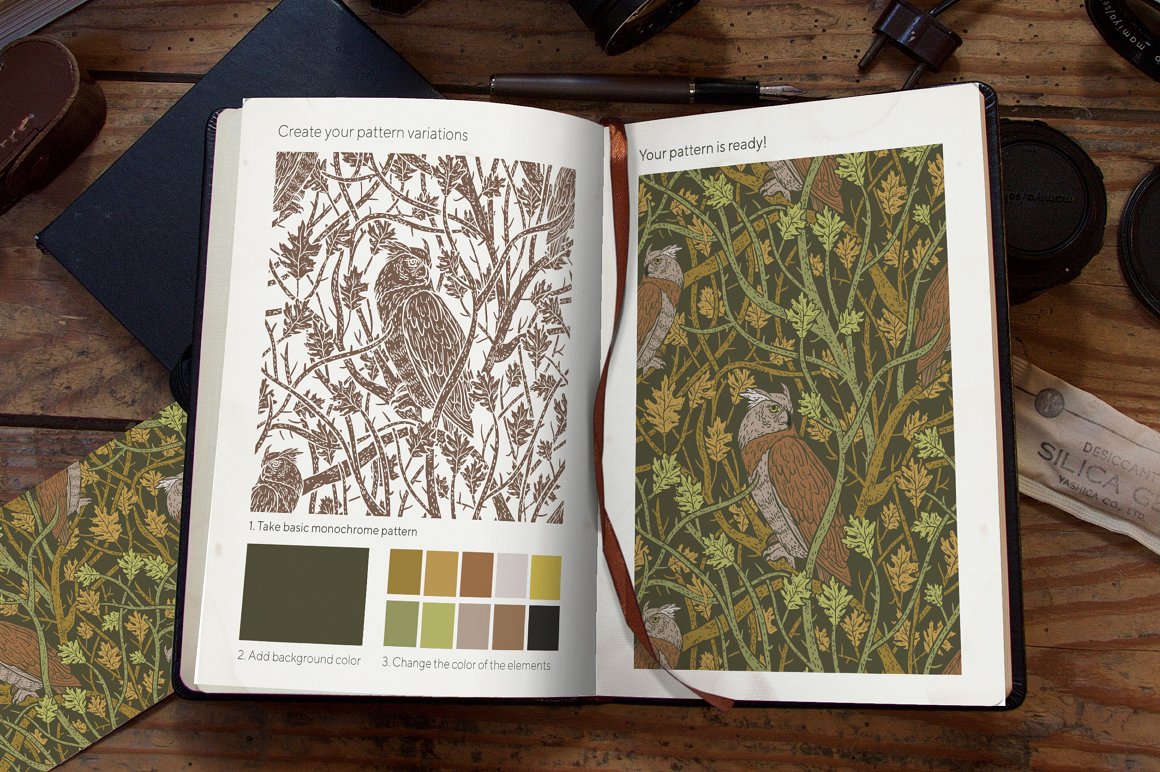 Boho Patterns Collection
Youandigraphics' Boho Patterns Collection is undoubtedly boho chic. This set of 20 seamless vector patterns is great for beauty or fashion brand packaging.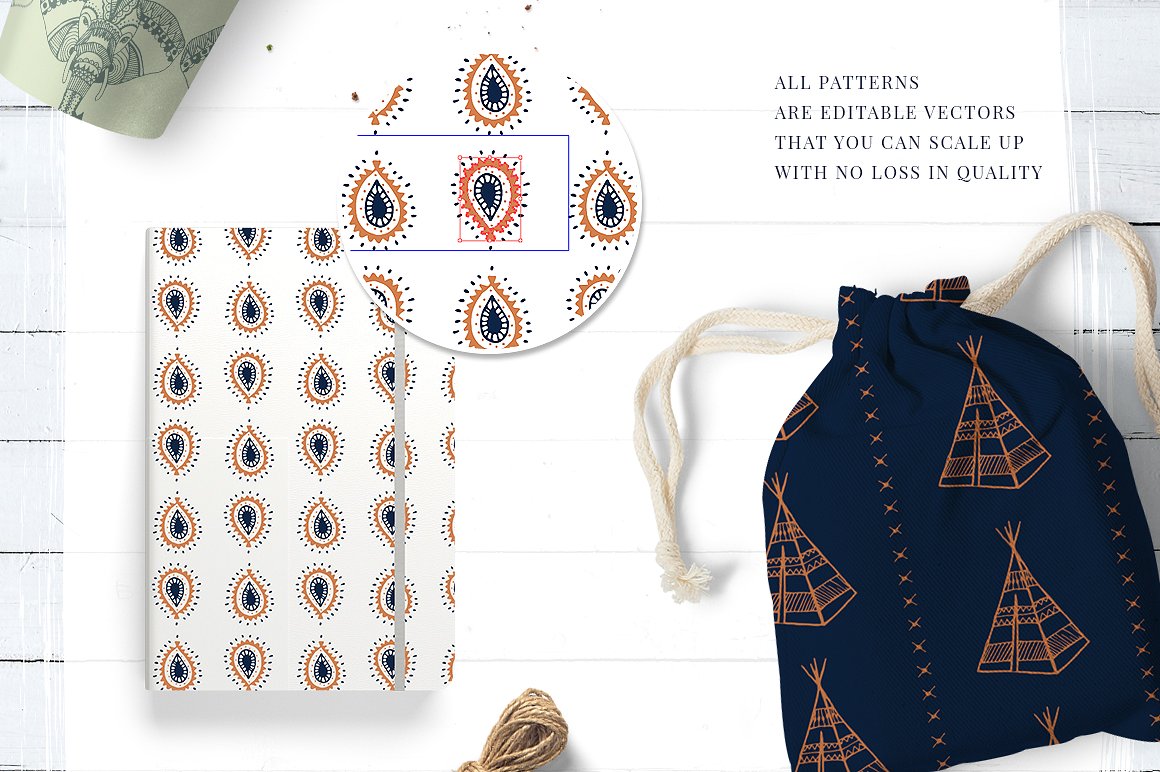 Orient – A Chinoiserie Story
TSTUDIO hand-painted Orient, a watercolor pattern inspired by Chinoiserie style items. Created with extreme attention to detail, these patterns are ideal for clothing, stationery, gift, and makeup brands.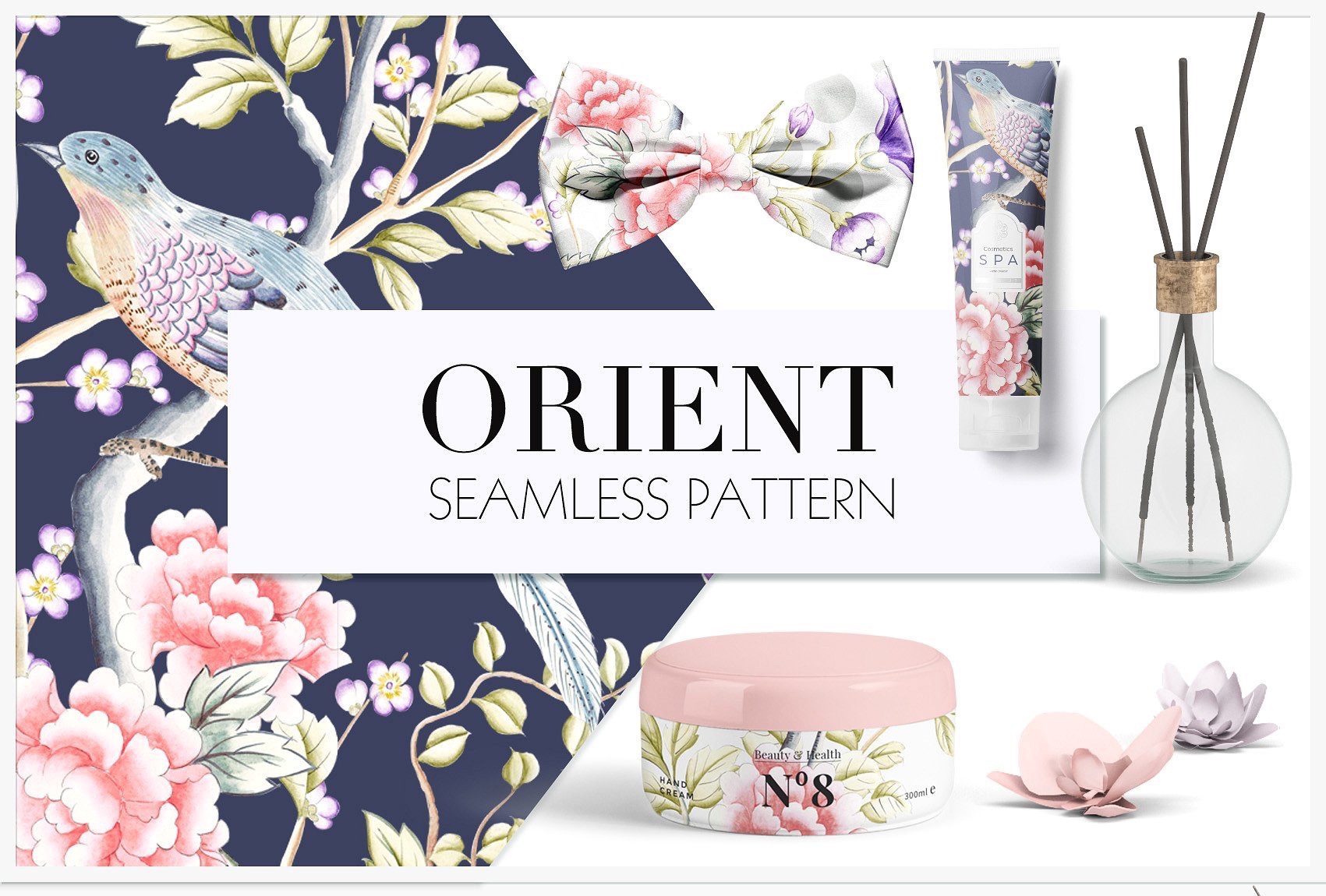 Super Fun Geometric Patterns
This large bundle comes with 85 unique textures, so it's a great choice if you want to look through multiple patterns or have different pieces of packaging to design. The designer recommends using these for children's products or décor packaging. They're bright, fun, and welcoming.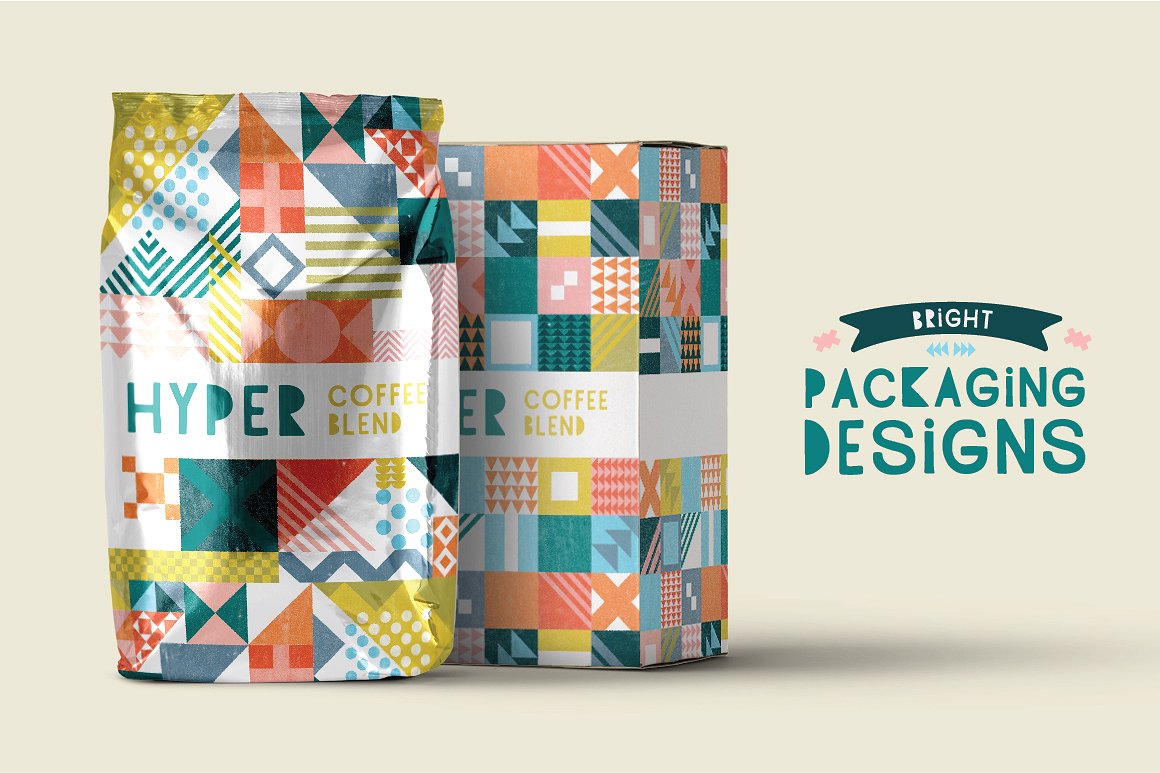 Step 3: Customize Colors, Textures, and Text to Fit Your Brand
Spend some time making sure that the packaging design you end up with is all yours because it helps to ensure that your product's packaging won't be confused with another brand's. On the other hand, you also want to be mindful of the design asset's license, which requires some transformation of the original file in the cases listed above.
Here are some ways to easily customize your packaging, making it one-of-a-kind:
Apply the colors associated with your brand.
Make sure the pattern is unique and appropriate for what you're creating and add more layers of texture or distress to make the graphics even more unique.
Add text to your brand's typeface of choice.
Include your logo design in its original, minified or monogram version.
You can also add individual graphics like illustrations to enhance and customize pre-designed patterns.
Packaging design is an incredibly effective vehicle for brand messaging. The materials, patterns, and design elements you decide to combine will leave lasting impressions on your buyers. Finally, I hope that the process, template, and tips included above inspire you to take a more hands-on approach when planning what kind of box will hold the product you've so carefully designed.