How to Create a Successful Easter Marketing Campaign
Is your Easter marketing campaign ready for this year? Easter's coming a little later than usual this year but that gives your brand a little more time to get ready for the holiday. We've found some tried-and-true strategies that will give your marketing strategy an extra boost.
Easter is traditionally a retail holiday but as trends shift, there is a growing market for online shopping. It's continuing to grow year-over-year as more people purchase items via mobile phones and tablets.
Preparing the right Easter marketing campaign can make a huge difference for your business. While we're focused on Easter at the moment, these marketing ideas can be applied to any holiday your brand pursues.
Strategies to consider for your Easter marketing campaign
Let's explore some of the ways to get your brand ready for this hoppy holiday with an Easter marketing campaign. Here are just a few of the topics we'll consider:
Ideas to keep your Easter marketing on brand
In 2018, the National Retail Federation predicted Easter spending would top out at $18.2 billion. Almost 80% of Americans celebrate the holiday and spend an average of $150 per person. The main purchases revolve around candy, food, gifts, clothing, and cards.
But how are people actually planning to celebrate Easter? The most popular activities are still those that are traditionally associated with Easter. Cooking a holiday meal, attending church, spending time with family.
But what's interesting is that younger consumers are significantly more interested in engaging in activities that, while still associated with Easter, are a little more fun and playful. Consumers under the age of 35 are more likely to shop online during the holiday, plan an Easter egg hunt, or open gifts.
Even more interesting is that the National Retail Foundation found that those under 35 are more likely to use their smartphones while Easter shopping. It was predicted that 37% of those under 35 years old used their smartphone to make Easter purchases.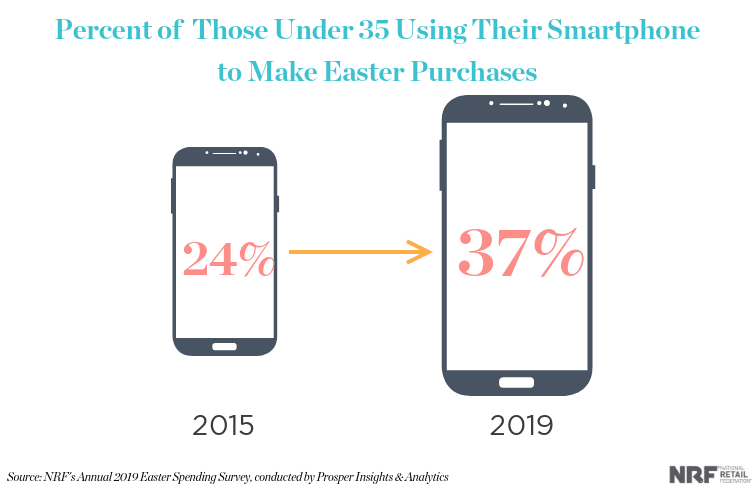 And that's good news for e-commerce because it could generate more spending. As younger consumers are inspired by store displays, sales, and exclusive seasonal products, they also tend to view the holiday as a social activity.
When to avoid Easter marketing in your campaigns
How will your brand approach your Easter marketing? Your messaging can go a long way to attract or, in some cases, alienate your audience.
While Easter is often associated with the Easter Bunny, eggs, and chocolate, it is still a deeply religious day for many people.
With this in mind, your brand may decide to forgo using an Easter theme at all. Or you may simply market your campaign with a Spring-based theme.
This may appeal to a broader audience and allow you to stretch your marketing materials. If your campaign is based around Spring, you can continue to use these materials well after Easter has concluded.
If Easter works for your brand, embrace it! In many cases, you'll be able to find ways to connect your product or service with the holiday. Associating your brand with Easter motifs and symbols like eggs, bunnies, and pink pastels can be a lot of fun.
There's no reason to avoid having fun. Get egg-stra crazy with your Easter marketing campaign throw in a fun pun when possible.
Increase sales with seasonal offers and Easter promotions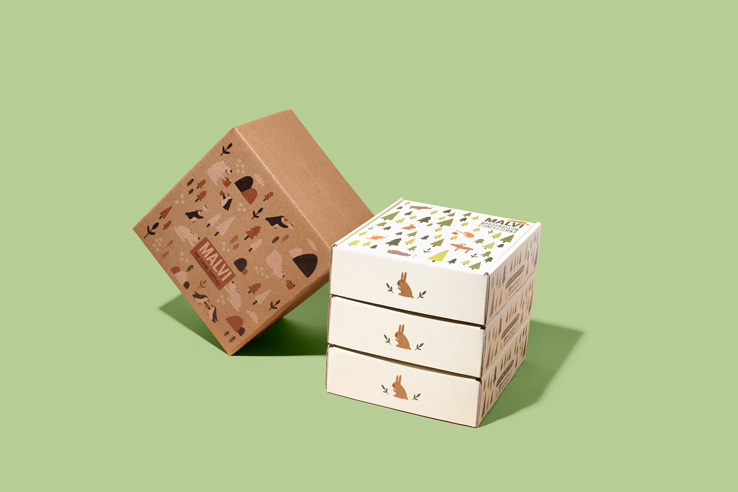 Protect your sweets. Box by Malvi Marshmallow
An exclusive offer is a good example of an Easter promotion that can boost sales. As with any other holiday, you're able to tailor your campaign around aspects of the holiday that strongly resonate with your customers.
While Easter is not as big as Christmas, there's no reason to avoid creating special sales or discounts. Using a dedicated offer revolving around Easter will drive customers to take action immediately. This gives potential customers more motivation to convert and increase your revenue.
Using a seasonal offer or promotion will align your brand with the spirit of the holiday and gets you in front of potential customers. Consumers often expect brands to craft sales around holidays.
Create visually engaging offers to raise awareness of your brand. When your visuals come together, it's exciting and will attract the right customers. But don't worry, we'll offer some design tips to spice up your Easter marketing campaign.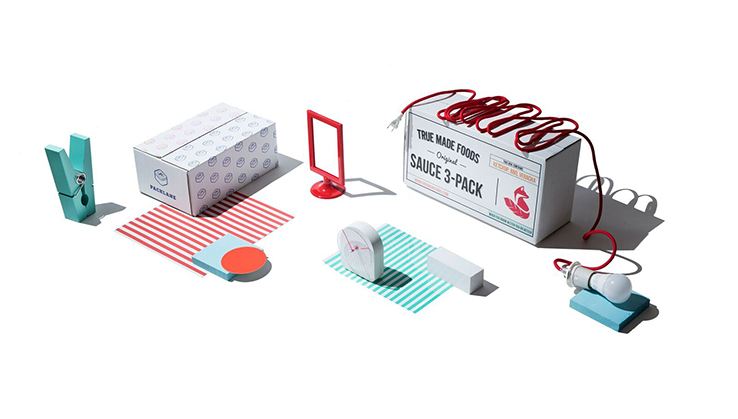 Another idea is to offer discounts or promo codes for Easter sales when customers provide you with their email address. This can be an effective way to increase both sales and your email list.
An Easter theme or seasonal theme presents a great opportunity to up-sell or cross-sell premium-priced items with your discounted items. Create a special Easter "basket" of items that you've bundled together. Bundling items together or presenting premium items at the end of the checkout process is a strategic way to generate multiple sales rather than one single discounted items.
This also gives you the chance to make your bundle an exclusive limited time offer. Many customers will purchase from you if they think your offer or Easter promotion is going away. Time sensitivity and urgency will allow you to maximize these specific types of offers.
How to get the most out of your email list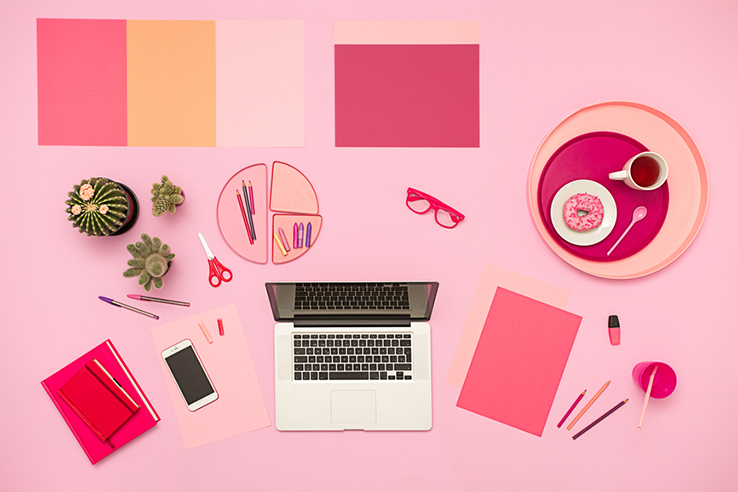 Your email list is one of the most important marketing tools you have at your disposal. Don't ignore it. Especially when the holidays are approaching. Getting your message into customer's inboxes is the first step to help increase conversions.
In many cases, your email campaign can be as simple as reminding customers that the holiday is approaching. You can also create visually compelling images for your emails that have an Easter theme. This is where you can have fun using interactive elements like GIFS. Use your visuals and copy to showcase the benefits of your product in unique and interesting ways based around Easter in order to compel people to purchase.
Depending on the types of emails you've sent in the past, it may be smart to use a drip campaign. By sending multiple emails, you're increasing your chance to convert.
Types of Easter email campaigns to send:
Easter is approaching – here are dates to remember
Visually compelling image email
Benefit-driven email
Sales email announcing a discount
Last chance/urgency
Email marketing is a relatively cheap effort that can produce a huge ROI. But don't rush your email campaigns out the door.
Carefully think through your customer's pain points and how your brand can solve them. Providing clear and actionable calls to action will minimize your customer's hesitations and doubts.
Design elements to include in your email campaign:
Interesting and enticing subject lines
Beautiful photographs/illustrations
Big headlines
Easy-to-read text
White space
Interactive elements like GIFS
Visually enticing call-to-action buttons
Get social with giveaways and Easter contest ideas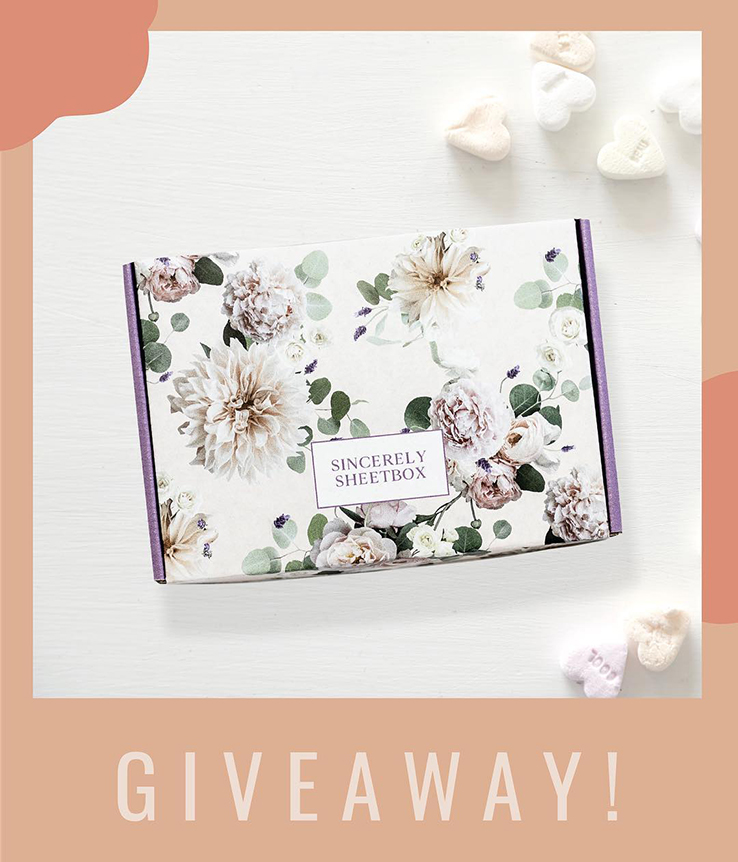 Find out below how Vowed Box Co. teamed up with Sincerely Sheetbox on this giveaway.
Using social media to promote giveaways is a great way to get people excited about the holiday. Other ideas for contests could revolve around Easter egg hunts or special hashtags. This will allow you to offer prizes or discounts to the winners.
This type of gamification will encourage customers to showcase your product and share it on social media with their friends and family.
You could always partner with another brand to create a social media contest. While this is not specifically targeted to Easter, it's a great example of how two brands working together created a giveaway their followers loved.
Vowed Box Co. creates no-nonsense gift boxes for no-nonsense brides. They teamed up with Sincerely Sheetbox to spread the love and gave away one gift box full of sheet masks along with a curated Vowed box full of goodies. Teaming up allowed both brands to reach new audiences that they couldn't have before.
The unboxing experience
Custom packaging has become increasingly more important for both brands and customers and so has the unboxing experience. A great way to take advantage of how your customers interact with your product and packaging is to encourage unboxing videos.
Unboxing videos have become increasingly valuable for consumers. Dotcom Distribution conducted a study of nearly 600 online shoppers and found that 36.8% had viewed an unboxing video. With numbers like that, it's important to know how to create an unboxing experience to increase sales.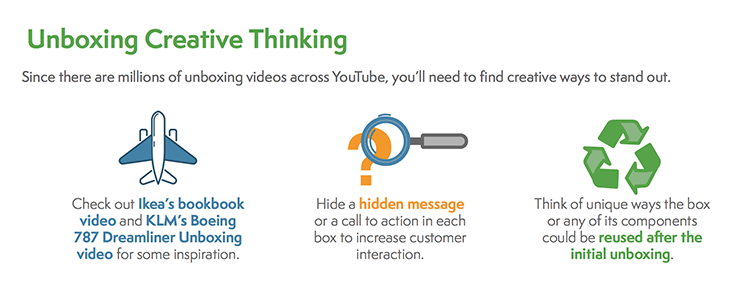 Source: Lumavate – How to Revolutionize Your Unboxing Experience
Anything to get people sharing and interacting with your social media channels will be an effective marketing tool. But understand which channels matter most for your brand and how you're able to leverage them to spread your message effectively.
Building loyalty through social media is difficult but can pay off big time when your followers are able to see the value you're providing them.
Ditch your boring boxes and create custom packaging this Easter
Getting custom packaging for Easter is super easy and you'll be able to start designing in just a few minutes. Here's how easy it is!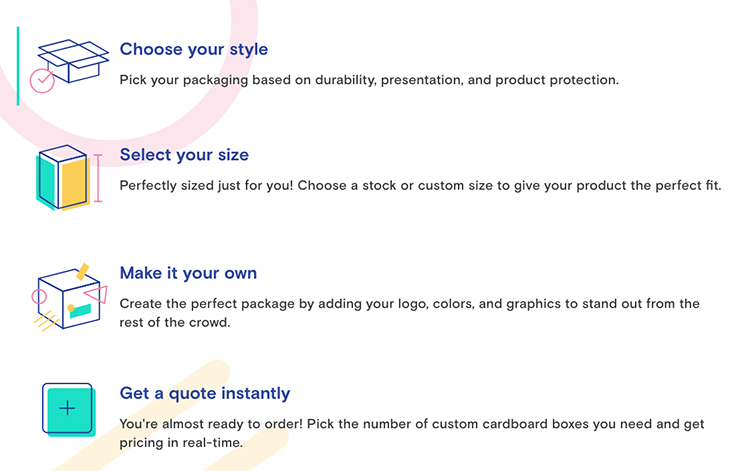 Designing custom packaging for Easter is a surefire way to capture your customers' attention. Creating beautiful custom branded boxes will make your product stand out.
Customers are going to be more excited to see your product arrive in a custom box than receive a boring old brown cardboard box.
Look at this beautiful Easter inspired box by Hopebox: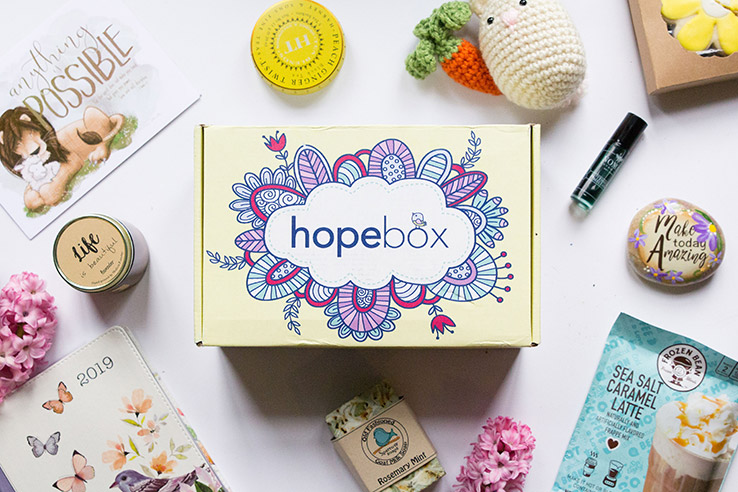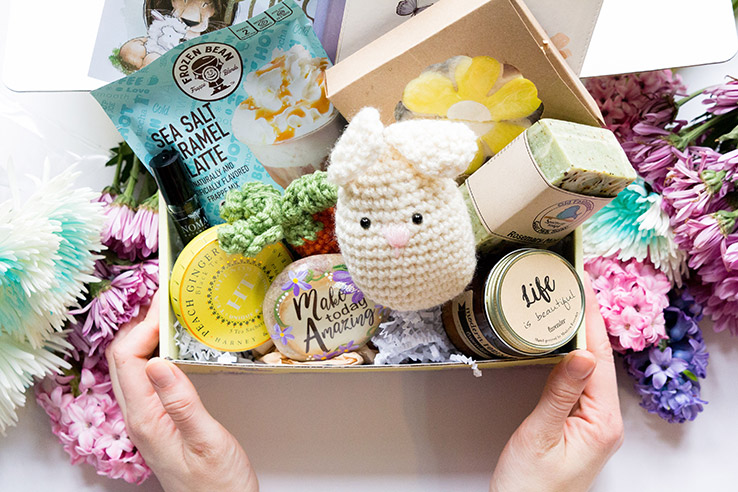 But how can you use custom packaging for the Easter holiday? Create Easter "baskets" by bundling special Easter-themed items together that can easily be mailed to your customers in a custom mailer box. Your customers will love the idea of a gift "basket" they can send in the mail that's fun and sturdy.
If you're looking to create something very exclusive to the Easter holiday, Packlane offers extremely low minimums on most of our boxes. When we say low, we mean one box in many cases. This can come in handy if you're looking to exclusively reward only your best customers.
Once you've received your boxes, they're easy to assemble. Just watch this video on how to assemble a mailer box and see!
No matter what type of Easter marketing campaign you're running, there are no shortage of ideas you can incorporate into your Easter design.
When to hire a designer
You may need to hire a designer to create engaging visual elements for your campaigns. If you need help finding someone, here are some helpful tips on how to find a fantastic designer.
If you're looking to design packaging yourself and need ideas or inspiration, you can always turn to Creative Market to find the perfect Easter asset pack or Spring asset pack. These asset packs include all kinds of fun logos, icons, colors, and fonts that you can easily add to your design.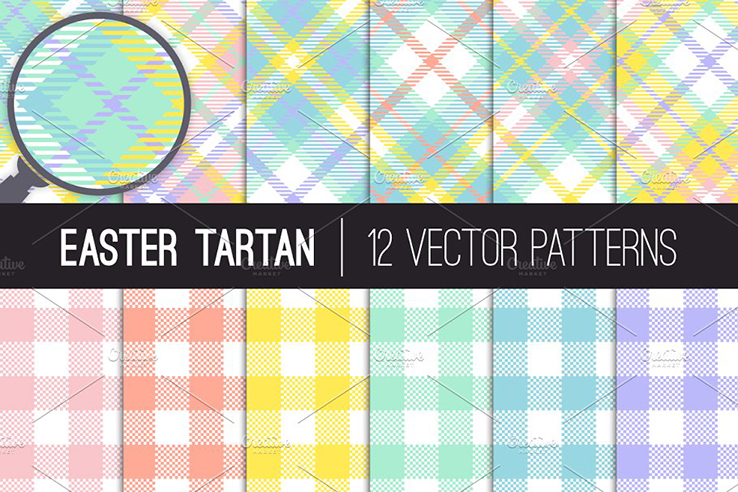 This is an example of one of the many Easter asset packs that Creative Market offers. This pack has 12 plaid Easter Tartan vector patterns that can be incorporated into your packaging design.
If you're looking for photography elements to add to your design, Shopify offers stock Easter photography that you can download for free.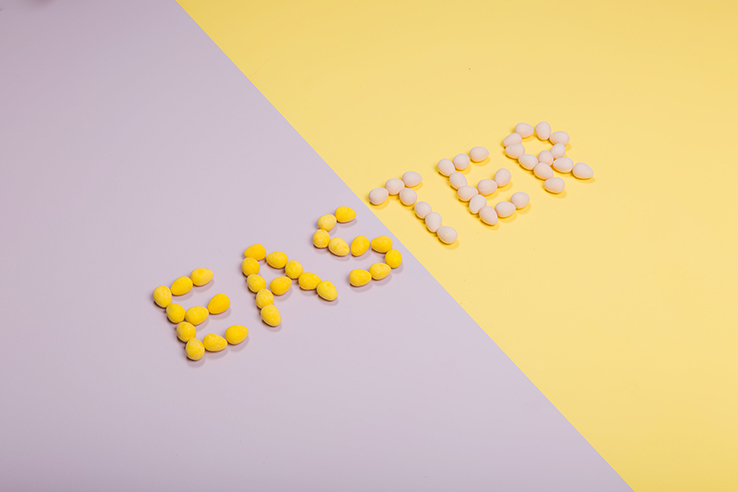 Photo by Matthew Henry from Burst
There are plenty of different design elements to incorporate but here are some more ideas on how to find stunning patterns for packaging design.
Design elements to add to any Easter marketing campaign:
Easter bunny
Baskets
Eggs
Chocolate
Pink pastels
Crinkle fill for custom packaging
Aim for a strong finish in the last week before Easter
While it's important to start your marketing efforts early, there's no reason to not ramp up these efforts on the week before Easter.
While most sales see a rise anywhere from 2-3 weeks before Easter, many online buyers order just a few days before the holiday.
According to Criteo, sales of flowers and gifts went up 106% just 4 days before Easter in 2017.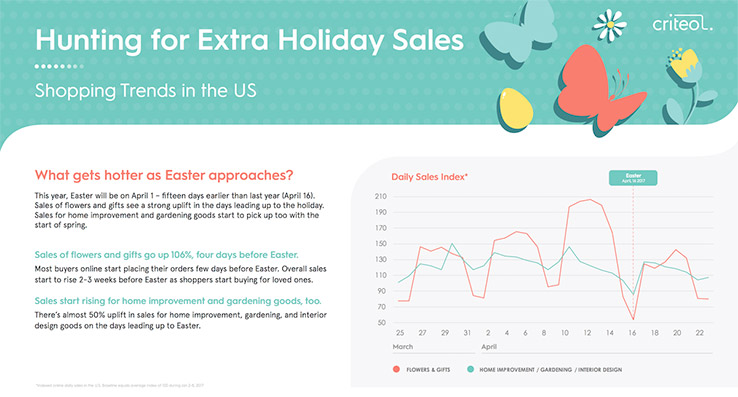 Don't lose out on customers who are looking for last-minute deals and discounts to help them pull the trigger on purchases.
It may be important to ensure your brand is visible in the weeks up to the holiday. However, it's equally important to stay visible in the last few days before Easter.
Keep your Easter marketing and promotions hopping on down the bunny trail
When any holiday approaches, you need to have a sound Easter marketing and promotions strategy in place in order for your brand to succeed.
Building your marketing campaign around Easter isn't difficult. Just consider some of the things your marketing team is already doing. Craft your brand message and email and social media campaigns around the holiday.
When it's time to create custom packaging for Easter, we're here to help. If you're shipping something large that needs a lot of protection, our custom shipping box is the right choice.
And for more traditional Easter gifts like chocolate, an elegant and alluring custom folding carton can make your packaging even more fabulous.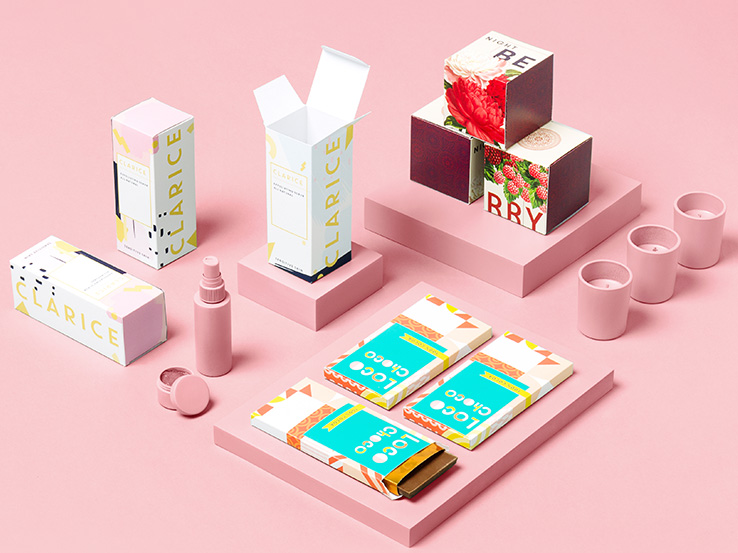 Once you start brainstorming ideas for your Easter marketing campaign, you'll come up with many fun and creative ways to elevate your efforts. And you'll be to apply these efforts to any holiday that comes your way.
With the right spring or Easter marketing campaign, you'll see increased sales and revenue. And eggs-tra revenue makes for a hoppy holiday!