How to Safely Ship Fragile Items in the Mail
In a perfect world, when shipping fragile items in the mail they'll arrive in absolutely pristine condition, just as it did when we shipped it off—a crisp, clean box without any smudges or dents, ensuring that the contents are in just as perfect shape
The reality is that no matter which shipping carrier you use to deliver your products, nothing can prevent those inevitable bumps or accidental drops as something gets transported from Point A to Point B.
How do you protect your product so that it still arrives to the customer without getting cracked or crushed? Whether you're shipping with the United States Postal Service or UPS, you'll learn how to safely ship your fragile items. After reading this post, you'll know how to:
1. Pick the right box size for shipping fragile items
When shipping fragile items, you might be tempted to use an extra-large box that leaves a lot of additional space around the item. This can actually backfire in a couple of ways, because not only will the bubble wrap or peanuts move around in transit, but you'll also incur more shipping and handling costs this way.
Purchasing boxes that snugly fit the product won't provide enough padding, though. So what's the magic number?
Ideally, your box will allow two inches of extra space on all sides with the item inside—no more, no less. That's enough to keep the shipment safe yet cost-effective.
To ensure that your items will fit perfectly every time, you will need to properly measure the items that will fit inside your box.
Gather all of your items and arrange them as they will appear when your customer opens your box. Think about how to create an unboxing experience that will wow your customers every time they open one of your boxes.
How to Measure Your Box
Measure the areas around your items with a ruler or measuring tape. Be sure to check:
side-to-side for length
front-to-back for width
top-to-bottom for depth
Add a little extra room around your items. It's a good rule to add about a quarter of an inch to be sure that you can easily pack (and unpack) your items.
If you'd like to calculate the right size and style for your box, check out our handy calculator to show you how to measure and size your box for custom packaging.
For particularly fragile items like porcelain, you can also consider sending it in a box within a box for extra safety and security.
The best way to guarantee you have exactly the correct size for shipping a fragile package is to order custom shipping boxes. While there are plenty of options for stock sizing, you can completely customize your boxes through Packlane.
This can make the difference between a customer receiving their item in one piece and a customer needing to fill out a return or exchange form after delivery.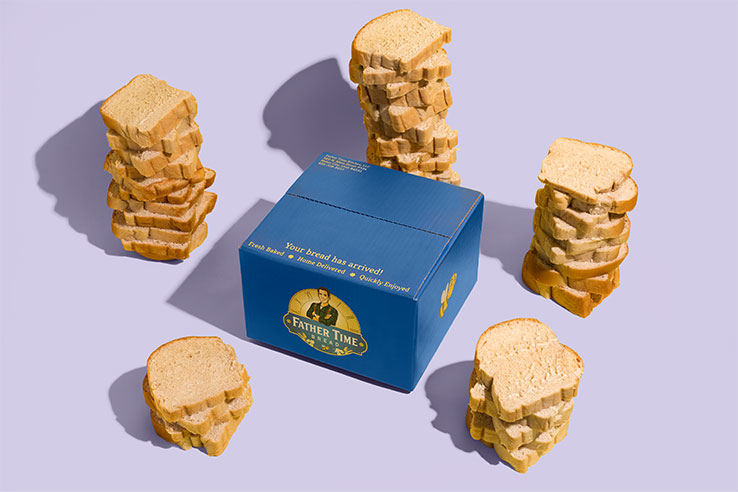 2. Choose high-quality materials
As a business owner, consider the packing supplies you use an investment that keeps your items safe so they reach the customer without a scratch, scrape, or dent.
Cheap materials don't just look and feel cheap—they also won't protect your products that well in transit. Sure, thinner, flimsy boxes don't cost as much upfront, but they will result in more customer returns and product replacements due to damaged goods.
You risk spending more money in the long-run and losing valuable customer loyalty. For businesses that ship a lot, customer loyalty is so important.
Consider monthly subscription boxes and how valuable loyalty is to those types of customers. We have a great guide to help you if you're sending subscription box packaging that's worth checking out.
When packing fragile items for shipping, plan to get something a little more heavy-duty.
For Packlane customers that want to send breakable items, from glass to alcohol to perfumes to electronics, we offer custom mailers and shipping boxes made of B-flute. At ⅛ inch thick, it provides the extra security needed to ship glassware and other fragile items.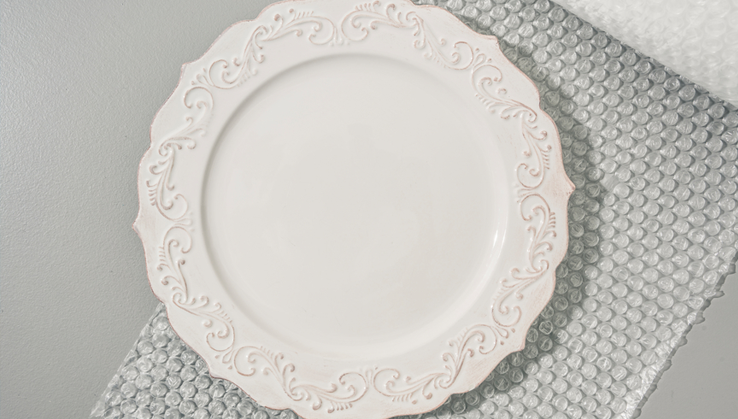 3. Protect your item with bubble wrap
Add layers of bubble wrap to your breakable item. Then, place your item in a package full of packing peanuts. This is an art, in and of itself.
If the item you're shipping has an opening or hole, fill the empty space with some crumpled up paper or bubble wrap.
Cover your fragile item in a layer of paper. Use a little Scotch Tape to keep it in place if needed.
Add a layer or two of bubble wrap, making sure you cover all parts. If you'd like to use an alternative to bubble wrap, consider a bubble wrap made of recycled grade materials or biodegradable greenwrap.
Secure this with packing tape.
Repeat steps 3-4 one more time, if necessary.
A little packing tape goes a long way, so resist the urge to cover the entire thing in endless layers of it. Too much can make the unboxing experience a frustrating one, and if consumers struggle too much, they might accidentally break the fragile item themselves!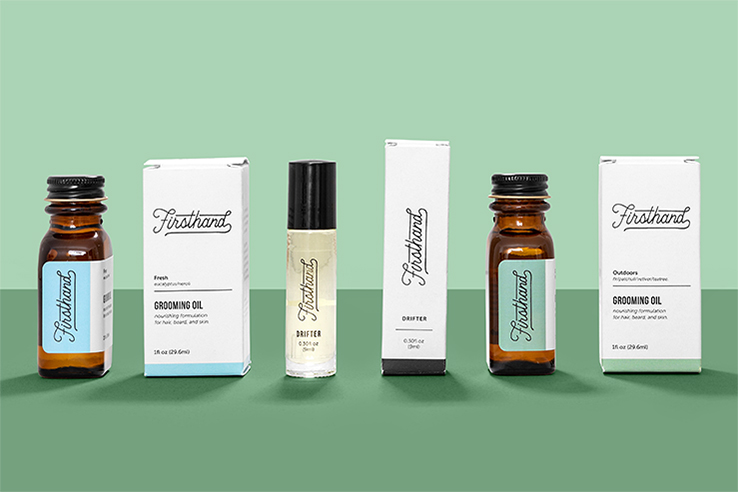 4. Pad the interior of the box
It's time to make use of those extra two inches on all interior sides of your box. Start with the bottom, padding it with some type of filler like crumpled paper, bubble wrap, peanuts, or air pillows.
Which one you choose ultimately comes down to personal preference—as long as you've protected the item with bubble wrap as detailed above in step 3, you'll be in great shape once the surrounding area is padded.
The primary goal here is to prevent the product you've wrapped up from moving around too much inside the box itself.
As you place your item in the box, add more materials on all four sides, and then top it off with a layer as well. Then test out to see how the box looks and feels once you've tucked in all the flaps.
The package should close shut without bulging, but you should also be able to move it in different directions without having anything shift inside. Packlane boxes are designed to assemble easily and close perfectly shut, making this step smooth and reducing packing time.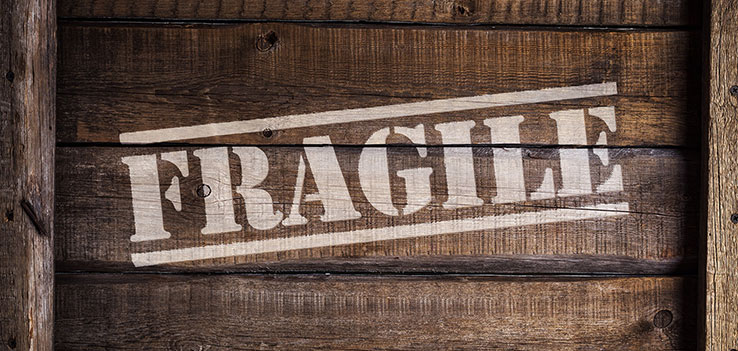 5. Label your box as fragile when shipping
Just remember that accidents happen. Writing "FRAGILE" on your box as a label won't always prevent your shipment from getting dropped or damaged on its journey.
Still, it's always wise to include it as a label when you're shipping your custom box – you will have far more recourse with your shipping company when an item arrives broken or crushed.
Clients will stress when they ship fragile items. Print "Handle With Care" or "Fragile" and directly affix a label on their boxes to take the stress out of the process.
When customizing your boxes on Packlane.com, this allows you to include important shipping information while keeping your brand consistent with the exact look you want.
6. Shipping fragile items with USPS
When it comes to shipping freight that's fragile, USPS is a good option. Shipping fragile items via USPS (United States Postal Service) or UPS to ship your items? You'll want to consider using their Special Handling-Fragile service.
This requires that your package have an affixed "Special Handling-Fragile" sticker.
While this provides additional care for certain types of packages such as plants, animals, and sensitive items and merchandise, it does NOT insure items against loss or damage.
It also does not give your package expedited delivery.
Your package will still be delivered based upon the speed of the class of mail it was sent. For more details, check out USPS' FAQ page on their Special Handle-Fragile service.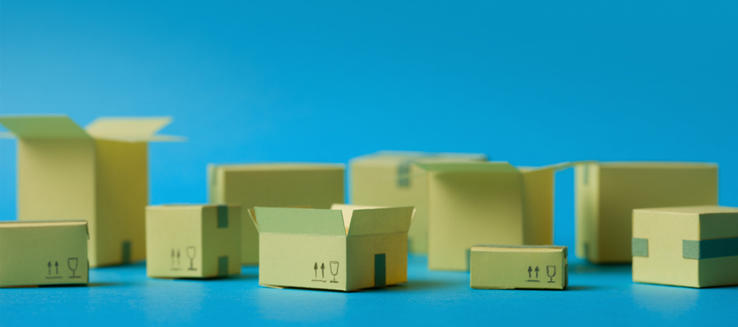 Ready to ship your fragile items?
Start designing today with Packlane's interactive online box builder. You'll get the perfect size and the right material for your box that you can customize from head to toe!