The Complete Guide to Subscription Box Packaging Design
Beautifully designed subscription box packaging can take your brand or products to the next level and make your subscribers feel like they're getting something special.
Its size should fit all of your products comfortably. But it shouldn't be so big that products are swimming around or so small that it's bursting at the seams.
It should look clean and organized, with attention to detail on everything from product placement to box design.
Put simply, the look and feel of a subscription box matters almost as much as what's inside.
It's your brand's first impression with new subscribers and one of the main ways to retain existing subscribers. Choosing the right packaging boxes shouldn't be overlooked.
We'll share some important tips on how to improve your subscription box design as well as some practical advice for packing materials and box types to balance size with shipping costs.
If you are wondering how to start a subscription box or already run one, consider these ideas when thinking about your products, their design, and the feasibility of packing and shipping them.
Table of Contents
Guidelines for creating the best custom subscription box packaging
The best custom subscription box packaging starts with the materials. You'll need to consider not only the types of products in your box but the size and weight of your items.
Consider these common materials and the products they're used for when creating your custom packaging.
Mailer Boxes
Mailer Boxes are your best option. Mailers are heavier and more rigid than paperboard boxes.
They are sturdy enough to protect your products through the shipping process, and are recommended for retail gift boxes, subscription boxes, and packaging for e-commerce companies.
Packlane can help you create a custom mailer box for your subscription service with wide-ranging options on size, quantity and design elements.
Luckily, you don't need expensive box design software. Using our online box designer, you can create a beautiful mailer box, with custom design elements inside and out.
Muse Tea designed this gorgeous mailer box for their tea: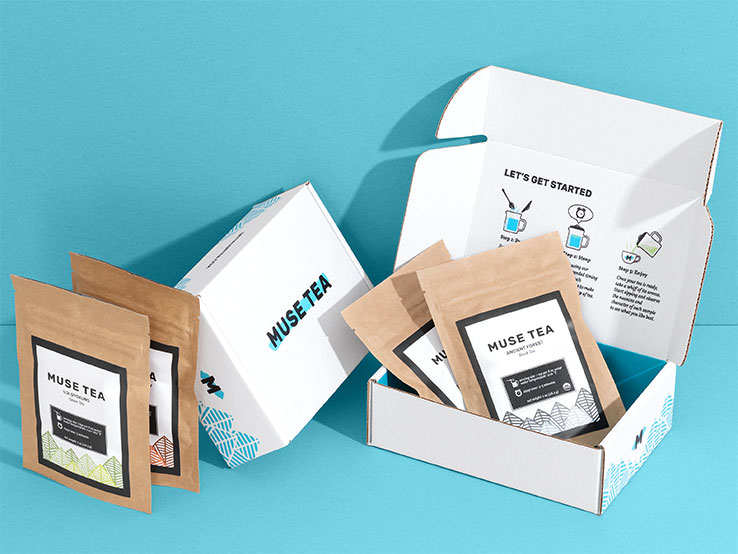 Shipping Boxes
Shipping Boxes are a good option if your focus is on product protection. They're corrugated for extra protection and have more heft than mailer boxes.
They can also be styled to match your branding with options on design, size, and quantity. For example, check out this shipping box made by Packlane for Koyah: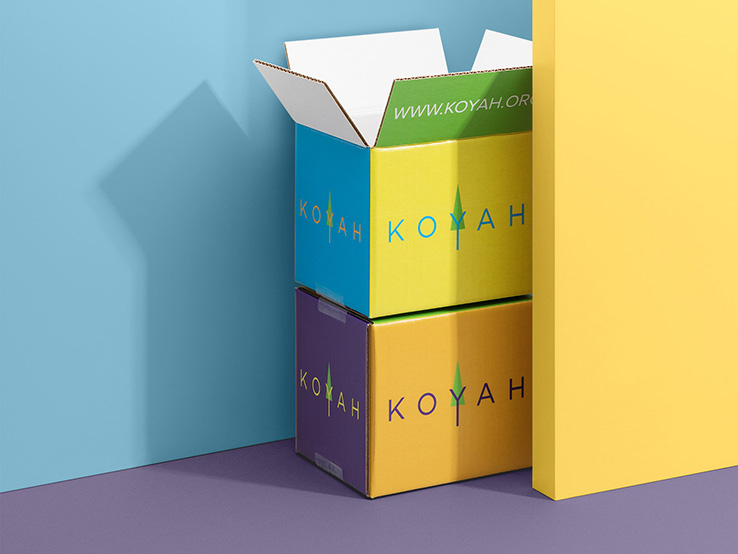 Folding Cartons
Folding cartons are made from paperboard which is a lightweight paper-based material. It's good for general product packaging.
While paperboard folding carton boxes are great for food or beauty products, they are not recommended for subscription boxes.
The material is strong and displays well, but it's not ideal for a package that is going to go through the shipping process. You should definitely go with something stronger.
Padded Bubble Mailers
Unless your offerings are very tiny, padded bubble mailers aren't great for subscription products. These are usually heavy envelopes or bags lined with bubble padding.
They are ideal for shipping items like clothing that don't require extra protection. While padded bubble mailers can help save on shipping costs, they're still susceptible to damage and don't provide the overall design and unboxing experience of custom boxes.
Everything you need to know about subscription box packaging design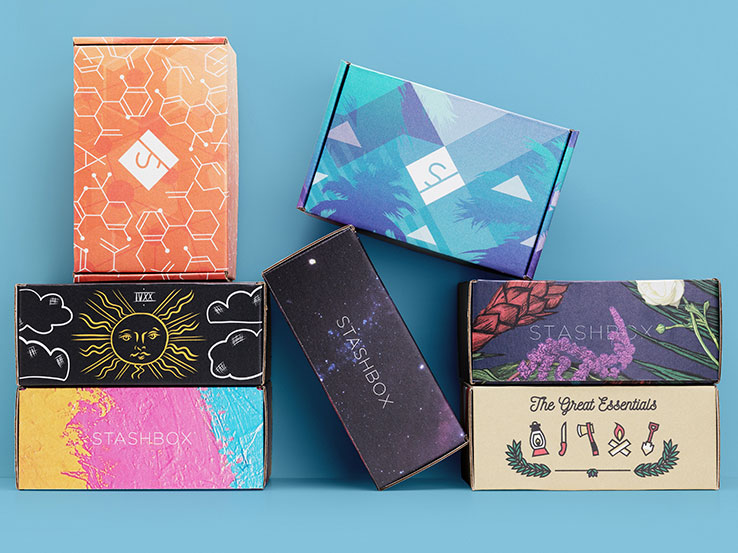 Now we're on to the fun part of your subscription box packaging design. Time to actually design your box. Using full CMYK color printing, Packlane can help bring your amazing design to life!
Logos and Photos
Integrate your logo or design layout seamlessly while still paying attention to colors and graphics. You can even use your own photos, patterns or drawings.
Colors
Using your brand colors makes the most sense when it's time to pick the main colors for your packaging.
These colors are the most familiar with your customers and will resonate the most. Your brand colors bring instant recognition to your product and will help build trust and loyalty.
However, you can always play around with colors to give your packaging an extra special look or feel.
Using dark colors on your packaging can give it a more established and serious feel. They also work well for luxury items or adding a hint of mystery of what's inside.
Use light colors or pastels to give your packaging a simpler look or when you're trying to imply minimalism or cleanliness. Light colors tend to work well for youthful brands.
Choose bright colors when you want to grab your customer's attention and want your packaging to really pop! Bright colors are stimulating, fun, and eye-catching.
Vectors
Using vector graphics when designing your boxes will ensure your design looks amazing and prints as clearly as possible.
It's recommended to use non-photogenic graphics and texts and to save your design as either an Adobe Illustrator (.ai) file or vector-based PDF.
This will prevent any headaches or delays when your artwork heads to Prepress for final printing.
Dielines
A dieline is a flat (2D) template that shows how your design will look when your box is still flat and unassembled. It represents your 3D packaging but in a simplified format.
A dieline helps guide both the designer and printer to ensure your artwork is laid out and positioned on your box.
It also helps equipment operators when it's time to print your box. A dieline shows operators and printers where to glue the box together and where every cut and crease should be.
We have a more detailed explanation of how to use a dieline to setup your design that will answer any questions you may have.
If you need a dieline to setup your box design, you can request one here.
When to Hire a Designer
Even if you're not a graphic designer, you can still get started creating your packaging. You don't need to hire a structural engineer to design your packaging.
Packlane's online 3D builder makes it easy to create your design in just minutes.
Even minimal design skills can bring your packaging to life. You can still design a powerful message and look for you brand using just your logo and simple text.
But if you're not sure whether you have the design chops to pull it off yourself, you can always hire a designer to help you.
We even have a handy guide to help you find a fantastic designer for your custom packaging.
What the box looks like is almost as important as what's inside. Focusing on an eye-catching, original design will grow more interest in your product and keep your subscribers coming back for more.
The best printing methods for subscription boxes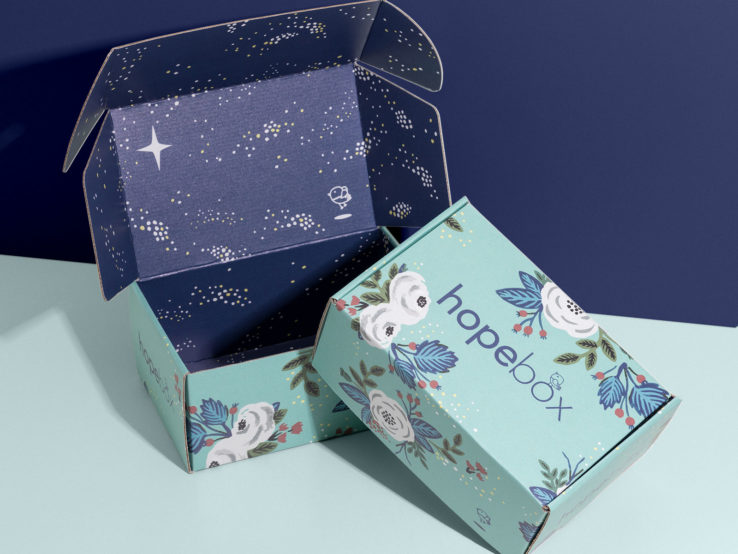 There are three primary types of packaging printing methods. However, if you're not creating your boxes yourself, this should not be a huge consideration.
Whatever packing provider you use will have its preferred method and can give you quotes based on your order.
Digital printing
Digital printing is common for small orders but some providers have the capacity to do this for large orders at higher prices.
A machine applies the design and color directly to the box by mixing the ink.
Packlane uses digital printing to create boxes but we can (and will!) customize orders to include either full color or partial color design on the box.
Flexographic printing
Flexographic printing is the most common method used for custom box printing.
A printing plate with your box's design acts as a large ink pad that spins on a rotary drum, picking up ink and then stamping it onto your box.
Flexographic printing typically requires a minimum of 1,000 boxes per order.
Lithographic label printing
Lithographic label printing provides cleaner and higher resolution printing that functions like wallpaper.
This method is printed onto a paper sheet, processed, cut, and attached to the box using adhesive.
It has its benefits, but make sure you're using a quality provider if you go this route. Low-quality label printing can go badly.
Request a quote for special orders
While Packlane primarily uses digital printing to create our boxes, we're always more than happy to provide quotes for custom orders. If you're thinking about ordering in bulk or need a super customized order, we're here to make that request a reality.
Things that fall into this category include:
Orders of more than 2000 units of any box
Flexographic printing
Lithographic printing
Special dieline modifications
If you have a request that falls under any of the above categories, request a quote here.
How to measure and size your subscription box
How to measure and size your subscription box can be a huge hurdle for many business owners.
Box size is not only about what fits inside, but also about shipping costs. You can use our sizing calculator if you're still not sure how to measure and size your box for custom packaging.
If you're running a subscription service, make sure you're paying attention to your bottom line: Is your packaging efficient for shipping costs?
The best shipping methods for subscription boxes
The first thing to do is to create shipping requirements for your boxes.
Choose a box size, give it realistic weight limits and keep them consistent. This will help you know, or at least ballpark shipping costs.
You should also pay attention to where you are shipping. Set limits by area if it makes sense.
Always ship from a central location. Calculate a cost-per-subscription budget and stick to it across all orders.
Having this under your control will allow you to choose the appropriate size of your custom box.
How does USPS cubic pricing work?
One factor to consider is how you can take advantage of cubic pricing from USPS, (aka Commercial Plus Pricing).
It bases price on the volume of a box, not the weight. This is huge for subscription services that want to standardize shipping costs to scale their business.
This pricing tier allows weight up to 20 pounds per box, which is on the heavier side for subscription boxes.
Unless your box is under one pound, shipping this way is probably more efficient from a pricing perspective. This article from Stamps.com can provide more clarity.
It's important to note that these pricing methods require a high volume of packages, so if you're a smaller operation, pay attention to this next section.
Consider outsourcing e-commerce fulfillment
You may think you can do it all on your own, but shipping can be a huge pain point for most smaller subscription services and you may want to consider outsourcing your e-commerce fulfillment needs.
Pricing is difficult to standardize and shipping is time-consuming.
But knowing a little bit about how the fulfillment process works will help you make the right decision for your business. Here are 6 tips for e-commerce fulfillment packaging.
Partnering with a reliable fulfillment partner can actually save you time, money, stress, and allow you to scale more efficiently if your service takes off.
Trusted fulfillment companies take the work out of your hands by getting your orders into your customers hands faster and more efficiently.
Some excellent companies to consider for your e-commerce fulfillment needs include:
Using a reliable partner for order fulfillment can actually save you time, money and stress, and allow you to scale more efficiently if your service takes off.
Make your boxes shareworthy on social media
With so many monthly subscription boxes on the market, you definitely need to stand out whether it's on Pinterest, YouTube, or Instagram.
Whether you run a subscription service for women, men, books, or food, the best box services use beautifully designed custom packaging to make a statement.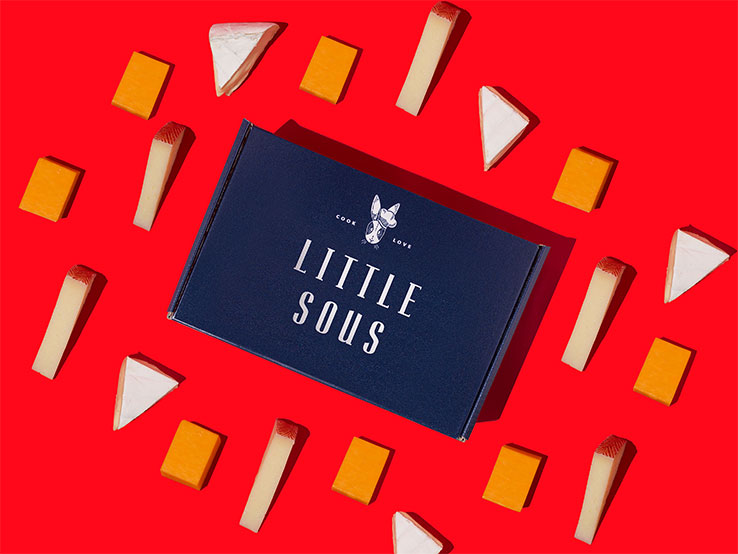 If you're not considering packaging as a key element, then you're missing out on the most effective marketing tactics for your business.
The better they look, the more free marketing on social media your product or brand can get. The best subscription box packaging sells itself.
Think about sustainable packaging design
Creating a sustainable packaging design for your subscription box is something to think about. Sustainability is important and more and more companies are turning to eco-friendly packaging that causes minimal damage to the environment.
Think about ways that your customers could reuse your boxes and educate them on ways to continue to use your packaging. Staying front of mind for customers who do actually reuse your packaging can also increase brand loyalty.
Additional materials and protection for your box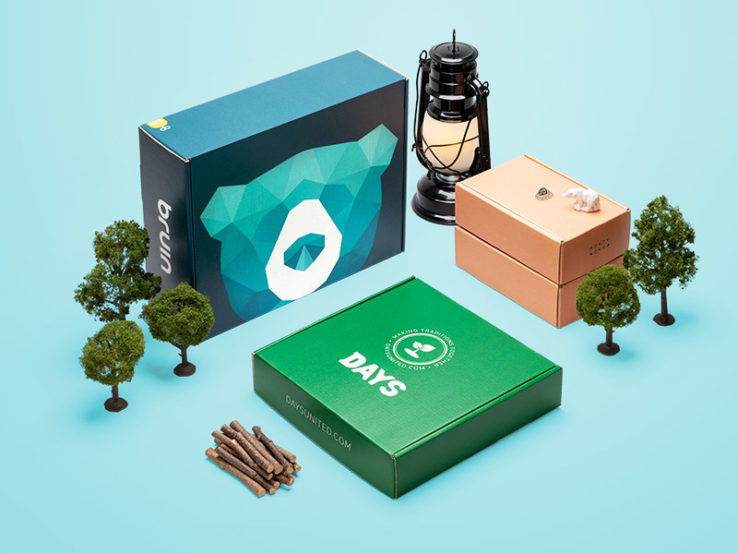 You also need to consider the additional materials needed for packaging.
Depending on your product, this will be a factor in your final packaging costs. Products that require additional protection (ex. glass bottles, fragile items) will require additional materials like inserts.
Learn more about how to safely ship fragile items in the mail.
If you're using colored tissue paper or crinkle cut shred filler, align your materials with the actual design of your packaging.
Whatever you choose for additional packing materials, it needs to be in line with your existing design.
This may even be something that your order fulfillment partner can assist with, or at least, give options for. It doesn't hurt to ask.
Why Packlane is the best subscription box packaging company
At Packlane, we like to think of ourselves as the best custom packaging company out there.
We're always happy to help you create amazing packaging that is always tailored to your needs and requirements.
Here's how it works when you partner with us for your custom subscription box packaging design:
Choose your packaging style – typically a custom mailer box or shipping box, depending on your needs.
Choose your packaging size or enter custom dimensions.
Customize your package by adding logos, colors, and other design elements.
Get an instant quote for your order.
Request a quote for special orders or volume discounts on bulk orders.
It's that simple. If you're serious about starting your own subscription box or taking your packaging to the next level, we're here to answer your questions and guide you along your journey.
For more information, visit our FAQs page or get in touch through our contact page.