5 Ways to Cost-Effectively Scale Your Subscription Box Business
Back in 2004, a tattoo artist named Marie Kare had the idea to start a subscription box business. The monthly box, one of the first of its kind, was filled with curated indie art and handmade crafts. By 2010, BirchBox was fast on its way to becoming a household name.
In 2019, the subscription box business model has grown into a behemoth $2.6 billion dollar market.
It's clear that the subscription business model is effective. In fact, that might be one of the reasons you started your own subscription box business and are positioning it for success!
If you're focused on growing your business, the general rule is:
As subscribers and total revenue increase, costs steadily increase, too.
But if you focus on scaling your business, the rule changes:
As subscribers and total revenue increase exponentially, costs barely increase.
Scaling is clearly a better business practice, but subscription box companies can be difficult to scale effectively. Your subscription box business has to be willing to get scrappy in order to scale and succeed.
Here, we share 5 powerful ways you can start scaling your subscription box business on a budget and snag a bigger piece of the industry's multi-billion-dollar pie.
5 ways to scale your subscription box business
Scaling your subscription box business goes far beyond budgeting and cutting expenses. These practices will save you money, but they won't help you scale your business long-term and prepare it for explosive growth.
When you reach about 3,000 subscribers, scaling becomes a necessity. With that many customers, even small changes to your subscription box business plan (like tweaking your pricing) can create a dangerous ripple effect. That's why the best time to start scaling is now!
Once you begin to scale, it gets harder and harder to procure enough product to fulfill your boxes (at least without 100 variations). Even worse, it's extremely difficult to pivot your pricing model without serious churn.

Jameson Morris, Bench Accounting
You've been making forward-thinking decisions about your business from the start. When you start to reach the tipping point of growth, you can be confident the foundation you've built will be strong enough to support your business at every stage.
Each practice on this list will help you scale your business without inflating your costs as a byproduct. Here are five ways to start scaling your business today.
1. Revisit your subscription box business plan
A bad pricing model is one of the most common problems with a subscription box business plan.
When a business develops a pricing model because it sounds fair or matches a competitor's, it doesn't usually end well.
Your current pricing model may be preventing your business from scaling effectively. If you change your pricing too late, you risk losing large numbers of subscribers. Hopebox uses a classic three-tiered pricing model for prospective subscribers.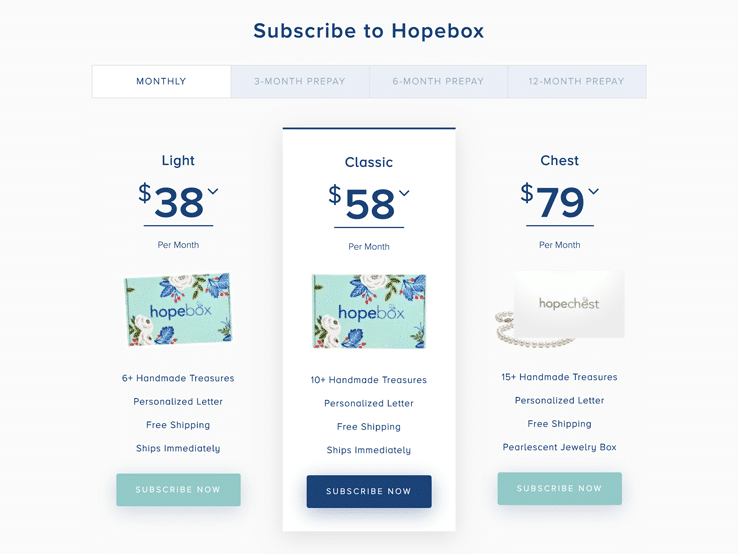 Now is the perfect time to revisit your pricing model to set your business up for success as it grows.
To develop a scalable pricing model that can grow with your business, you need to know and understand two essential numbers:
Cost of Goods Sold (COGS). How much did the goods you sold actually cost you?
Profit margins. How much higher is your profit than your costs?
With these figures, you can create a scalable pricing model that will ensure you're able to charge the amount you need to make a profit – no more, no less.
2. Compelling packaging
Why do we all love subscription boxes so much? It's simple: We love the delight of a good surprise and the thrill of anticipation.
The packaging a subscription box arrives in has a lot to do with how we think about the box's contents. Just look at this lovely custom mailer box created by Hopebox.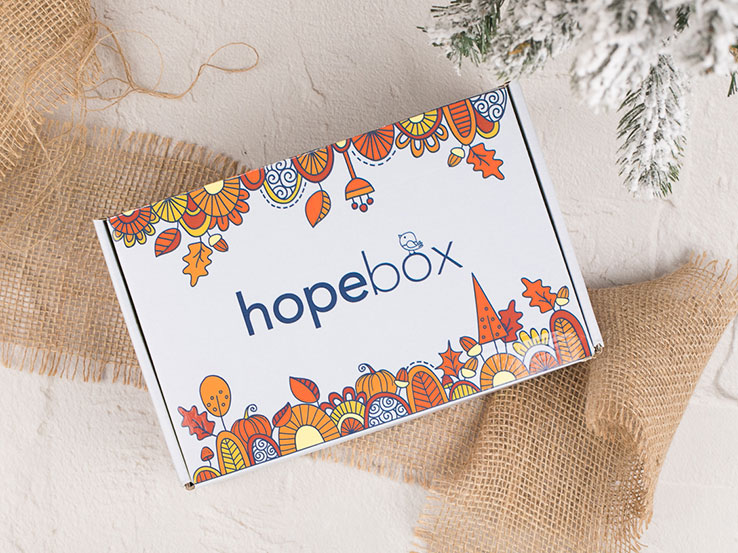 When a subscriber receives their box, the packaging design is in the spotlight. In this important, emotionally-charged moment, the packaging represents both the items the box contains and your subscription box business as a whole.
From the logo, colors, fonts, and illustrative style used on the packaging – even down to the style of the box – your customers will develop an idea of what your brand is like.
If the design is appealing, subscribers will be excited to open it and share the experience on social media. If it's disappointing, they probably won't subscribe for long.
Amazing package design has to be part of your subscription box business plan.
In Dotcom's 2015 "Unwrapping the Experience" study, 49% of people said that brilliant packaging makes them more excited about receiving items from that brand, and 39% said it made them more likely to share the experience.
Your box design is incredibly important as you scale your business because:
Well-designed packaging reinforces the value of your subscription box
The custom design visually identifies and defines your brand
Aesthetic packaging encourages shares and recommendations
Compelling packaging can be a selling point in itself
If your packaging is lackluster, a change is in order. You can end up with more subscribers, free social marketing, and more targeted customers by updating or upgrading your packaging.
You can design, preview, and get an instant quote for your new package design with our 3D box builder here.
3. Embrace subscription box fulfillment
If you're already working on growing your subscription box business, it won't be long before you need to start thinking about subscription box fulfillment.
Controlling your costs is important, but having a subscription box fulfillment center handle your orders and shipping is an essential expense.
As your subscriber count grows, packing boxes in your living room becomes less practical, then impossible. Outsourcing fulfillment becomes a necessity. Many companies avoid it as long as possible because they don't want to increase expenses.
But it also optimizes the fulfillment and shipping processes, making your business run smoother. It helps you ensure properly-packed boxes are shipped to your subscribers on time.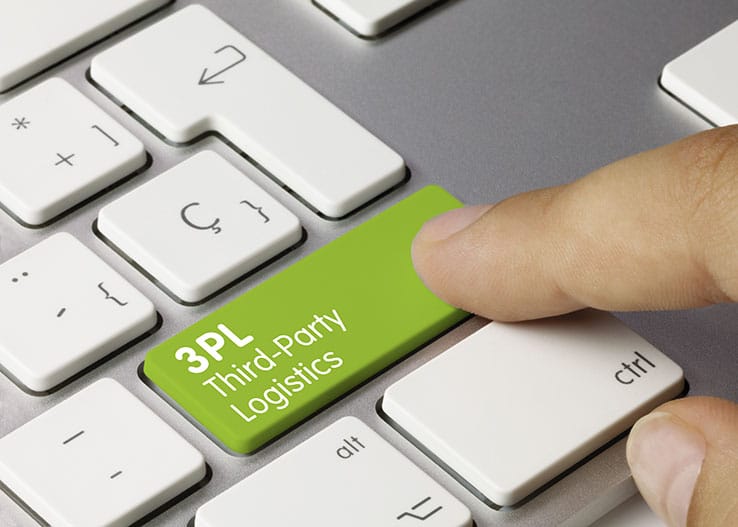 The associated cost gets buffered when new customers join and current customers stick around.
When it's time to outsource your shipping and subscription box fulfillment, do lots of research and make an informed decision. Subscription boxes require more care and attention than other types of order fulfillment because they are presented more like gifts than packages to customers.
The best subscription box fulfillment centers go beyond packing items in a box and handling shipping. Some send photos of an example completed box the day before assembly. Others assign dedicated customer service representatives to each customer.
Some will follow custom packing procedures at your request.
Yes, using a subscription box fulfillment center for your e-commerce packaging is more expensive than hand-packing the boxes yourself, but it's a necessary expense as your business grows. It will help you serve more customers more efficiently, and that is key to scaling your business.
4. Get to know your customers
Customer acquisition costs have risen more than 50% since 2014. To keep your customer acquisition costs down as you scale, make sure you're looking for customers in the right places – and that you know who your customers really are.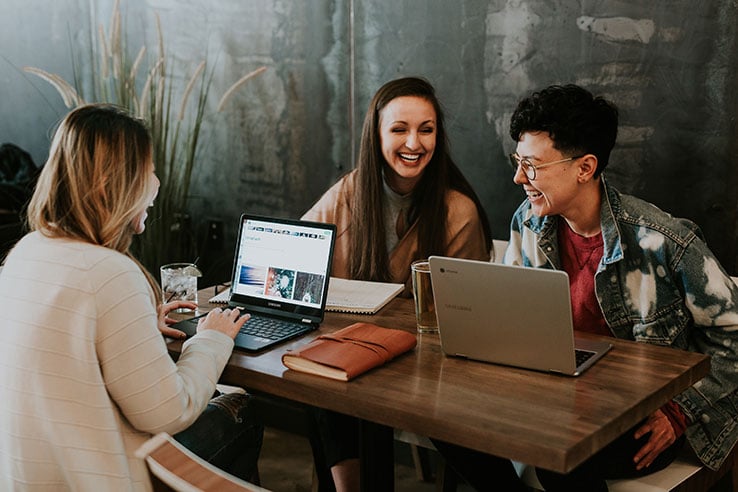 Forbes found a few traits that the average customers of a subscription box business have in common:
College-educated
More female (60%) than male (40%)
Household income $100,000+
Little free time
Children ages 3-5
These may not represent your customers, but they're a good indicator of the industry audience as a whole.
Where might you find these customers hanging out online? There are 4 main acquisition channels for the subscription box business model:
Search – 31.1%
Email – 9.6%
Social Media – 9.3%
Affiliates – 2.8%
By putting your resources in the channels where your customers are already paying attention and willing to subscribe, you pay less to acquire each one.
And when you know what your customers like, where they spend time online, and what they value, you can be more efficient in your marketing and drive your costs down even more.
5. Add value
If there's one essential thing to understand about your customer's mindset, it's this:
Your customer can get those products without you. For your box to be "worth it," it has to add value beyond what's inside.
In short, your box must be greater than the sum of its parts. But how? Adding value doesn't always have to be in the form of "free stuff" – but it definitely can be. (We all love a good freebie!)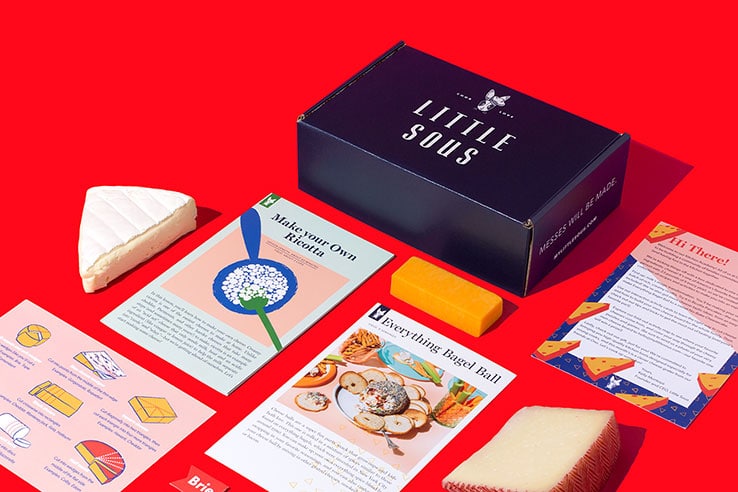 You can add value by:
Including a spritz of scent inside to delight the customer when they open it
Tucking a personalized, signed appreciation note inside the box
Inserting a card listing the products, how to contact customer support, or tips on using the products (recipes, outfit ideas, etc.)
Adding a small, surprise gift with a thank you note
Offering free shipping for loyal customers (subscribes for 6+ months)
If this seems costly, time-consuming, or over the top, just keep your eyes on the prize. If subscribers can get your items somewhere else, adding value is the ticket to getting them to stick around.
Happy customers become loyal customers, and loyal customers are the driving force behind subscription-based businesses.
We have all the answers to your subscription box business FAQs
What is a subscription box business?
Many e-commerce businesses use subscription boxes as a way to deliver products on a recurring timeline. These are often part of a brand's marketing strategy to deliver niche products by offering a monthly subscription box model.
How do you market a subscription box?
1. Reach out to influencers and bloggers in your niche.
2. Create an affiliate program.
3. Ask customers to share photos of your subscription box on social media.
4. Create a fanbase of loyal followers on social media.
5. Offer discounts and coupon codes to sign up for your subscription box.
How do I start a subscription box business?
1. Decide on a great niche and idea that makes your subscription box stand out.
2. Pick a custom packaging company to get your boxes.
3. Design a beautiful custom box for your subscription business.
4. Make sure your website is ready to accept recurring charges.
5. Market the hell out of your subscription box.
6. Start making sales and shipping your custom boxes.
7. Rinse and repeat.
How do subscription models work?
Subscription business models focus on selling products or services to customers on a recurring monthly, bi-monthly, or even yearly schedule. Subscription box business models will generate revenue frequently and create repeat business for your product.
Optimize the subscription box business model
These 5 practices are the keys to scaling the subscription box business model. What is scaling, really, but planning for success?
Getting market share in this booming industry requires a clear plan to not just grow your business, but to optimize and cost-effectively scale it. Keeping your customers happy with your monthly curations while you work on scaling is essential.
Revising your pricing, creating compelling box designs, managing expenses, knowing your customer, and adding value to your product in creative ways are all tried-and-true methods you can apply like fertilizer to your business as it grows.
Bring these practices into your subscription box business and start laying the framework for success.
Ready to upgrade your subscription box design? You can start right now with our 3D box builder! Create your own custom boxes and see an instant quote for your order.