How to Get Great Packaging Design – Tips From a Designer
Packlane x 99designs: the perfect package
Editors's note: This is a guest post by Laura McLeod who leads Partner Marketing at 99designs. Having majored in History of Art, she's passionate about the visual arts & design. When she's not finding creative solutions for businesses of all shapes and sizes, you'll find her at an art gallery or planning her next trip. If you're interested in speaking with Laura about partnerships, feel free to reach out.
I can't wait to share with you the amazing packaging design tips I recently picked up from the award winning designer TikaDesign. But before I do, I want to tell you about the new partnership between 99designs and Packlane, and share a video of one of my favorite custom box designs. 
If you've ever dreamed of beautiful custom packaging, this partnership is for you. Whether you need a mailer box, shipper or folding carton, you'll get carefully matched with award-winning design experts that will save you time and take your packaging to the next level. Get started here. 
Watch the video to learn how William Schumacher of Uprising Foods used Packlane and 99designs to design the perfect packages for his brand. We'll get into my interview with TikaDesign after the jump.
Turn your package dreams into reality and work with an expert designer today.
Why packaging design?
Whether you're in retail or ecommerce, subscription boxes or influencer mailers, your packaging is one of the most important parts of your branding. Your packaging not only helps to strengthen your brand recognition, but it also helps to get your customers excited about what's inside the packaging.
Or, in other words, having a great product is important—but if you want that product to connect with customers, great packaging is just as important.
But what makes packaging great? We asked TikaDesign, one of 99designs' top custom packaging designers, for insights on the core custom packaging design principles. And once you understand those insights, you can create a clear, comprehensive design brief that helps you communicate your vision to your designer—and take your packaging to the next level in the process.
Branding comes first
When you have a product you're excited about, you might be tempted to jump right into the product packaging design process. But there's a crucial step that comes before packaging design—and that's branding.
"Solid branding is a very important key to creating any packaging design," says TikaDesign.
Before you start designing packaging for individual products or subscription boxes, you need to define the overall style and aesthetic of your brand—and design the key branding elements (like your logo) that will make up your brand identity.
"Make sure you already have your logo and brand style designed before you start thinking about your packaging," says TikaDesign.
When you're creating your design brief, make sure to include all your core brand designs for your designer to incorporate into your packaging, including your logo, color palette, and brand fonts. And if you want to go the extra mile, you can assemble all your branding information into a brand style guide—which will make it much easier for your designer to understand your overall brand strategy, goals, and design vision.
"If you have a brand guide already, you're way ahead of the pack, so be sure to include this for your designer," says TikaDesign.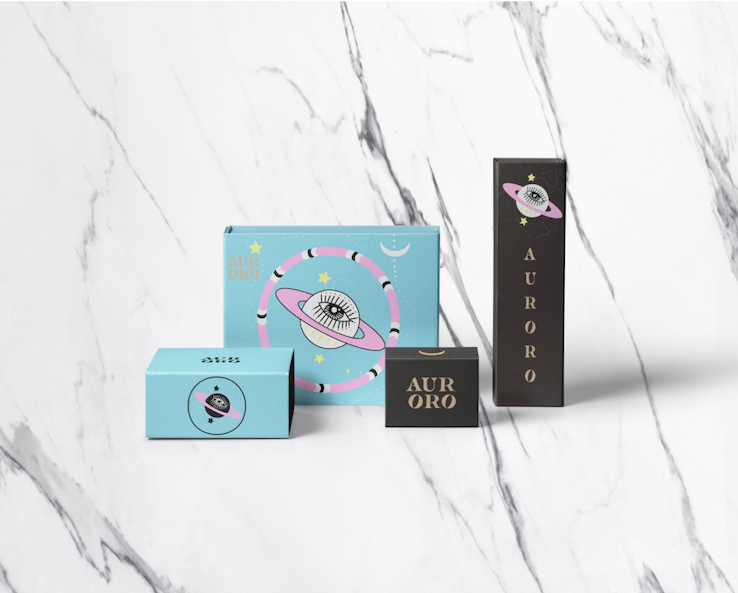 TikaDesign used the Auroro branding across a set of custom packaging designs.
Don't just think about the box—think about the unboxing
If you want your packaging to be memorable and effective, it needs to be more than just a "pretty" box—it needs to be an experience.
"I think that the unboxing experience is the most important thing," says TikaDesign. "The first impression is the one that will stay forever, and you have to make sure that you make this a very pleasant experience."
When you're creating your design brief, brainstorm ways you can make opening your package an experience for your customer. How can you create a sense of anticipation with your customers as they're unboxing your product? How can you make the experience more luxurious, quirky, or fun (depending on your branding)? What small touches can you add to elevate your packaging to make the unboxing experience a memorable one for your customers?
"A nice sticker to seal, tissues, cool and fun illustrated inlay cards…[small details can all make] the packaging and unboxing experience an unique experience," says TikaDesign.
Usability is key
It's important for your packaging to be well-designed and on-brand. But it doesn't matter how amazing your custom packaging design or branding is—if your packaging isn't functional, it's going to fall flat with your customers.
"Making your packaging usable is very important," says TikaDesign. "Consider the usage of the packaging and be sure to include the details of its purpose and usage in the brief to your designer."
When you're putting your design brief together, it's important to not only communicate your design vision for your packaging, but how you actually need your packaging to function.
"[For example], is it for mailing something fragile like wine bottles? Show the products it will contain," says TikaDesign. "This will help your designer envisage how they can ensure the design fits the function."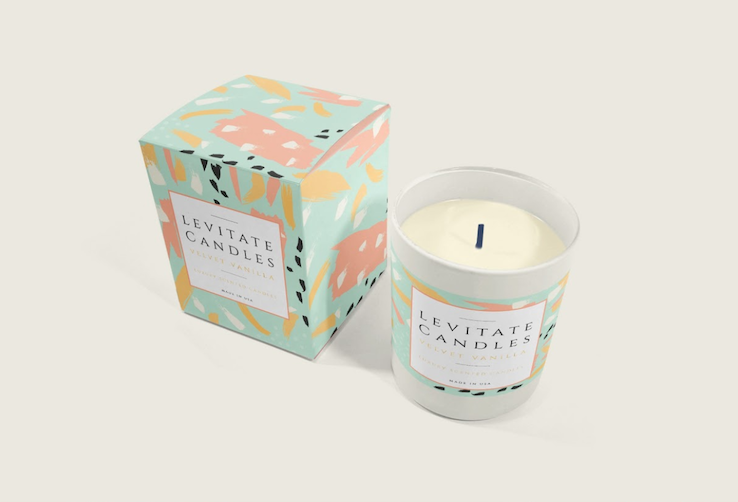 Packaging that's designed to hold it's content's perfectly by TikaDesign
Stand out by combining and contrasting design elements
If you want your packaging to grab your ideal customers' attention, it needs to be visually impactful. And one of the best ways to create that impact, stand out from the crowd, and grab your ideal customers' attention? Combining unexpected design elements.
A lot of product packaging seems to follow the same rule book—which is why you see so many products in a particular category with similar (sometimes nearly identical) packaging. But by including unexpected or contrasting elements in your packaging design—like an unexpected color palette and eye-catching font combinations—you can differentiate yourself from your more generic competitors and truly stand out to your customers. "Look to your designer to use elements that will bring your [unique] idea to life," says TikaDesign. "They're experts in bringing design elements together to give you something that fits your brand."
That's not to say you can't take inspiration from other brands—especially if they're doing something new, different, and interesting. If you see something your competitors are doing that inspires you, include it in your brief.
"If you like particular fonts, colors or illustrations you've seen other brands use, add it to the brief," says TikaDesign. "It's really helpful for [custom packaging designers] to see what styles you like, as well as don't like."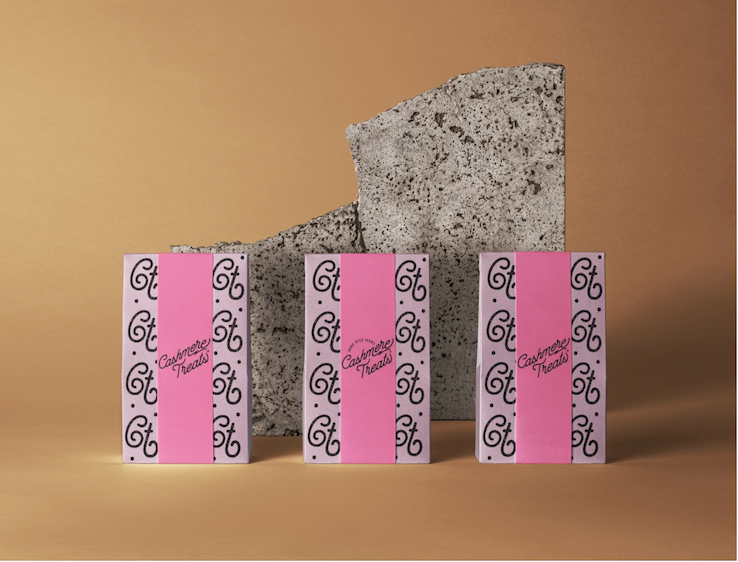 A custom packaging design for Cashmere Treats. TikaDesign used a pattern for the background, and a strong colour to catch attention
Give your designer the freedom to create something incredible
You probably have a vision of what you want from your packaging. And while you want to communicate that vision in your design brief, you're hiring the designer for their knowledge and expertise—so it's also important to give your designer the freedom to create something incredible.
Don't micromanage the process. Give your designer the core elements of what you want from your packaging design—and then give them the space to bring it to life in their own way. "If you can provide the core details of what you need in your brief, and give your designer room to add something, you'll give them the freedom to create something that stands out," advises TikaDesign.
Get the packaging design you need to take your business to the next level
There's a lot that goes into creating custom packaging design that helps you stand out, grab your customers' attention, and take your business to the next level. But now that you know how the core elements that contribute to memorable packaging design—and how to include those elements on your design brief—you have everything you need to bring your packaging vision to life.
Are you ready for a packaging design that helps you stand out and grab your customers' attention? TikaDesign is just one of the many talented, professional packaging designers you can find on 99designs. Hire a professional packaging designer and get started today!