How to Design Holiday Packaging
With the holiday season fast approaching, it's time to get your holiday packaging in order. Creating Christmas packaging or seasonal boxes is a great way to get people talking about your brand.
E-commerce is as competitive as ever and as Black Friday and Cyber Monday loom in the not-too-distant future, how can your brand stand out during the busiest shopping days of the year? There's never been a better time to make your custom packaging shine. But don't worry, we're here to make it as easy as possible to get seasonal packaging under your customer's tree in time for the holidays.
That's why we've created a free festive asset pack to download. You'll find over 70 assets including seasonal icons, festive colors, and holiday-themed patterns to help you design holiday boxes that sleigh. Seriously! Just look at that beautiful box at the top of this post. It was created using the assets included in this free pack (files included come in both PDF and Adobe Illustrator file format). Grab yours today!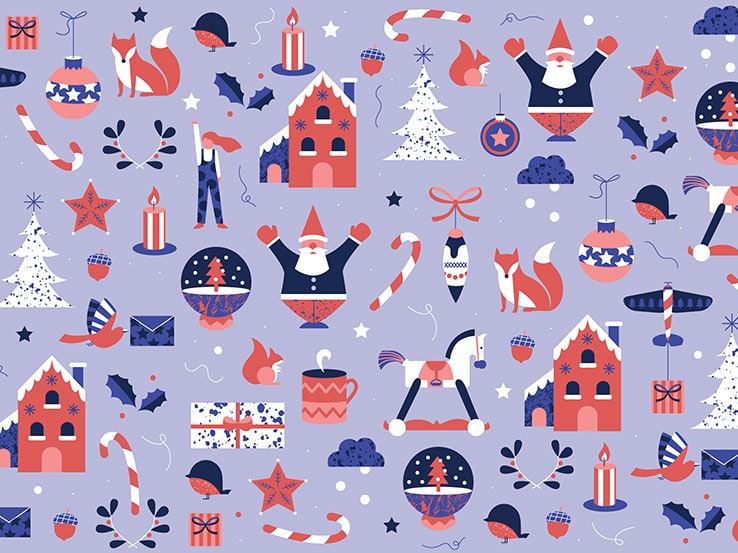 Add festive icons to your holiday packaging pop
Our holiday asset pack has close to 30 different icons to spruce up your custom packaging. We've included animal icons like birds, deer, foxes, and squirrels.
We've also added Santa to the mix because, well, he's Santa. We couldn't NOT add him. You'll also find a mix of different objects and ornaments to give your packaging something extra special.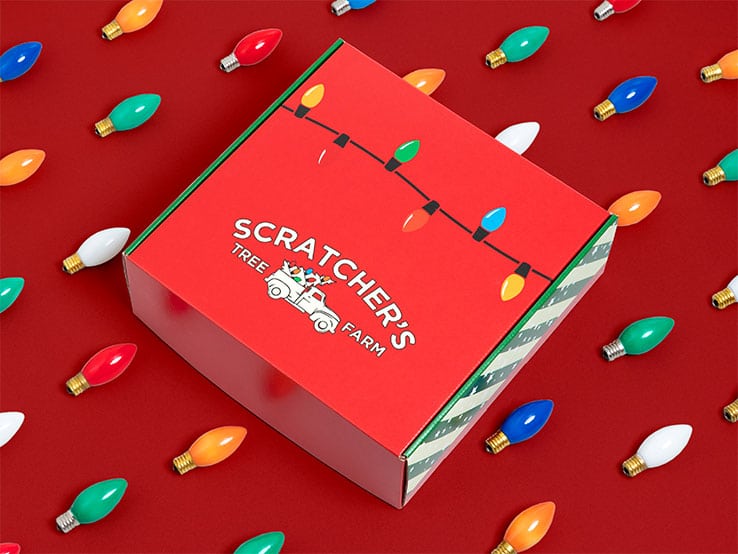 Choose the right colors for seasonal packaging
When it comes time to choose colors for your seasonal packaging, it's easy to go traditional with red and green. People will always associate those colors with the holidays but why not mix it up?
If you run a subscription box business, using festive colors on your holiday subscription boxes will help delight your existing customers and add value as a way to market your products to new customers looking for gift ideas. Any way to make your box unique will help you stand out from your competitors. If you need help designing your holiday subscription box, this guide to subscription box packaging design will come in handy.
Invisible Creature created a festive box last year for their O Holy Night LED desk lamp that is both sophisticated and instantly recognizable as holiday packaging. While their packaging relies on reds, it also uses white and browns to make their custom box really stand out.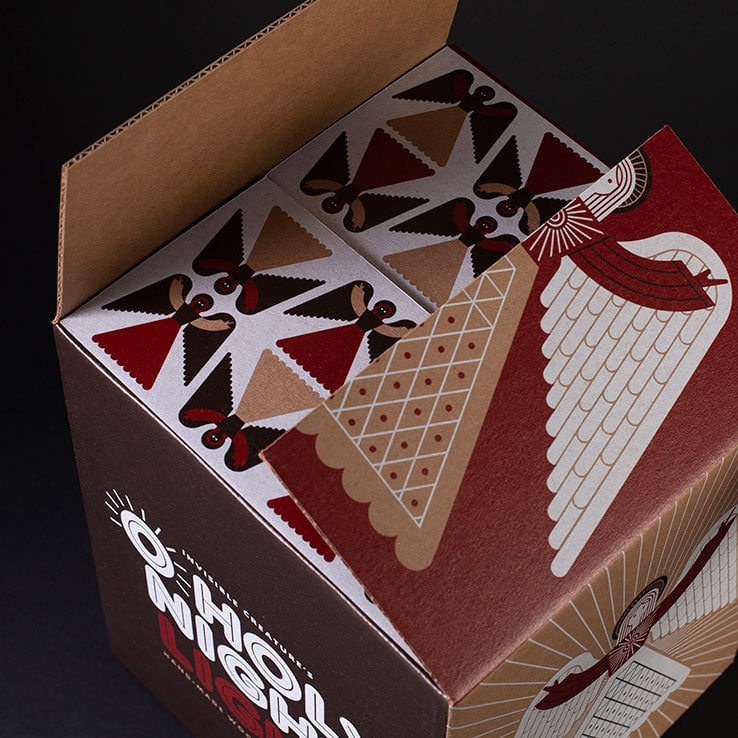 You'll find some colors that we think will look amazing in our asset pack. But because Packlane uses digital printing for our boxes, you'll be able to choose any color you want. The choice is truly yours.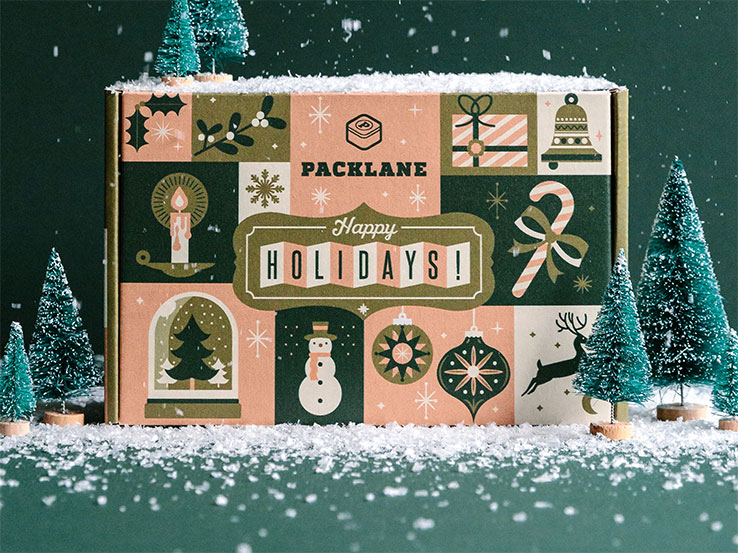 Add stunning patterns to your holiday boxes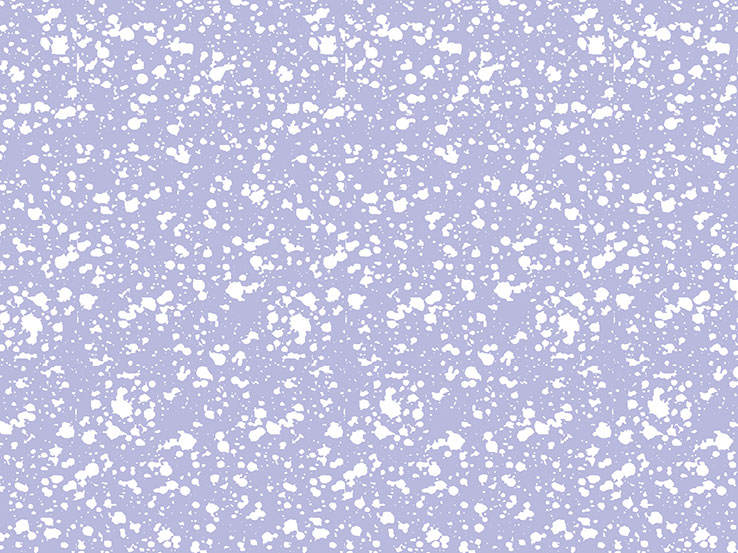 You'll find holiday-themed patterns in our free asset pack to add to your holiday boxes. Patterns are fantastic resources to add to your design toolkit.
They're great because you're able to utilize them across multiple brand assets. So while you're able to add patterns to your packaging, you'll also be able to repurpose them for other aspects of your marketing efforts.
Using the right patterns will help define your brand's visual style and add some festive flair to your packaging. If you can't find the right pattern to use in our asset pack, here's are some handy tips to help you find stunning patterns for your packaging.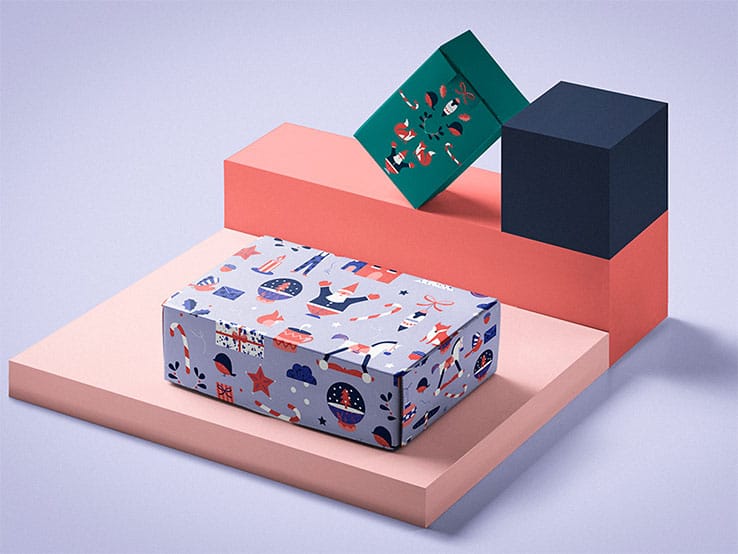 Holiday packaging order deadlines
Know the deadlines for ordering your custom holiday packaging. Our Holiday Print Schedule will give you the peace of mind to avoid the stress of last-minute box shopping. You'll find all the order dates you'll need for this holiday season. Need to be sure your custom shipping box gets to your customer on time? We've got you covered.
But wait, there's myrrh!
The holidays will be here before you know it. Designing custom holiday packaging doesn't have to be a time-consuming process. That's why our holiday asset pack is so handy! We've taken the time to create festive design assets to help your brand stand out during this holiday season.
Choosing the right icons, colors, and patterns is a breeze when you use the assets we've already designed. Just keep in mind the deadlines for ordering your custom packaging this holiday season. Staying ahead of the game will ensure you're able to kick back and watch the sales rack up during the busiest time of the year.
And if you haven't already downloaded our asset pack, what's stopping you? It's FREE!