How to Design Your Shipping Boxes for the Holiday Season
Now that the holidays are fast approaching, it's time to get a move on for your holiday packaging. But don't settle for ho-hum Santa graphics and a shade of red and green. Go the extra mile so that your packaging stands out and embodies the festive spirit. But where to start? We've curated ten tips (and a few real world examples) to make your holiday campaign an impeccable one.
10 Tips to Add Joy and Cheer to Your Shipping Boxes
1. Add a Note
With gift giving, adding notes is always appreciated. Handwritten ones are even better. You can add a hang tag or postcard and attach it to the shipping box, or be more personal and insert the letter or note inside the package itself. It will be a welcome surprise once the recipient unboxes the gift.
2. Use Custom Tape or Labels
A quick and easy way to add a holiday accent to your shipping boxes is with custom tape or labels, especially since you need to seal your boxes anyway. This way, your package is safe and protected while still being festive.
3. Festive Tissue Paper
Make your protective void fills do double duty. Tissue paper can be printed with custom designs that evoke the holiday spirit. Use holiday-themed patterns but don't forget to add your company's own branding elements as well.
4. Print on Both Sides
Shipping boxes are usually left hanging when it comes to holiday designs because they aren't displayed on retail shelves. But warehouse shopping has become popular in recent years, so get those boxes printed inside and outside! It's uncommon to see and will drive interest to where your boxes are placed.
5. Play With Patterns
Breaking away from your standard design is an effective way to make customers do a double take. It makes your branding fresh with the injection of a new perspective. Perhaps the best example of this is the quintessential Starbucks red cup. The holiday-exclusive cup has become synonymous with the brand, but over the years, things needed to be shaken up just a little. This year's cups focus on patterns versus a solid, striking red hue. Patterns can help break monotony on your design, but you have to balance it so that your branding still comes out ahead.
6. Go Bold With Color
Whoever said that holiday hues has to be red and green or white and gold? Don't limit your packaging design to a specific set of colors. When you know your product and you know your market, you can get away with anything.
7. Add Traditional Holiday Design Cues
Fine, we'll admit it. Traditional holiday design cues are the standard for a reason. They've stood the test of time and immediately bring up feelings and emotions that evoke the holidays. There's nothing inherently wrong with using these for your brand's product packaging, but know that you'll be in the same boat as a lot of other brands. You can use this if you don't have a lot of competitors in your product category, especially on retail shelf space.
8. Tell a Story
Amazon's shipping boxes aren't festive in any way, shape, or form. But over the years (and with a few good marketing campaigns), they've made their 'smiling' boxes almost synonymous with the holidays. In this video, the message is clear – no holiday is the same without that box. How about your brand's boxes? Tell your own story through your packaging.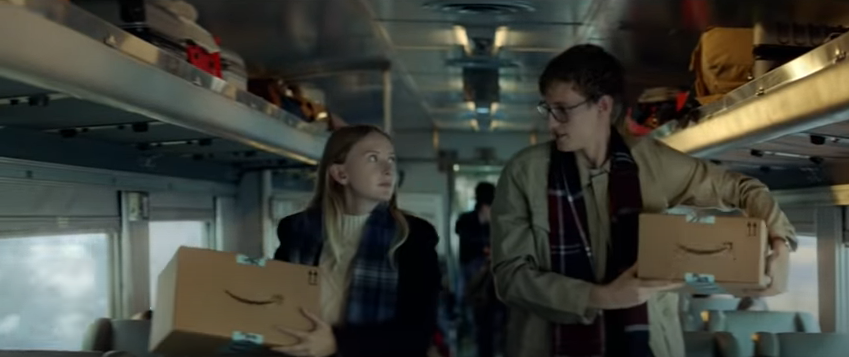 Video Snippet from Amazon Holiday 2019 – Brand :90
9. Add Multiple Layers
Probably the biggest satisfaction you can get from gift-giving is the excitement and mystery until the big reveal. You can prolong the suspense by adding multiple layers to your packaging. You can wrap the gift itself with custom tissue paper then place it inside a mailer box and giftwrap it. Place it inside a shipping box with void fill, then giftwrap it too.
10. Give Out Surprise Giveaways
You know what goes well with gifts? Even more gifts, of course! It doesn't have to be something fancy since the gesture is always more important and memorable. Inside a product box, consider adding decorative stickers, discount vouchers, or small knick-knacks. It won't cost you a lot but will pay dividends in the long run.
Share the Warmth of the Season With Festive Packaging
Add the end of the day, festive packaging is all about giving customers that warm and fuzzy feeling we've come to associate with the holidays. Get into the spirit of the season and design lasting memories with Packlane today.