5 Out-of-the-Box Sustainable Packaging Trends in 2019
When I think of sustainable packaging, a favorite quote instantly comes to mind: "If it can't be reduced, reused, repaired, rebuilt, refurbished, refinished, resold, recycled, or composted, then it should be restricted, designed, or removed from production."
Pete Seeger, the vocal social activist and crooner responsible for the song, "Turn, Turn, Turn," does not mince words when it comes to the importance of sustainability. I am still waiting for him to write a song about it, but until his strong words become lyrics, we would still be wise to heed them.
Many manufacturers seem to agree. 2019 has seen companies going beyond the basic 3 R's (reduce, reuse, recycle) and bravely stepping out of the box. They are thinking crazier, weirder, and even trashier (yes…trashier) in the quest for greater sustainable packaging solutions.
Consumers love sustainable packaging
As we'll soon discover, consumers love sustainable packaging.
Jerry Greenfield, who introduced many of us to our secret lovers, Ben and Jerry, co-founded the iconic ice cream brand. Their mission was to do something different. They brought the world a natural ingredients based product. It rivals the mainstream ice creams in quality and flavor, without compromising by using impossible to pronounce chemicals.
Consumers immediately responded, falling in love with both Ben and Jerry's ice creams and its organic-minded mantra. The continued success of the brand is clear because Greenfield is incredibly in tune with what the world wants.
So, in response to the question of what the world wants now, Greenfield answers: "Recycling [and] packaging. Businesses are changing all of those things because that's what consumers want."
Achieving sustainability in packaging can seem like a daunting and near impossible feat to accomplish. The great news is that technologies and knowledge are constantly emerging on a daily basis. This allows manufacturers' minds to unleash their creativity.
What are the trends in sustainable packaging solutions?
The following is a list of five 2019 trends in sustainable packaging solutions. Let's also look at the incredible companies that are keeping it weird for the good of our world.
1. Upcycling and recycling
The old adage "one man's trash is another man's treasure" is taken to heart with this 2019 trend. In order to reduce the amount of waste in the world, companies are looking toward the waste stream as a source of wealth—materials wealth, that is.
They are literally selling trash, repackaged and made shiny and new via a different product. When we as consumers buy that bright, shiny, and new item, we are single-handedly becoming our own versions of superheroes.
Our dollars spent are directly helping those same companies to keep funding their programs, transforming one man's trash into goods in a cost-effective and sustainable way. In this way, the recycling (and upcycling) cycles can continue… to infinity and beyond.
Now that we have our visions of ourselves as caped crusaders on a mission to save the world through literally buying trash, below are two companies that are helping us keep it trashy:
Recover Brands
This creative clothing company incorporates a plethora of recycled materials to make its products.
Recover recycles what others see as trash into wearable treasures, including stylish threads for men, women, and children. Recycled plastic barrels and soda bottles make up polyester prints. They infuse what's left of the cotton swept off the floor of manufacturing facilities into snazzy shirts.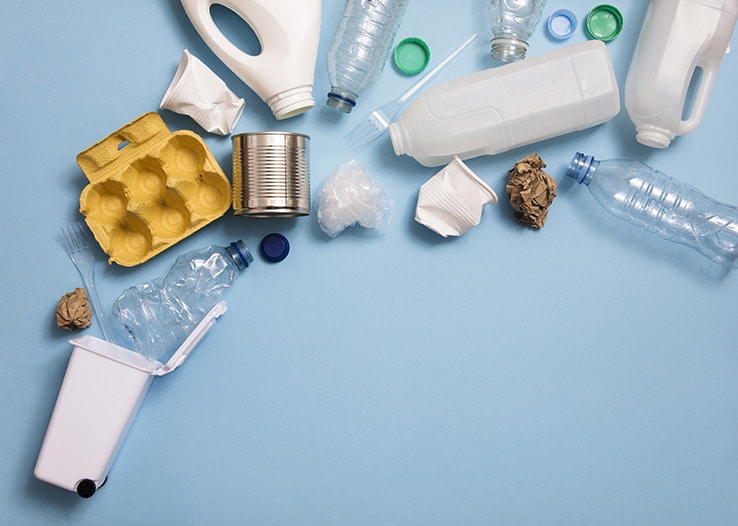 TerraCycle
TerraCycle loves trash. In fact, the company accepts almost any thrown away item, then turns around and sells it to other companies that collect these specific types of things.
It is because TerraCycle's mammoth network of connections is so wide and far-reaching (imagine a super-spider with arms and legs that reach almost to infinity), the majority of items that many see as being non-recyclable, TerraCycle can simply say, "I know a guy."
This connectivity allows them to actually turn a profit, simply selling our trash.
2. Trashy return policies
Annie Leonard, a highly respected proponent of sustainability, once said, "There is no such thing as 'away'. When we throw anything away, it must go somewhere." She's right, and manufacturers know it.
That is why many companies are now offering a better alternative. Rather than throw your purchased item away, they are now asking you to simply send it back to them. Now, before you cringe or curl up your lip in disgust at the thought of the inconvenience as finagling return policy rigamarole, read on to see how one company is making it near effortless to get on board:
Loop
This company allows you to purchase products, then return the containers after you are finished with them via a super convenient reusable shipping tote and return delivery service powered by UPS.
3. Edible waste
Don't let the title scare you, as this "waste" is most likely not what you think. The most creative designers at some companies are flooding the 2019 market, providing consumers with sweet—and savory—sustainable packaging solutions.
Saying no to wrappers and cracking down on clamshells, below is one company that is handling waste, with good taste:
Loliware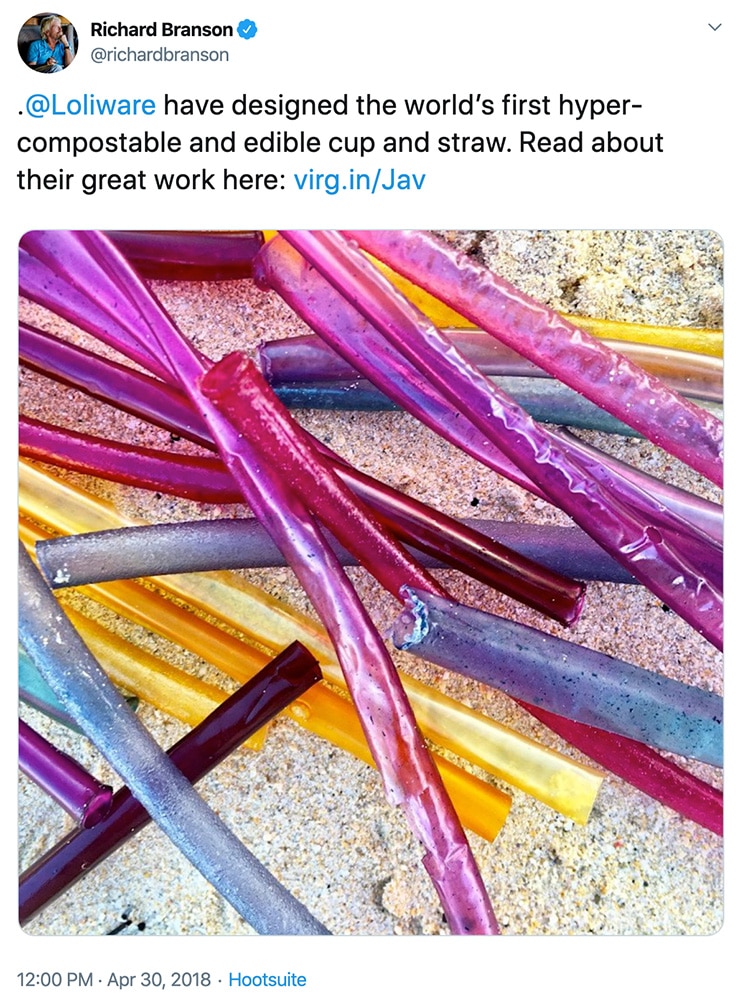 Loliware has a surprising secret weapon, utilizing seaweed to do its part to solve the world's sustainable packaging design dilemma. One of its most popular products is an edible cup that can be used at events in lieu of small plates.
When the evening is done, guests can entertain themselves with magic tricks, making their seaweed "plates" disappear entirely.
And as Sir Richard Branson tweeted, they created the world's first hyper-compostable edible cup and straw.
Sustainable packaging materials
4. Plant-based packages
More manufacturers are wading into the waters of sustainable packaging trends by opting for packaging made with plant-based materials. Listed below is one major company that is leading the way and inspiring others to keep it weird, while still being profitable and saving the world with plants.
IKEA
Although you may be tempted to stand and applaud IKEA for this feat, it would probably be more fitting to purchase one of its items and take a seat, as this iconic furniture brand is forging the way for the future by incorporating Ecovative's mushroom-based packaging materials in every consumer purchase.
5. Buried treasure
Taking plant-based packaging one step further, some manufacturers have ingeniously figured out ways that their packaging, which contains seeds in the packaging pulp, can literally sprout new resources and materials for future sustainable packaging products, or perhaps simply a nice afternoon snack.
Bloom Chocolate
Bloom Everlasting Chocolate's biodegradable packaging is like magic, filled with seeds that, when planted in the ground, will one day grow into plants like rose, orange, mint and more. Easy to use instructions are printed on every bar of chocolate, leaving no excuse to not get out in the garden and start growing.
The future of sustainable packaging design
As increased knowledge and technology continue to allow manufacturers to perpetuate this global trend to think bigger (and smaller) in terms of the sustainable packaging products that they offer, consumers will continue to reap the benefits of having greater options without ruining the world.
While it's easy to think boxes are always disposal, sustainable packaging can even be applied to subscription box packaging design.
If you're looking for affordable, recycled shipping boxes, the Econoflex box is your best option. With fast turnarounds, affordability, and print quality that rivals flexographic printing, the Econoflex box is the right choice for your brand. 
Renowned genius Albert Einstein would be quite proud of this progress, as he once said, "We cannot solve our problems with the same thinking we used when we created them." Here's to forward-thinking.