The Ultimate Guide to Custom Retail Packaging in 2020
There are more than 1 million retail businesses in the United States alone, so it's no surprise that custom retail packaging is more important than ever before. With SO many retailers out there, how do you differentiate your brand from the rest?
The sheer number of retail businesses makes it easy to think that standing out is harder than brain surgery (props to all you brain surgeons out there). But… 64% of consumers buy something off the shelf without ever being introduced to the brand.
And, custom retail packaging is the biggest deciding factor that comes into play.
So, you don't have to be the top name in your industry to make an impact, grow your brand, and generate more revenue. You need custom retail packaging that screams from the (actual and digital) shelf.
You can let out that breath you've been holding because I have some good news. As it turns out, designing custom retail packaging isn't as hard as brain surgery. Whew!
Consider custom retail packaging boxes your visible secret weapon
You might be wondering how you can have a visible secret weapon. Yes, custom retail packaging boxes are visible to the eye. But, the many levels of multi-functionality add a non-icky layer of secrecy. Custom packaging can:
Protect your products throughout their journey
Tell a funny, interesting, or brand-building story
Give valuable information about your product
Help consumers decide if it's right for them
Amplify your unique selling proposition
Explain how to use your product
All of the above
The ability to use packaging to affect buying behavior makes it a powerful asset to have in your arsenal. Still not convinced? Let's take a second to chat about why custom retail packaging is a win/win for your business.

Retail packaging is 100% customizable
Whether your products are big or small, custom retail packaging morphs to fit your needs. You can customize every dimension to beautifully display and protect your products.
But size isn't the only thing that matters. Custom retail packaging means you (or your designer) can add whatever you need to make your packaging an extension of your brand.
Your options are limitless!
Attract new customers and turn them into raving fans
64% of in-store consumers say they buy products off the shelf because of their packaging. They also say they don't feel the need to further research the brand or product before buying it. So, well-designed custom retail packaging goes a long way in attracting new customers.
Additionally, 40% of consumers say that gift-like packaging influences them to buy from you again. And, good packaging makes 50% of consumers more likely to recommend you to a friend. Using custom retail packaging helps turn customers into brand ambassadors who:
Recommend your business to their friends
Share their experiences on social media
And make repeat purchases
Retail packaging is a new customer's gateway to your brand
For many shoppers, your retail packaging is the first time they interact with your brand. And, you only have seven seconds to make your first impression pack a powerful punch. Smart custom packaging uses every one of those seconds to deliver an impactful message.
Product packaging is your chance to nail that first impression without speaking a word. Plus, it gives shoppers a chance to decide if they resonate with your brand before spending a dime.
High-quality retail packaging increases perceived brand value
Premium product packaging increases a product's value. And, 44% of consumers agree that premium packaging reinforces the value of a product. So, high-quality custom retail packaging makes your product and brand feel more valuable.
For a small investment, you can improve profit margins by charging more for the same thing. All while improving your customer's shopping experience.
Custom retail packaging + word of mouth marketing
Customer-generated content on social media is growing in popularity. 68% of Millenials say that user-generated content speaks to the quality of your brand.
Add that to the fact that 40% of consumers will post photos of your brand online because of unique packaging. What do you get? Yet another undeniable argument for the necessity of custom retail packaging.

Your customers care about branding and the unboxing experience
Over 90,000 people search for unboxing videos on YouTube every month. So, you know your audience is looking. And, It's no secret that the unboxing experience is as important for you as it is for your customers (and potential customers).
If you think this experience only applies to e-commerce retailers, you're missing an important opportunity. In a world where 3/4 of consumers are influenced by package design, it's an opportunity you can no longer afford to miss.
Those unboxing videos?
They help you build a community around your brand. When people watch someone fall in love with what you do, they want to feel the same way. So, take the rise in popularity of unboxing videos as a sign that it's time to take action.
Use this as an opportunity to have fun with your copy and package design.
Think about what you can add to make the experience share-worthy. Your customers expect a branded experience and it's your job to deliver. How can you exceed their expectations?
If you sell in stores, make customers want to interact with and touch your packaging. Use your chance to encourage them to take your box off the shelf, pay for it, and take it home. Think about what you can do to make them want to share their experiences.
Hint: custom retail packaging is the answer to all the above.
Understanding the different types of retail packaging products that help amplify your brand
The type of retail packaging products you need depends on how you operate your business. E-commerce products require more protection while products stored on a shelf have less to worry about. So, what types are right for your business?
Brick and mortar retail packaging
Whether you run your own shop or distribute products to other stores, product packaging plays a role in telling your story. In a brick and mortar setting, custom retail packaging's job is to:
Make your product stand out on the shelf
Protect your product from dust + wear and tear
Encourage customers to take a closer look
Portray the value of your brand and product
Act as an extension of your brand
Custom folding carton boxes are an excellent option for displaying your products in-store. You should also consider developing custom marketing displays to enhance the customer experience.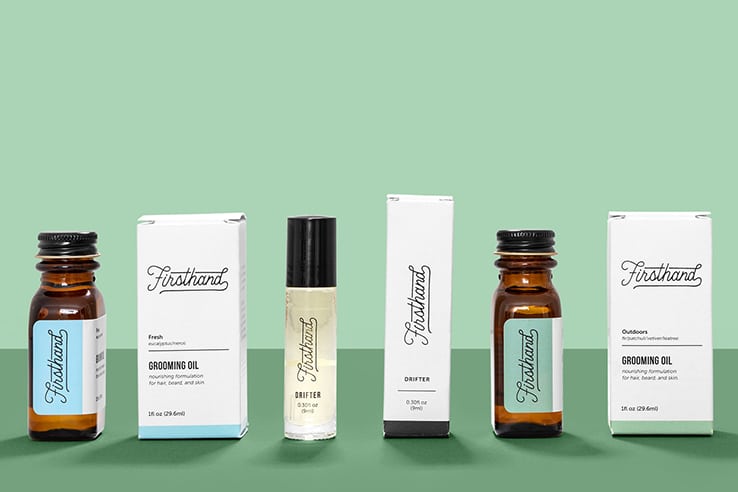 E-commerce retail packaging
E-commerce businesses don't get to talk with customers or let shoppers experience their brand face-to-face. Because of this, there are far fewer opportunities to embed your values and brand message. So, every opportunity counts.
Custom retail packaging gives you the chance to finish your story and leave a lasting impression on each customer after they buy from you. With e-commerce retail, your packaging should:
Protect your products as they travel to your customer's porch
Make your customers feel something – emotions stick with people day in and day out
Showcase your attention to detail and genuine care for the customer experience
Use your brand values and messaging to reinforce why they chose you
Encourage customers to continue to engage with your business
Be so well done customers can't help but talk about it
Custom mailer boxes or custom shipping boxes are the top choices for e-commerce retail. They're fully customizable, durable, and perfect for shipping products to customers.
Custom folding cartons
Custom folding cartons are an elegant answer to your custom retail packaging needs. They work well for customer-facing products in-store and as an accent to subscription box packaging. They're lightweight, easy to open, and easy to customize.
If you sell makeup or anything in the cosmetics industry (any industry, really), folding cartons are a perfect match. They add an extra layer of product protection while giving your brand more room to shine.
Branded retail gift boxes
Branded retail gift boxes allow your business to turn functional packaging into a valuable marketing tool. Well-designed gift boxes give you a chance to give your customers the feeling of receiving a gift whether it's for a friend or themselves.
Gift boxes can help add an exciting element whether your product is on a shelf or making its way through the mail. Packlane's custom mailer boxes work well for e-commerce products and shelf-ready displays.
Branded retail bags
Giving customers a chance to experience your brand post-purchase goes a long way. With e-commerce brands, customers know they're going to have another touchpoint with your business. I.E. when they get your package in the mail.
But, extending that extra touchpoint to in-store shoppers can make an impact as well. When someone gets home, they expect their interaction with your brand to be over. But, branded retail bags help continue their exposure after they leave the store.
Some of the most common types of branded retail bags include:
Paper gift bags displaying your logo and your message
Reusable retail bags customers are proud to use time and time again
Plastic bags to make carrying their new goods a breeze

The goof-proof process of custom retail packaging design
Now, you know everything there is to know about custom retail packaging. Except… custom packaging design. So, how do you go about designing your own custom packaging?
We've worked hard to make the process easy. The six- step process below will help walk you through everything you need to know. Easy peasy – as promised! And, no brain surgery required.
Pro-tip: If you're not a designer or can't get it done in-house, outsourcing custom retail packaging design is easy. Check out this post if you need help hiring a package designer.
Step 1: Know the dimensions of your product
First things first. What size box do you need?
Start by measuring the height, width, and length of your product and everything you plan to put inside the box. Then, consider the type and size of any protective packaging inserts you plan to use.
Step 2: Determine what needs to be visible on the outside
First, decide if your box is going to sit on a shelf or go through the mail. For your situation, what components of your brand need to be seen immediately?
In a brick and mortar shop, many consumers won't open the box. So, you need to let shoppers know what's inside and what to expect. You should also assume they know nothing about your brand. Consider adding:
Informative copy about your brand or product
Instructions on how to use your product
Your logo and tagline
Quotes from happy customers
A photo of your product
A joke or story
With e-commerce retail, you know your customer is going to open the box. So, it's less imperative to include every piece of information you want them to know on the outside. Consider using:
A prominent logo that stands out against the background
Your brand colors, fonts, and messaging
A short quote or personal message
Step 3: Consider what you want the inside to look like
The inside is less important with brick and mortar retail packaging. But you could consider printing instructions or social media information on the inside.
With e-commerce retail packaging, this is your golden ticket to make a lasting impression. Use this space to tell your story, make them laugh, or encourage them to share on social media.
Step 4: Add eye-catching patterns and designs to accent your branding
After you know what's going to go on the inside and outside, consider adding on-brand patterns and other designs. These help differentiate your brand from your competitors. They may also help grab attention in a sea of other boxes on the shelf.
Step 5: Once you have an idea, develop a 3D proof in real-time
You know what you want your packaging to look like. Now, it's time to bring it to life!
To get started, choose your custom box style. Enter your dimensions from step 1 and your desired quantity. Then, you'll be able to start developing your 3D proof and make changes to your design in real-time.
You can choose your colors, add images and text, add dielines, and adjust the sizing and placement of everything to your heart's desire.
Step 6: Tweak, finalize, and send in your order
Before you complete your order, double-check everything for spelling. It's a good idea to have a fresh set of eyes look over your design to make sure everything is good to go. If it isn't, take your time making adjustments.
Once everyone on your team (even if it's just you) approves, send it over and we'll get started bringing your vision to life!
Your custom retail packaging FAQs answered
What is custom retail packaging?
Retail packaging is what customers see before they get to see your product. Custom retail packaging incorporates your business's logo, brand colors, copy, and message on the outside (and inside) of the box. This helps your brand stand out in stores and encourages brand loyalty for e-commerce brands.
How do you design a packaging product?
Start by deciding what kind of packaging you want to use and what size you need. Then, create a 3D proof in real-time showcasing your brand's colors, logos, images, and messaging. Lastly, finalize your design and submit your order.
Where can I design custom folding cartons?
Custom folding cartons are popular because they're lightweight and 100% customizable. Packlane's 3D proof creator lets you design custom folding cartons in real-time.
Where can I order retail packaging boxes?
Packlane offers a wide variety of retail packaging boxes including folding cartons, mailing boxes, and shipping boxes. We offer low minimums at affordable prices. While we do offer high-volume discounts, you can order as little as 1 box. This gives you the option to order what you need when you need it without breaking the bank.
How do I design retail packaging?
Start by thinking about what size(s) you need and what elements of your brand are the most important. Then, use our 3D proofing tool to add, place, and size those elements wherever you'd like. When you're happy with your design, submit your order and we'll get started bringing your vision to life!
Start standing out, today – no brain surgery required
Custom retail packaging is a cost-effective way to make your brand stand out on the shelf. And, the benefits of doing so are hard to ignore. Well-done custom packaging can help you:
Attract more of the right customers in-store and online
Nail a consumer's first impression of your product
Increase the perceived value of your brand
Achieve more social shares and free word of mouth marketing
Designing your own custom retail packaging is easier than it sounds. Our six-step process can help you get started reaping the benefits in just a few clicks. You (yes, you!) can turn your vision into a visible secret weapon today.
We take pride in making custom packaging accessible to businesses of all sizes (and budgets). You can get started with a minimum order as low as 1 box. There's no need to spend hundreds of dollars buying retail packaging in bulk. Especially if you're not going to use them (hey environment… I see you).
No matter how big or small, we hope you'll use this guide to create custom retail packaging that works as hard as you do.