OLIPOP Fosters an Engaged Community by Getting Social
From zero to 20,000 Instagram followers in just a year
Where healthy meets delicious, OLIPOP has created a sparkling soda alternative made with prebiotics, botanicals, and plant fiber for a happy, healthy gut.
For ten years, founders David Lester and Ben Goodwin have worked with top researchers and scientists to birth a product that not only benefits microbiome health, but also tastes great. In 2018, the cork was popped and OLIPOP launched as a flavorful, good-for-you soda brand that instantly captivated consumers.
By taking an on and offline approach to social, OLIPOP has grown their audience of buyers into an engaged community that is devoted to the brand as much as to the product itself. And believe us–that's a lot of devotion considering how much people adore the pop.
Editor's note: OLIPOP came up with so many incredible insights that we decided to make this video longer than usual. If you want to learn how to build a large and loyal social media following, quickly and without spending a dime on ads, be sure to watch it all the way through!
Welcoming followers into their world
As they began sharing the story of their brand, OLIPOP wanted to welcome their audience as a voice in the story that they were telling. Inclusivity had always been a primary objective, but was now an especially important ingredient for the brand to feel accessible. They encouraged conversation by getting intentional with their packaging and imagery to craft an experience that resonated with people.
"The packaging and the imagery is what brings them in and attracts them, and that's wonderful–then, it's my job to educate them further."
For OLIPOP, compelling packaging and imagery were simply the starting point. The real engagement took place once they expanded on the invitation for conversation. Building a community meant offering a deeper experience than the standard one-dimensional social presence users typically see from brands.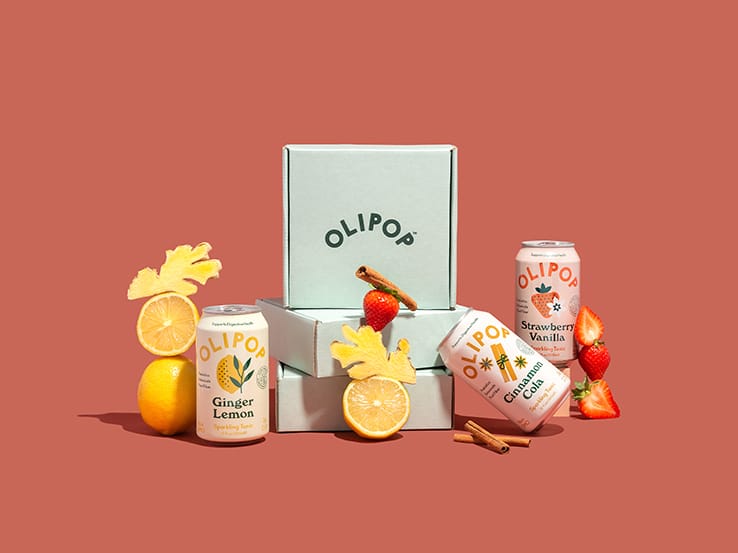 To get engagement, you must engage
As head of social, Alexa Gray's philosophy is that there is no quick and easy route to engagement; instead, she invests time herself building genuine relationships with followers. The brand places a tremendous amount of effort inspiring and educating offline to then create a flourishing community online.
OLIPOP incorporates live events to validate and further the experience that they introduce digitally. With passion and care, they partner with local wellness and art vendors for an experience that is stimulating, personal, and aligns with the brand. Because community is fostered both on and offline, engagement is maximized not just with individuals, but also between individuals.
Welcoming their audience to share and taking a multi-channel approach to social has contributed to impressive statistics for engagement. More importantly, it has resulted in brand loyalty cultivated by meaningful relationships. With a following of more than 22k, likes consistently hitting 1k or more, hundreds of comments, and thousands of story shares, their numbers on social speak volumes to the community they've grown in just a year.
"We've fostered community both on and offline and there is this excitement with that, because this isn't a one-dimensional superficial relationship. There are real people on the other end of OLIPOP that really care."
For more inspiration, check out the beautiful boxes below and also visit our Inspiration Gallery.