How to Grow Your E-commerce Brand with Custom Packaging Inserts
Your customer frowns as she looks down into a plain brown box because she was expecting to see colorful packaging inserts, personalized elements, and the personality of your brand shining up at her. But instead, she's met with a boring receipt and her new *insert product* shoved into the box.
The haphazard first impression leaves her feeling like you don't care. Ouch!
In reality, you DO care. But…
You're wearing a lot of hats and doing ALL the things. Product packaging is the last thing on your to-do list. Leveraging your packaging design to add value and spread your message is even further down that mile-long list.
With a bit of work and the right presentation, you can stop dreaming about:
Delivering a delightful & entertaining customer experience
Your customers sharing their unboxing videos online
Loyal customers who shop with you time and time again
A community of brand ambassadors who stand behind your message
A high-quality product, the right message, and carefully chosen packaging inserts can help turn those dreams into reality. A reality in which your customers smile (and remember you) because of their experience.
Keep reading to learn:
Why custom packaging inserts are worth the investment
How they help increase the perceived value of your brand
And how to use them to build a strong community of brand loyalists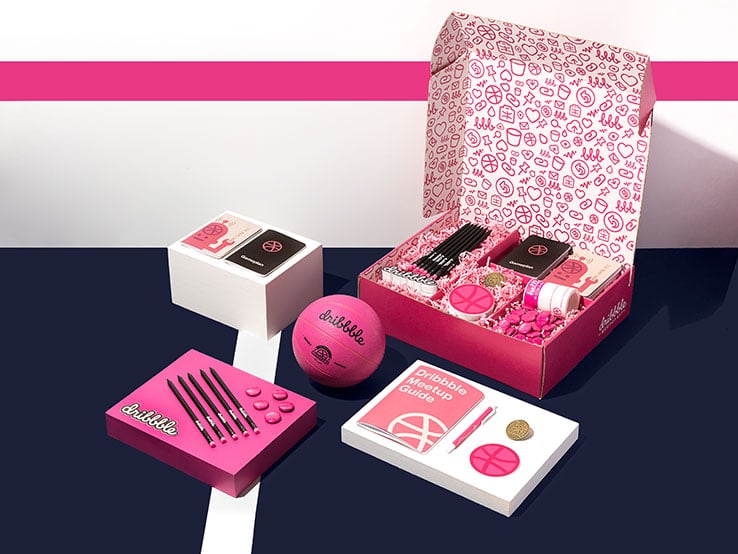 Packaging inserts work hand-in-hand with your marketing message to increase brand loyalty
Packaging inserts add depth to your brand story and help protect your products as they travel from your hands to your customers. So, what does that have to do with creating a community of raving fans who can't stop talking about you?
Let's find out!
A clear message makes people want to trust you
To build a trusting relationship with your audience, you need to:
Know who they are and what they care about
Have a concise marketing message that resonates with them
Understand how to make that message the focal point of everything you do
Custom packaging inserts are one of many ways to put your message front and center. They're low-cost, effective, and an easy way to show you care about the user experience.
What message do you send if your product doesn't make it one piece?
Probably… not a good one.
Protective packaging inserts help make sure the most fragile items get delivered undamaged. No matter how sensitive they are.
Imagine waiting six days for your new custom coffee mug to show up. Tracking says it's finally there and you can't wait to drink your favorite tea out of it. But as soon as you open the package, you realize that your new mug is in 1,346,402 pieces. Sad day!
Sure, you can get a replacement mug for free. But the initial excitement is gone. Kaput! Your vision of that brand will never be the same. Why? Because they didn't take the time to protect their product when it arrives on your porch.
As an e-commerce business, one of your (gazillion) jobs is exceeding customer expectations. And… customers expect their goods to arrive in one piece.
Custom packaging inserts are an easy way to make sure that happens. And it helps you build your reputation as the brand that cares.
It actually costs less to nurture existing customers
They've already bought something from you. Getting them to that buy button took a lot of work. But, they're in. They're on board! Giving an exceptional experience after the fact is what will make them stick around.
68% of consumers say that they'll shop elsewhere if they feel a company is indifferent towards them. And, it costs 5% more to get a new customer than to convert an existing one.
So… how do you show you care? How do you get them to come back?
Small, personalized details and extras make your product stand out. Bonus points if you use them to amplify your brand message & values. Pack your packages full of value, surprises, and a personalized touch that showcases the human aspect of your brand.
High-end packaging encourages social media shares + WOM marketing
35% of consumers say they seek out and watch unboxing videos online. Personalized and branded extras (IE packaging inserts or custom tissue paper) speak volumes. They show your customers you care about their experience.
Going further, 55% of those people end up buying the product because of what they saw.
One exceeds-expectations experience shared on social media shines a light on your business. It says "Hey, this company went above and beyond. I'm over the moon about it and I want you to be over the moon, too." It's a glowing testimonial proving that you're worth a second look.
When people post pictures and videos of themselves interacting with your brand on social media, they become part of your story. They're no longer bystanders.
People remember how you make them feel
Custom packaging inserts pique interest, especially when they're done well. They give customers a reason to stop what they're doing for a moment. But those few moments shape how that person feels about your brand.
As they go about the rest of their day, they're going to remember the emotions they felt.
Use this space to tell a joke, tell a story, ask for a social share, or offer a discount. Make them feel like they're an important part of your business (hint: they are). People crave this feeling. And if you deliver it when you're building your brand community, they're never going to forget.
Why "YES!" is the right answer to custom and protective packaging inserts
Packaging inserts are phenomenal for building brand loyalty. But their benefits go beyond magnifying your marketing message. They're an easy "Heck yeah" for small and big e-commerce brands alike because they're:
Lightweight: They usually don't add extra shipping costs because of weight.
Functional: They make the most of unused space inside a box you're already shipping.
Cost-effective: Print media packaging inserts cost less than a piece of your favorite bubble gum. And protective inserts reduce the risk of re-sending products for free.
Marketing material: One insert could be the reminder they need to share their experience on social media. Or come back and buy from you again.
Hyper-targeted: You can reference the product they bought to make cross or up-sells. Or, review other purchases they've made to create a personalized unboxing experience.
Easy like Sunday morning: Packaging inserts don't have to be complicated to be effective. A simple handwritten note or a thoughtful message you send with every order shows that you care. Plus, even custom protective inserts are easier to design than you think!
B-e-a-utiful: They add a wholesome touch to what could have been any other package they got in the mail that day. This is your opportunity to showcase your brand values in a subtle yet beautiful way.
Protect the goods: different types of packaging inserts for boxes
Boxes are an obvious first choice for many e-commerce brands. But many of them look over the need to use protective packaging inserts for boxes. Which is bad news for them but good news for you!
Your custom packaging inserts will make you stand out. Plus, they'll help protect your products on their journey from A to B.
There are many types of protective inserts you can use. But we're going to talk about four of the most common insert materials.
Cardboard packaging inserts
Cardboard packaging inserts are handy when you're shipping several items in the same box. Or if there's open space between the sides of your box and your product. They keep contents from touching each other and moving around during transport.
Pulp packaging inserts
Molded pulp packaging inserts can be formed into virtually any shape and size. They also come in differing densities offering different degrees of protection. They work well for odd shapes or fragile items that need custom protection.
Plastic packaging inserts
Like pulp inserts, plastic packaging inserts are highly customizable to your needs. But, they don't offer the same protective encasement as their pulp alternative. They're great for keeping things in place but aren't great at protecting them from damage.
Foam packaging inserts
Foam packaging inserts are extremely lightweight. They're also an excellent choice for items sensitive to scratches and surface wear. Foam's unique properties give extra protection and customization for your product. And it looks great!
Just look at the custom packaging inserts that Daily.co used with their Packlane box when it was time to redesign their hardware packaging.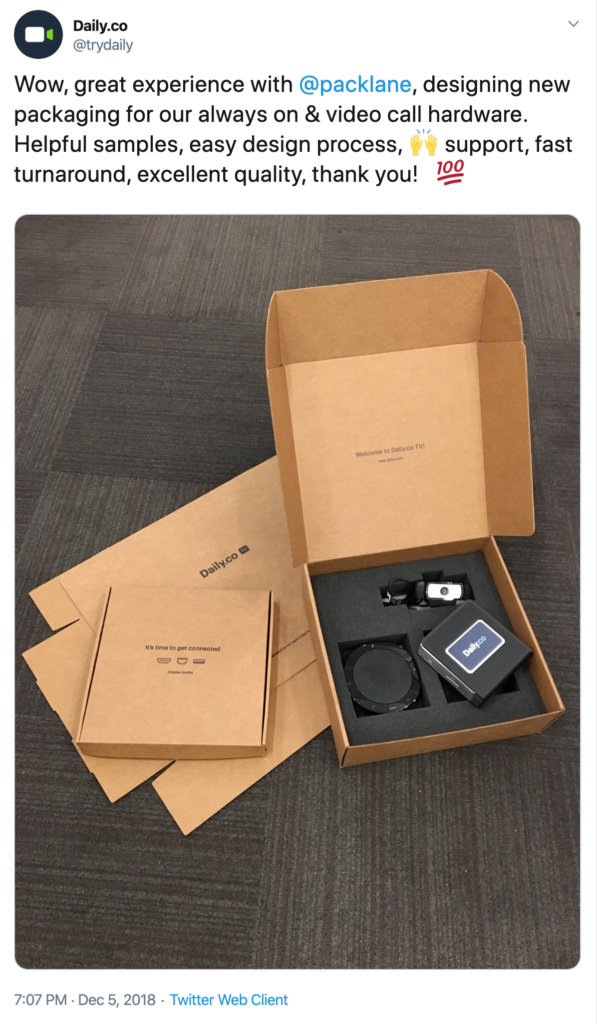 Tips for using custom packaging inserts to practice safe shipping
We talked about the most common materials but I'm sure you're wondering what you need to know to start designing your protective packaging inserts.
Most products aren't cubes and won't fit nicely inside your custom-designed boxes. Protective inserts fill the extra space inside the box so your products stay secured & protected.
What to think about when considering custom protective packaging inserts
The number of items you're shipping in each box
The dimensions of each of those items
How your products fit within the custom inserts
What material your products are made from
The extent of protection each item needs from:
The elements
Being dropped, thrown, and stacked
How the inserts are disposed (or reused by the customer)
What you want your inserts to look like
How to incorporate your brand values & message
Insider tip: We can help you with custom inserts for large orders over 2,000 units.
Case study: Think shipping artisan bread across the country sounds crazy? It is! But it's not impossible (thanks to custom packaging inserts)
Taylor West of Father Time Bread uses custom packaging inserts to delight his customers with bread that arrives in one piece. Taylor goes above and beyond to make sure his customers feel the love that goes into his bread.
The result?
20% more revenue, 25% more subscribers, and zero cases of damaged bread.
Print media packaging insert ideas
Print media packaging insert ideas add perceived value to your products instead of working to protect them. But that doesn't mean they aren't important!
Print media inserts can be handmade or professionally designed and printed in bulk. These include things like business cards, brochures, instruction manuals, and free stickers (who doesn't love stickers!?).
Think of them as extra marketing materials that give the unboxing experience even more brand personality and pizzazz.
Think about the last thing you ordered online.
Did it come with cool swag and print media that made you excited? Or was it just your product in a plastic bag with a boring receipt? The business that goes above and beyond is the brand that gets remembered (and talked about).
You can use your packaging inserts to:
Ask a favor
Give a gift
Send some love
Showcase a recent customer
Offer a discount code
Write a hand-written note
Give away a free sample
Teach them how to use your product
Encourage them to share photos and engage with you on social media
Give away free swag
Introduce yourself
A thoughtful message, free gift, or friendly reminder goes a long way in building that sought-after customer/brand relationship.
Custom packaging inserts: your FAQs answered
What are the different types of packaging inserts?
Protective packaging inserts are made from cardboard, pulp, plastic, and foam. Print media packaging inserts can be made from paper, cardboard, card-stock, or stationery.
What should be included in packaging along with custom box inserts?
Every package you send should include:
The product itself
A protective outer layer (a custom box or bubble mailer)
Protective internal layer (structural inserts, bubble wrap, tissue paper, or a plastic bag)
A receipt or invoice
Your voice & marketing message
How can I improve my product packaging?
Product packaging begins and ends with the final user in mind. Think about:
What your customer will enjoy seeing inside your package
Making it easy to open and discard (bonus points for recyclables!)
Protecting your product until it arrives at its destination
How to make your package stand out and be immediately recognizable in a sea of cardboard boxes
Extra packaging inserts you can use to drive home your marketing message
Giving away free swag, samples, stickers, and gifts
The perceived value of your brand and cost-effective ways to increase that value
Where can I get custom packaging inserts?
We don't currently offer custom inserts but for large orders of over 5,000 boxes, our Packlane Plus team might be able to help.
Learn more about how Packlane can help with custom box inserts.
Let's get started designing the custom packaging of your (and your customer's) dreams!
Custom packaging inserts are the bees knees. But, designing your custom box is the first step!
Our process is easy peasy and we consider ourselves to be the best of the best when it comes to fulfilling your custom packaging vision (#humblebrag). All that aside, we can't wait to work with you!
Click here to get started putting more of your message into your packaging, today.