How to Plan for Holiday Packaging
The holiday season is right around the corner. Think crunchy leaves, hot chocolate, love and warmth—and holiday-themed product packaging on shelves and online storefronts.
If you want your customers to choose your product while in-store looking for a gift or picking your product from a crowded online marketplace, custom holiday packaging plays a vital role. 
In 2020, $789 billion was spent by customers on holiday purchases alone. So, if there is a time for you to order your holiday packaging and start preparing your products, it's now. 
Custom-made packaging for the holidays promotes joy and happiness, giving your customers another reason to get impressed and buy from you. It also helps you stand apart from your competitors and showcase your brand's personality.
This article will take you through some holiday packaging trends you can cash in on, along with pro tips to plan for packaging runs during the season. Let's begin!
5 popular holiday packaging trends
Whether you're a small ecommerce business with a simple online storefront or a big corporation with an omnichannel approach, don't think holiday packaging is out of your budget or time. There are several ways to wow those first-time customers with a festive unboxing.
Here are some holiday-themed packaging trends:
1. Vibrant colors
85% of consumers purchase products based on color, and rightly so.

Imagine you want to buy the perfect holiday gift for your best friend. You go online and check out a bunch of products and shortlist two. However, one has stock packaging while the other has red-white-gold coloring, which looks festive and elegant. Which one would you purchase? Probably the latter.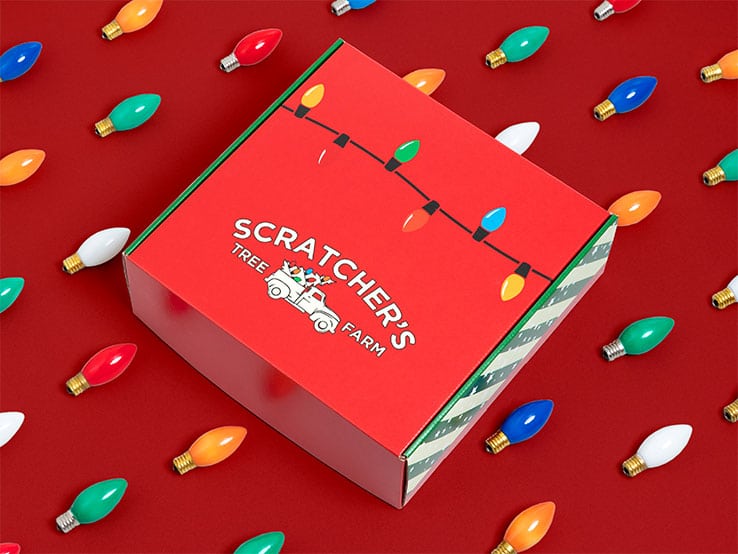 Colors are a great way to capture consumers' attention in a crowded holiday market. And more brands are opting to express that through packaging. With holiday packaging, you can go with vibrant and happy colors that convey a celebratory mood to customers or opt for blues and grays like a winter wonderland. Go traditional or out-there, all colors are fair game for the holidays. Some popular holiday colors are green, red, blue, white, silver, and pink.
2. Detailed and intricate design patterns
Detailed patterns on packaging naturally invite customers to spend time taking in all the design work.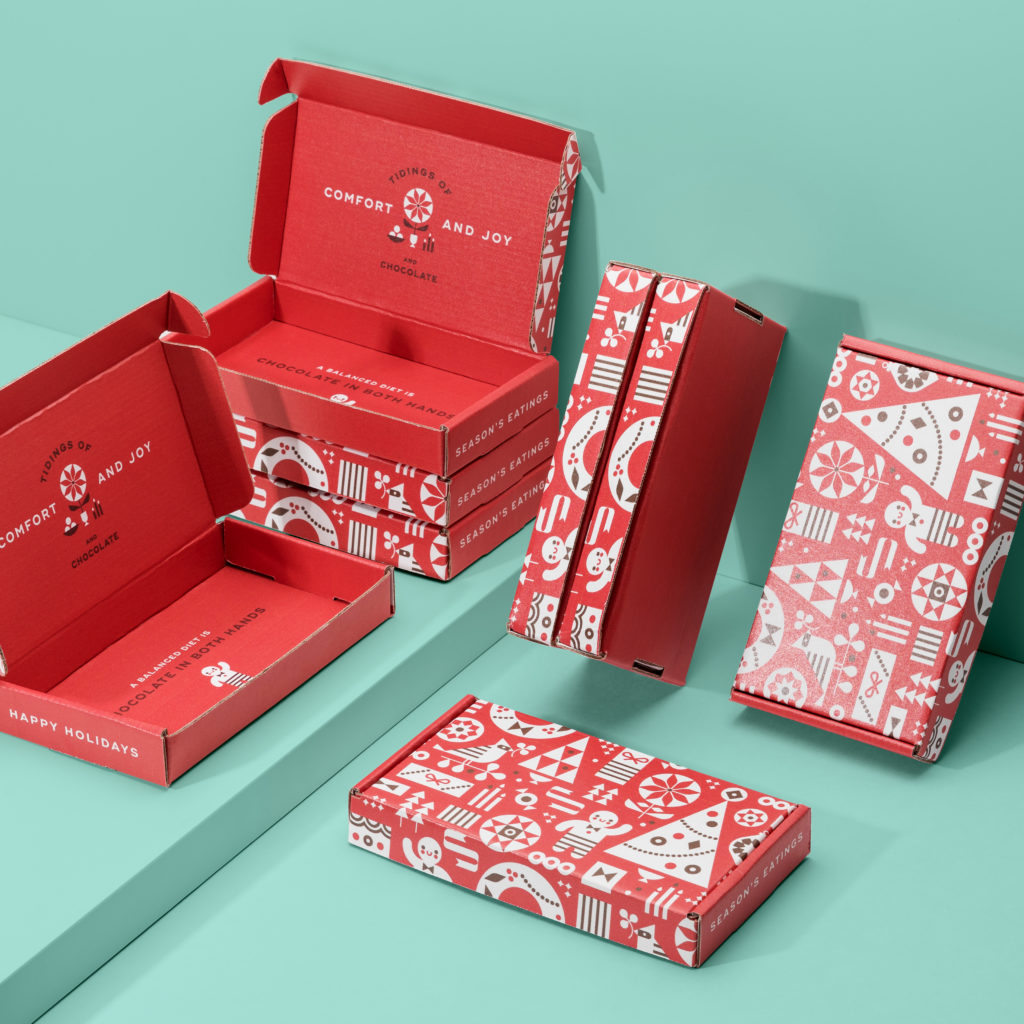 Try experimenting with abstract shapes, tiny illustration-embedded designs, or color-coordinated theme-based patterns. You can also utilize different print materials like Dreamcoat with an HDPrint Gloss finish on your geometric designs to give your product a premium look and feel.
3. Touch of nostalgia
In today's overly complex world, everyone seems to be reminiscing about a simpler time. Holidays are a time for bringing everyone together, which often generates a certain amount of nostalgia. 
Nostalgia is a powerful emotional buying trigger and a trendy packaging idea for the holiday season. You can use old-school designs, familiar childhood patterns, characters, or even classic holiday images and elements to evoke the feeling.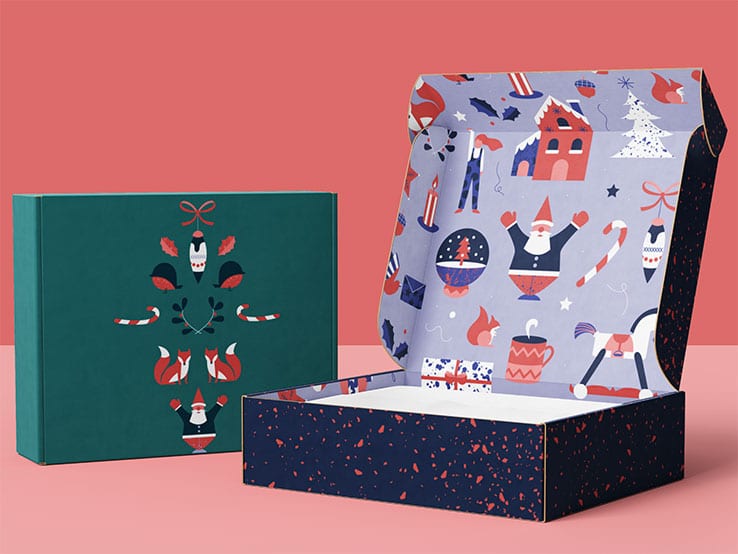 4. Sustainable packaging material
Sustainability values matter more to customers today. While many conscious shoppers avoid going on a shopping splurge during regular days, they're more careful with purchases during the holiday season. 
Gen Z is particularly conscious of the impact of their choices on the environment, so opting for sustainable materials like recyclable boxes and upcycled protective packaging is an excellent way to invite more holiday purchases.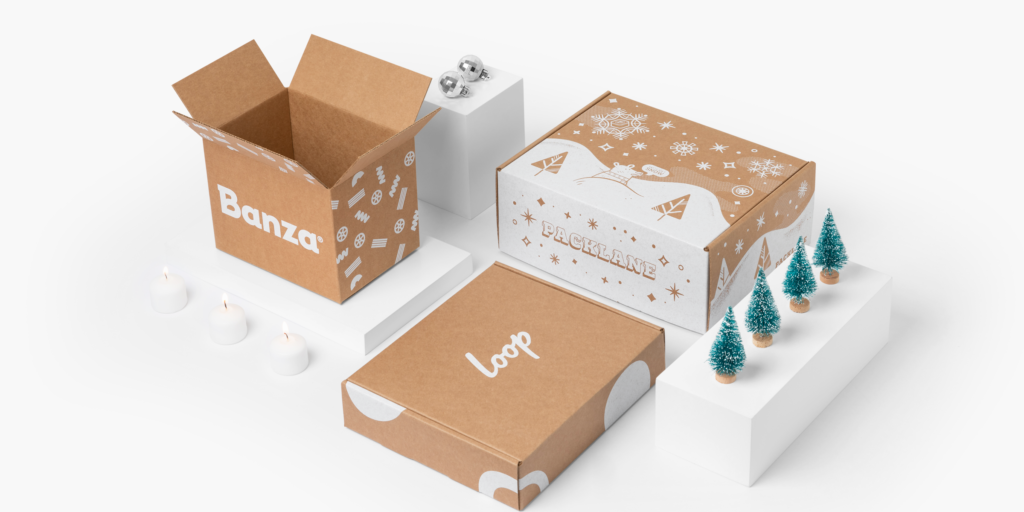 There are plenty of ways to make sustainable packaging attractive and luxurious, making this trend visual as well as mindful. 
5. Playful and festive illustrations
Illustrations are excellent packaging design elements that create a lasting first impression and tell consumers what they'll find inside or how they might feel when holding the product in their hands. 
Take the power of illustrations up a notch during the holidays by using playful colors and festive-themed illustrations like candy canes, Christmas trees, snowflakes, or your own holiday avatar. These will give an artistic look to your packaging while keeping your messaging on-brand.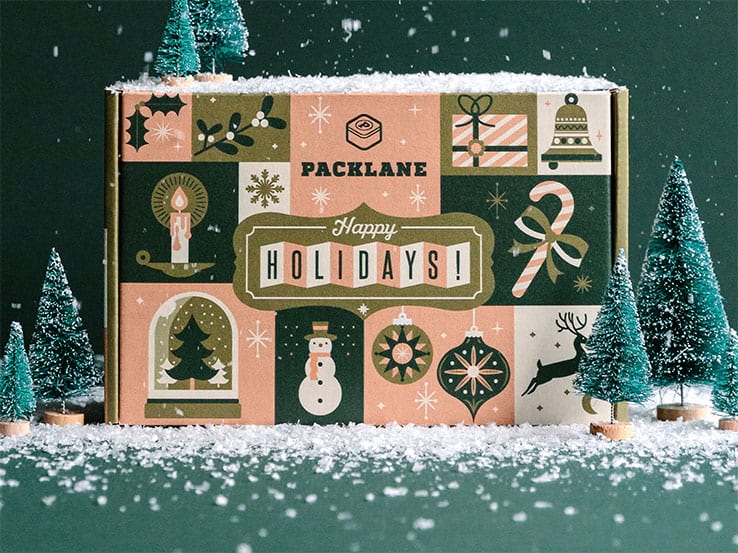 Tips to plan for custom holiday packaging runs
Holiday packaging pays a good return on investment, but only when you plan for it in advance. 
Amid rising competition and the shift to a largely virtual shopping experience, businesses need to make precise preparations to convince customers to buy from them —  planning for custom-themed packaging is one of them. Here are some tips:
1. Incorporate seasonal designs
Holidays are an invaluable time to offer limited-edition packaging designs. Seasonal designs get people in a festive mood, excited to nab exclusive merchandise, and make your product stand out from the crowd.
There are a few reasons why incorporating seasonal designs in your brand personality can work really well: it'll make for a good gift, will have an Instagrammable aesthetic, and it'll give customers a wonderful unboxing experience.
You can also incorporate seasonal designs with digital print and online illustrations to make your packaging more interactive and engaging.
2. Start holiday packaging conversations early
Don't let the logistics of the holidays catch you by surprise. There are a lot of important dates and moving parts when planning for end-of-year sales.
Create a holiday-specific calendar or Slack channel and start your packaging conversations several weeks before major fall holidays to ensure you have enough time. This applies to reorders and stock boxes too. You should also communicate your holiday packaging plans with the rest of your team to encourage brainstorming idea sharing and to keep everyone on the same page.
3. Pay attention to production and shipping deadlines
Despite planning ahead, you might still miss out on supplier deadlines. Your ideation process might take longer than usual, for example, or you might not be able to find the material you want to use. All of this can lead to production delays.
Since every brand is trying to stand out, suppliers are experiencing delays and shortages to keep up with demand. The ongoing COVID-19 pandemic is also affecting the supply chain chokehold.  Avoid this situation and reach out to your packaging supplier about holiday production timelines and shipping requirements at the beginning of the year and end of the second quarter so they can give you date estimates for submitting all specifications. This will ensure your packaging is ready before your big holiday sales.
4. Prioritize holiday packaging of seasonal products
While it may seem like a good idea to create holiday packaging for all your products, it might not be a feasible or realistic one. The more products you have, the more money and time it'll take for your packaging to get ready. On top of this, the exclusivity factor won't be there if you revise your packaging for all products instead of a selected few.
As a good practice, it's wise to prioritize the holiday packaging of in-demand products and special sets during the holidays like candles, lighting, electronic items, and stocking stuffers. For this, compare your recent customer shopping patterns, study your holiday purchase history over the years, and do some market research to understand which products customers generally buy during the holidays.
Based on this, you can create custom-made holiday packaging for a few products likely to sell more during this period.
5. Streamline your process with a packaging supplier
Your packaging partner is your eyes and ears on the box manufacturing floor. They'll alert you of any production issues, give you actionable design advice, and work to keep you on schedule. Offload some of the inevitable holiday stress, and use tools like our box designer knowing your packaging will arrive as envisioned.
Assign a single point of contact from your team to coordinate with your supplier. Take regular updates from them, address concerns and build a rapport with them so you can get your custom boxes on time. For the best quality, you also need to see how your vision is translating into reality through meetings and routine packaging checks during the process.
Conclusion
The best time to start thinking about your holiday packaging is today. Get started with assembling your team and getting all hands on deck to give your packaging vision to a trusted supplier who can deliver excellent holiday-themed custom boxes.
Creating holiday packaging is just the beginning. You also need to plan your marketing campaigns and align them with your holiday theme to deliver a consistent brand message to your customers and encourage more sales.
Use the trends and planning tips from this article to get started with your holiday packaging plan, hit revenue goals, and earn high customer satisfaction.
Ready to start? Reach out to Packlane today, and we'll take care of everything from there!