5 Creative Ways to Use Custom E-commerce Packaging
It's that season again–that's right, the my-delivery-man-deserves-a-raise season. During the holidays, it seems that the topic of custom e-commerce packaging is more relevant than ever.
If you weren't aware, the biggest shopping day of the year in the U.S. was dominated by online sales. The growth of e-commerce has hit many major milestones in the last decade and according to BigCommerce, 2019 numbers have peaked and are on-trend to continue to rise.
So, what does this mean for your biz? Your unboxing experience is crucial to building your brand. The package that the mailman delivers is often the first in-person interaction that a consumer has with your company. What you offer during an unboxing should not only match your digital experience but should elevate it. The more thoughtful your design, the more memorable the moment for your consumers.
5 creative ways companies are getting thoughtful with custom e-commerce packaging
1. The best experience is the most branded experience
A custom package always makes for a more personal connection, which is exactly what you want to do when your brand is centered on curating experiences. Networking companies like Dribbble and Create & Cultivate build the hype by sending consumers a package that wows.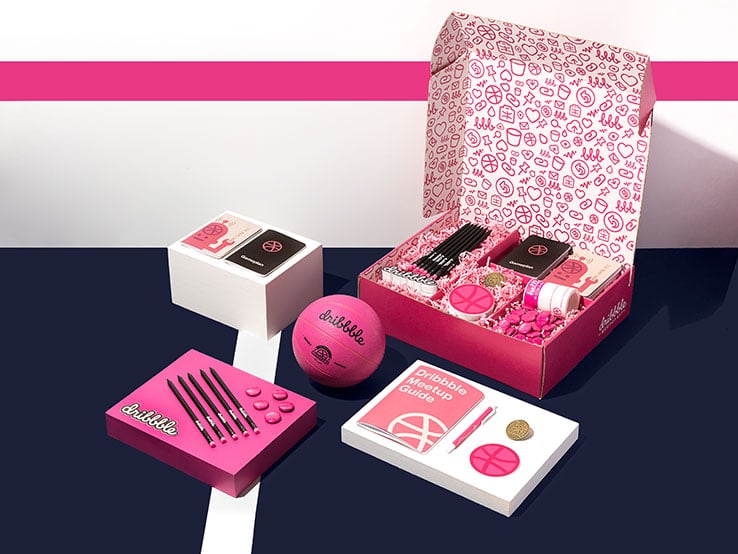 These companies brand their boxes from the inside-out to enhance the overall experience for their audience, but to also maximize on brand recognition. Aligned messaging and aesthetic come together to create a box that plays a part in the experience that you are selling. The more beautiful and branded the box, the more consumers are likely to share on social media and bring awareness to your brand. No longer is your package just a vessel to deliver, it is a special moment for you to capitalize upon. Use custom packaging to start a conversation with consumers and you will have provided them with the best possible experience.
2. Leave a lasting first impression
You've heard it before and you'll hear it again: first impressions matter! In fact, first impressions make the difference between a lost customer and a loyal one. This could be the difference that makes or breaks your business and why you must be intentional with your packaging.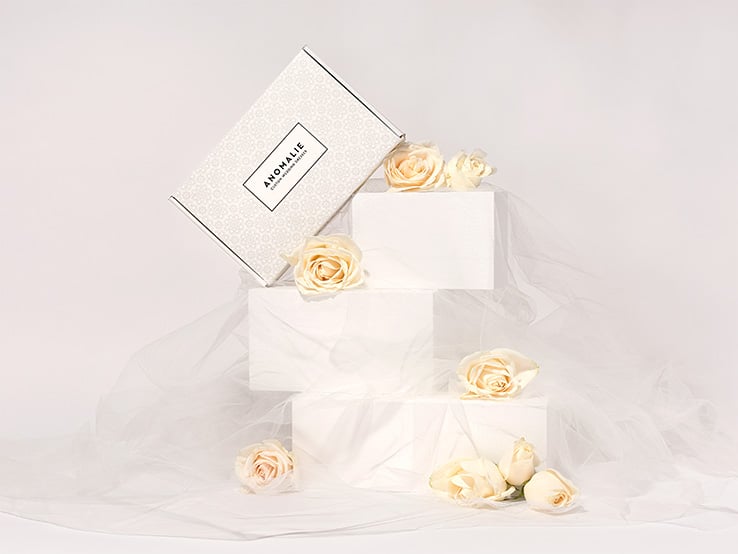 Anomalie offers an innovative take on a timeless tradition. They provide brides with the opportunity to design the personalized wedding dress of their dreams. Creative packaging is used to ensure an experience that is just as special, if not more than any in-store visit. Long before you ever receive your dress, you receive a thoughtful presentation of hand-selected bridal fabric swatches via package delivery. What better way to leave an impact than with a customized package for a custom bridal gown? Consumers are left with an irreplaceable first impression and Anomalie successfully sets itself apart from competitors.
3. Offer a special experience to your special partners
Loyalty programs can drastically increase consumer activity. Pair your program with exclusive, branded packaging to make the most out of that community engagement. Kajabi is all about creating a great customer experience, especially for their partners. They are intentional to show customers that they care about every little detail.
Not only does custom packaging provide an exciting, shareable moment for your partners, it builds a cohesive narrative for your brand. Nothing says, "We appreciate you," quite like a gracious gift and luxurious mailer box to match.
4. Mailers that make your B2B marketing campaigns meaningful
Custom mailers are the perfect way to stand out and add meaning to your message. So it's no wonder that a non-traditional, contemporary company like Talkspace would use this out-of-the-box strategy to target other businesses. Talkspace is an online therapy service that companies can offer to employees.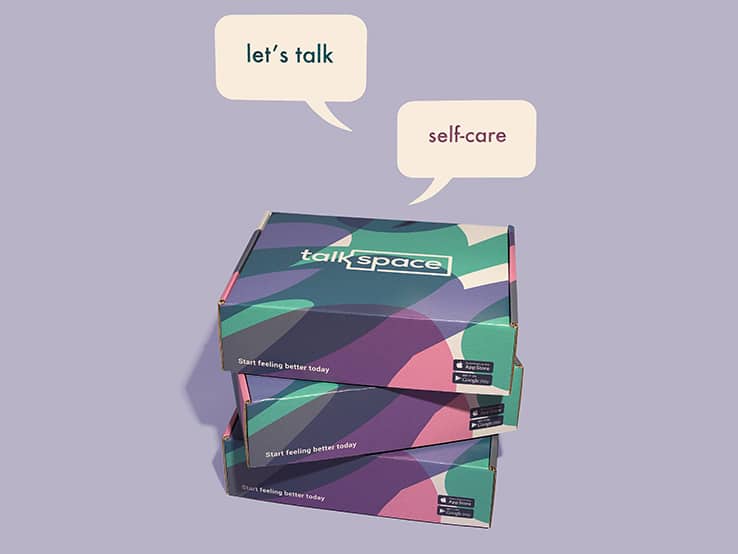 They use their mailers to clear the air on the taboo subject of therapy and bring brand awareness to the workplace. A customized package accompanied with top-notch swag is how they make a meaningful introduction to business prospects.
5. Let your internal audience know that they matter, too
So much thought goes into how we engage our external audience, but what about our internal audience (also known as our 'employees')? The welcome experience for new employees is just as important as any other when it comes to building a brand.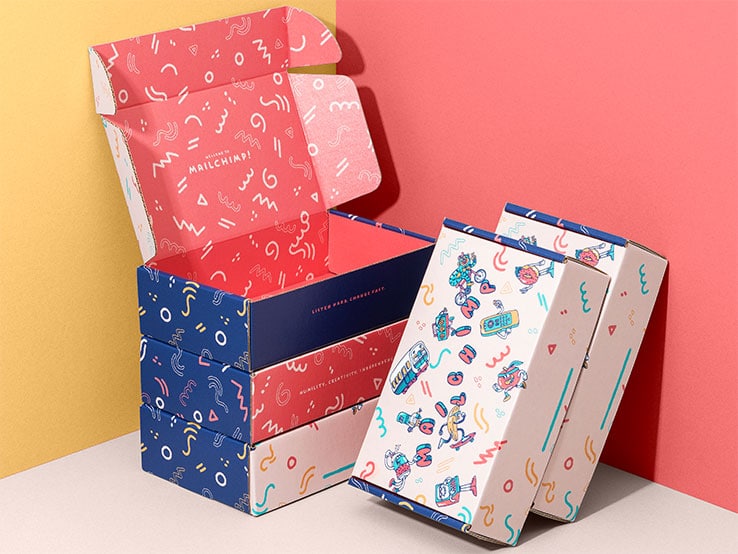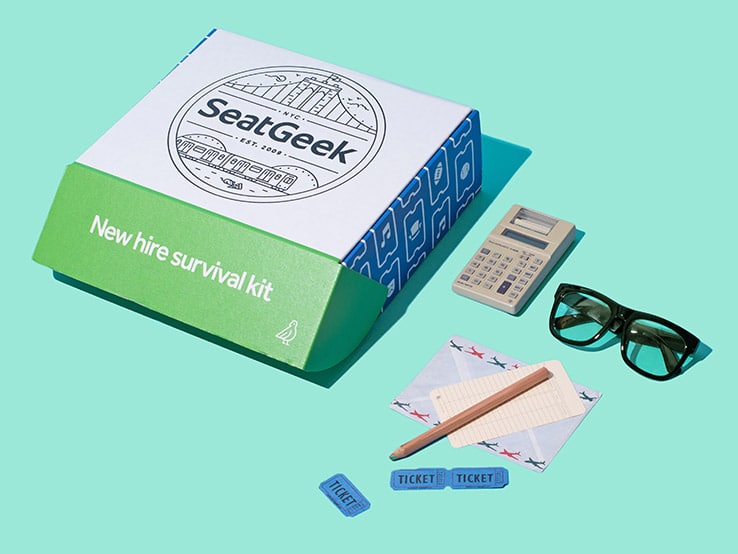 MailChimp and SeatGeek are companies that use employee welcome kits to set the stage for how employees are introduced to the internal brand. These kits are integrated into the onboarding process to make new hires feel valued and at home. High-end, custom packaging proves to be an effective choice as it furthers expectations on quality, makes an impact on company culture, and ultimately promotes awareness for the brand.
Get Creative With Your Packaging and It Will Pay Off
If you haven't considered how your packaging represents your brand, now is the time. Getting thoughtful about your unboxing experience may seem like a daunting task–but as online shopping gradually becomes the experience that consumers prefer, it is a crucial investment.
Creative custom packaging allows you to effectively build your brand and generate a new conversation with your consumers. Investing in it now will pay off when your package leaves an impression unlike any other.
Are you ready to elevate the experience of your brand? Find more creative ideas in our inspiration gallery and create your own custom packaging here.