Your Go-To Guide for Corporate Gifting in 2020
Corporate gift boxes are a go-to gift item (sorry, gift baskets) during holidays and special company, client, or employee milestones. But how does corporate gifting work?
Whether you're looking for ideas on what types of things to send in your gift boxes or looking to start your own corporate gifting program, you've come to the right place.
Gift boxes enable companies to aesthetically package a variety of items together, utilize brand colors, and offer a touch of personalization that makes the gift memorable for recipients. Custom gift boxes are one of the best ways to combine these principles into a gift people can't wait to receive.
Companies want simple corporate gifting ideas that:
Are memorable

Tell a story

Show their appreciation

And reflect the values and style of the brand
But corporate gifts don't only offer value for clients and employees. Offering corporate gift boxes is a solid decision for any business looking to add a reliable, new revenue stream year-round.
Booming market
Forbes reports that corporate gifting is a booming, $125 billion market that will continue to grow in the coming years. So, when corporate gift boxes are done well, they can translate into a wildly profitable choice for the businesses who've productized them.
Whether it's through aesthetically packaged fresh-baked cookies or custom-branded socks, Packlane's customers know that creating custom boxes to package products is a cost-effective way to add premium value, whether it's for clients they're serving or gifts for their own employees. 
However, you can't put just any old gift in your corporate gift box. Following the industry's best practices for creating memorable, attractive boxes are essential to help the corporate gifting arm of your company flourish.
Here's what we'll cover in this ultimate guide to corporate gifting:
Corporate gift boxes: how to create a lucrative revenue stream for your business
"Gifts humanize business."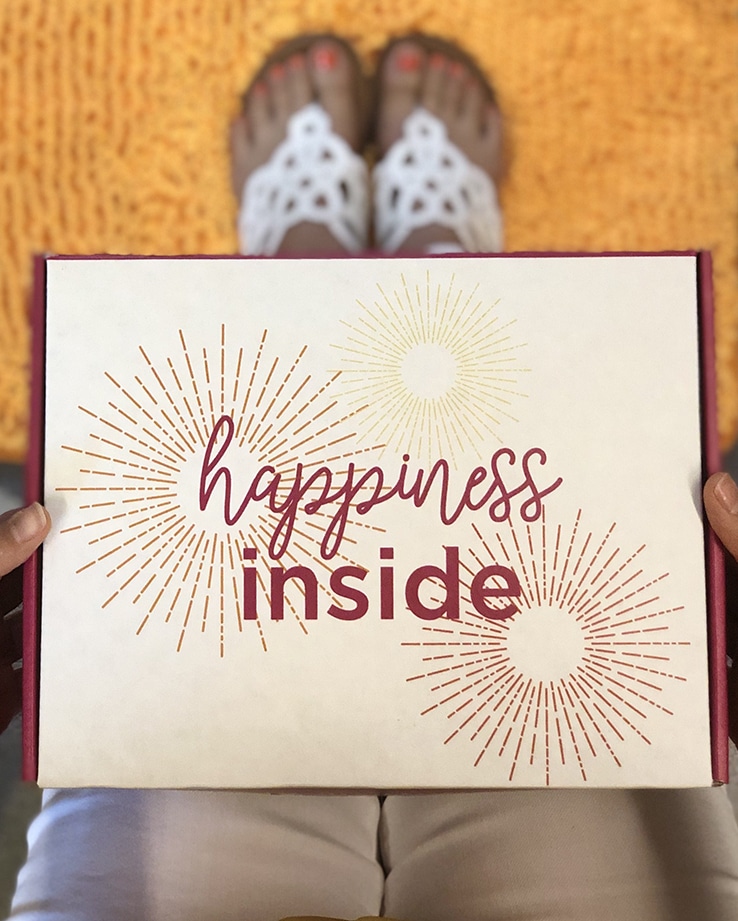 It's a simple truth that explains why corporate gift boxes are so popular. Companies that give back tend to:
Experience better relationships with their clients and employees

Incentivize employees to stay engaged
Gift-giving helps humanize companies and sends a powerful message to gift recipients: "We care about you." Many corporate businesses struggle with developing a strong human connection. So, they turn to you for help.
This is the foundation that a profitable corporate gifting program is built on. The goal is to curate, package, and sell unique corporate gifts that help companies send thoughtful messages that deepen and strengthen their relationships.
Accomplishing this goal starts with building the base-structure of your program and choosing the right gift box items to offer. From there, designing your packaging and sending your boxes off to their new homes is all that's left.
It may seem complicated right now, but rest assured it's a lot easier than it sounds.
Let's start at the beginning.
Structuring your corporate gifting program
Determining the structure of your corporate gifting program is as important as the gifts themselves. If you're offering corporate gift boxes as a product/service, think about the types of businesses you're going to work with. Then, consider:
The types of events and celebrations they're going to have

How much money they're willing (and able) to invest

The level of support they're going to need throughout the process

Different product personalization options they'll appreciate (and use)

How to streamline the process from start to finish
After thinking through those considerations, you'll have a solid foundational structure for your new program. Let's dive into each one a bit further.
Choosing events and milestones
Creating a year-round stream of revenue means going beyond annual holiday gifts. What other situations call for celebration, sympathy, or recognition within a company?
These events and milestones become foundations of the way you'll structure and market your new corporate gifting program. You may want to think about:
Birthdays

Anniversaries

Retirement

Promotions

Winning new accounts

Welcoming a new baby

Weddings

Saying thank you

Accomplishing goals

Project completion

Apologies

Sympathy
Decide which events you want to help with and start thinking about the types of gifts that are appropriate for each one.
Clearbanc uses its Founder's Box as a way to personally thank founders of businesses for choosing Clearbanc with a handwritten note and a pair of branded socks.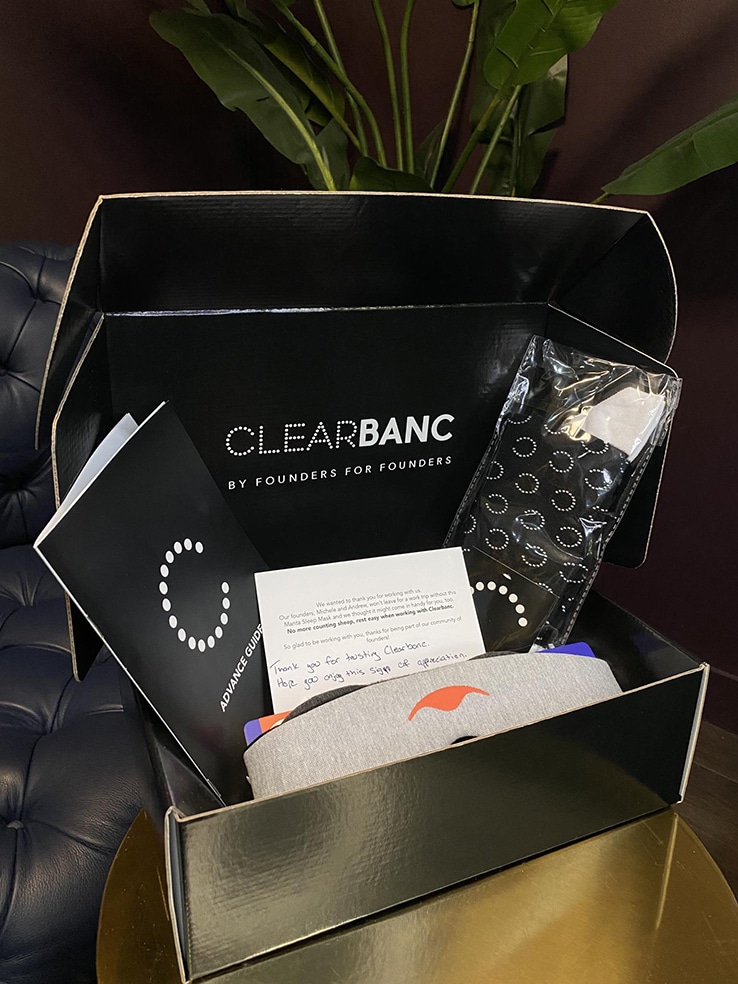 Determining your price points
Your corporate gifting program will appeal to a wider range of business clients when you offer a variety of items and box options at different price points. Consider what pricing levels you can realistically offer and think about how much the businesses you work with will be able to invest.
Consider the cost of each gift you're going to include in every box (we'll talk more about some cool ideas in a bit). This will help you decide how much to charge for different options and create a tiered system with different price points.
Being strategic about your price points will help ensure your program actually turns a profit. Which… is key to a successful and long-term corporate gifting program.
Offering bulk order discounts
Clients ordering a large number of gift boxes expect to receive a discount for bulk orders. Once you've selected your items and box options, calculate what kind of discount you can feasibly offer for bulk orders that meet certain thresholds.
This helps keep loyal customers happy and offers an incentive to order large quantities. But, it also helps you make sure you're still turning a profit despite the bulk order discount.
Developing a customer support system
Think about the level of support each business is going to need throughout the process. Then, consider the number of employees you should have in place to successfully help them from start to finish.
Think back to the last time you needed help with something but couldn't find a number to call or an email to reach out to. You probably felt:
Frustrated

Confused

Neglected

And unappreciated
Those are the last things you want your customers to feel!
So, put a plan in place to make sure your customers don't have to go through the process alone. Furthermore, make sure you have the right personnel to handle customer service and support for your corporate gifting program.
It's wise to assign an account manager to each business to ensure their needs are met through a trusted point of contact.
Offering customization and personalization options
Every business wants to give a gift that feels personalized. Otherwise, what's the point?
Not every company will want to put their logo or brand colors on items or boxes. But, they'll probably want the ability to choose:
Their box colors and sizes

What designs, illustrations, and messages are included

Additional trimmings (ribbon, packaging materials in the box, etc.)

Their presentation options
Determine the customization options you think your clients may desire and which ones you'll offer as you build your program. Then, go back and make sure you have the level of customer support you need to streamline the customization process.
Interested in learning more about how to customize gift boxes? Don't worry! We'll chat more about the actual process in a moment.
Use case: Bombas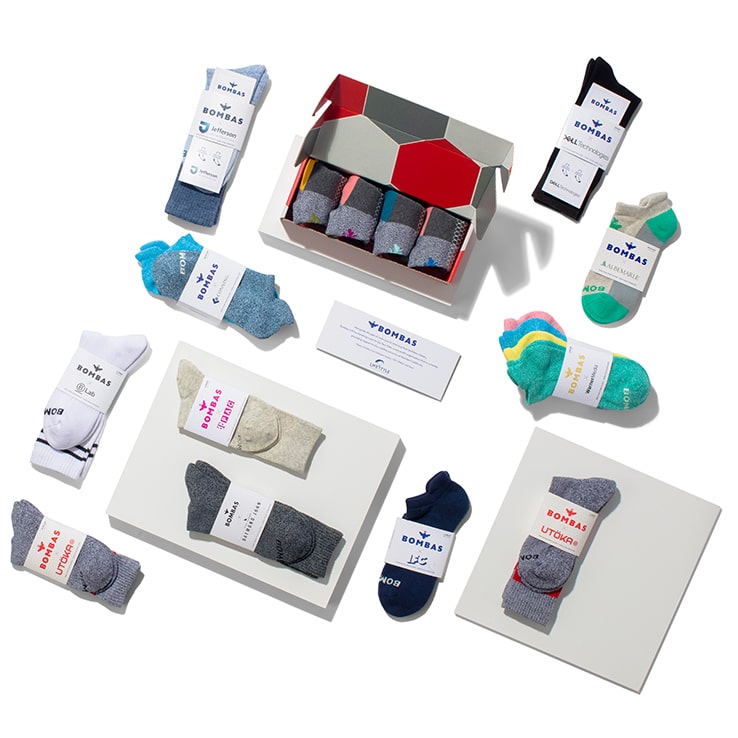 You might remember Bombas from ABC's Shark Tank, where co-founders David Heath and Randy Goldberg made a deal with FUBU founder Daymond John. Bombas makes quality socks and donates a pair to someone in need for every pair sold.
They've branched into corporate gifting, offering customizable socks in packaging that showcases the quality of their product and tells recipients about the ways their gift is giving back.
Traditionally, Bombas found that gift boxes had a very long lead time but since they began working with Packlane, their turnaround has sped up and they're now able to offer branding for their corporate clients. Most of their boxes contain four pairs of  Bombas socks that are gifted to employees or prospects.
According to Alex Cohen, Associate Director of Corporate Sales at Bombas, their boxes are assembled by the Bombas team in their warehouse and then shipped to customers. For smaller orders, they're able to ship the socks directly in their custom mailer boxes. 
Offering customization outside of just their socks has been really important to their clients. Clients who want specific branding for their boxes work with Bombas' design team to add their logo and branding elements to make each box a truly special item.
Ideas for corporate gifting: curating goodies recipients will love
Once you've determined how you'll structure your program, you can start curating ideas for corporate gifting. You may already have some ideas, but this list will help get the wheels turning so you can offer an exclusive and well-curated box of goodies.
As you make your final decisions, go back to your chosen price points. Are you still going to profit from each pricing tier? Consider how much each item is going to cost and make sure you don't blow your budget. If you do, raise your prices or reduce the number of items in the box.
Now… onto the goodies. If you're not selling gift boxes containing products you make, these ideas for corporate gifting will help you get started curating the best corporate gift boxes!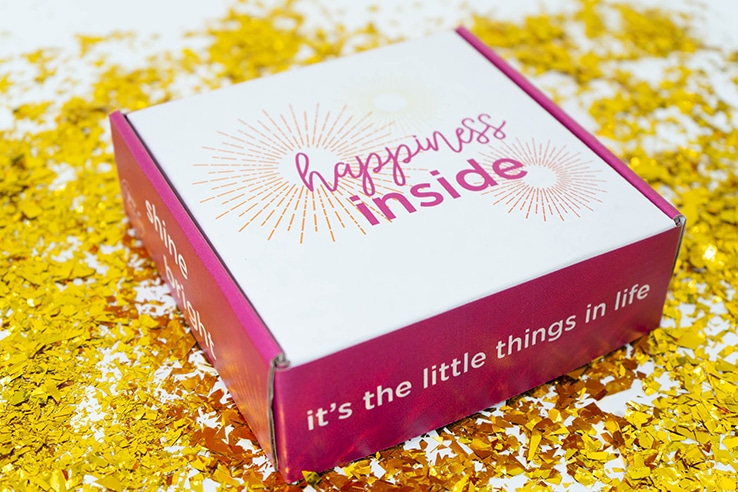 Ship Sunshine fills their boxes with items designed to bring a smile to the person who receives it. According to owner Anna Costello, they source many local (Colorado) and women-owned items to support small businesses.
They choose eco-friendly packaging supplies like crinkle wrap and tissue paper to keep their boxes protected and safe during shipment. You can learn more about their corporate gift boxes on their website.
Consumables (AKA… the tasty stuff)
From high-end, healthy snacks in pretty packaging to rich, sweet or salty treats, consumables and beverages (with a good shelf life) are one of the most reliable ideas for corporate gifting items. They're not the most personal choice, but they're almost universally enjoyed.
Fans of The Office might remember how strongly Michael Scott felt about gift baskets filled with goodies: "…I think he's forgetting about the original instant message: Letters attached to baskets of food."
While his gift basket plan didn't exactly work out, I think Michael was onto something. People love giving and receiving tasty treats! Other types of gifts can result in more clutter for the recipient once they're brought home, but consumables don't usually hang around for long.
They also allow for many moments of enjoyment (and sharing that enjoyment with others) for the recipient.
Use case: Cured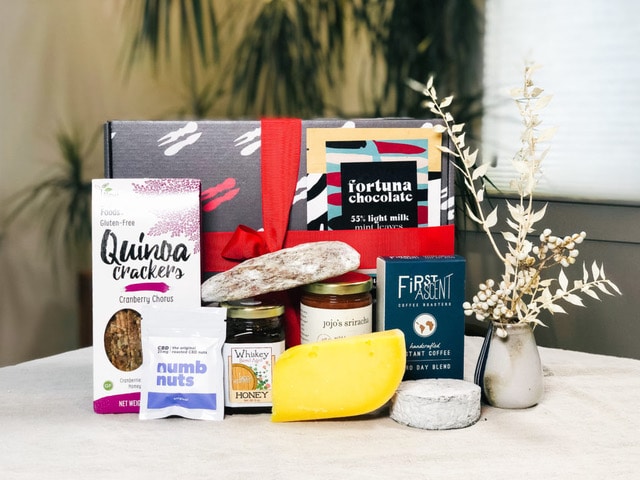 Cured is a small shop in Boulder, Colorado founded by husband and wife team Will and Coral Frischkorn. They offer a hand-picked selection of cheeses, charcuterie, wines, spirits, and other unique items.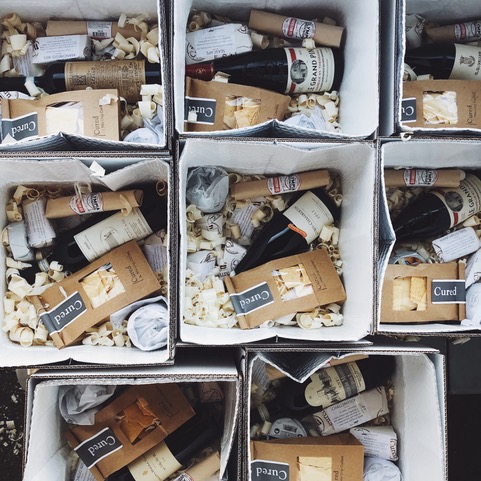 They also offer a selection of corporate gift boxes filled with loads of goodies that can be shipped to your client's doorstep.
Keeping those goodies fresh is a challenge in and of itself.
As Coral explains, "We ship perishable foods so our packaging is rather extensive. We put a silver bubble liner inside the shipping box, then an XL ice pack, then cover it all with a bunch of wood shavings that serve as packing peanuts we get from a woodworker. Each glass item is wrapped in custom tissue paper and nestled inside the wood shavings along with cards that tell about the items inside and about our business.
I designed our boxes and wanted them to feel playful but still elegant. There are so many brown paper boxes that end up on your doorstep that I loved the idea of bright colors and images that made it pop and get you excited to open up the box and eat what is inside.
Will is an Excel ninja 😉 We have a ShipStation integration on the backend of our website that automatically populates shipping labels. Then, all other orders are put into a big Excel spreadsheet that we fulfill ourselves."
I designed our boxes and wanted them to feel playful but still elegant. There are so many brown paper boxes that end up on your doorstep that I loved the idea of bright colors and images that made it pop and get you excited to open up the box.
Tech items (because who doesn't love a new gadget!?)
Fun, cutting-edge technology is another great idea to offer in corporate gift boxes. And because tech ranges from extremely affordable to crazy-expensive, you'll be able to offer a wide range of price points within this category.
Bluetooth speakers, headphones, video doorbells, device docks, and virtual assistants like Google Home or Amazon Echo make excellent tech gift box options.
Functional items that keep on giving
There's nothing better than a gift that keeps on giving. Functional gifts are made to last and be used over and over again. They may help someone do their job, make them laugh (like a funny cup or notebook), or stay organized.
An extensive range of products fall under this umbrella – think about items like:
Business cardholders

Nameplates

Desk and office organization items

Notebooks

Pens or pencils

Coffee mugs

Mousepads

Daily/monthly planners

Sticky notes
You may also want to consider functional items specific to an industry you want to serve.
Experiences
Companies can stand out by giving the gift of experiences in the form of gift cards, memberships, and passes. It's essential to offer a wide variety of experiential gifts so businesses can personalize and select those most appropriate for different employees and clients.
Examples include memberships or gift cards for movie tickets, fun lessons and classes, retreats or getaways, family fun parks, escape rooms, restaurants, coffee shops, subscription boxes, and museums.
Personalized gifts
Personalized items are among one of the most thoughtful ideas for corporate gifting. These can range from inexpensive (like keychains, tote bags, hats, or umbrellas) to high-end (like leather goods, gold or silver accessories, or high-quality pens).
Use case: Evabot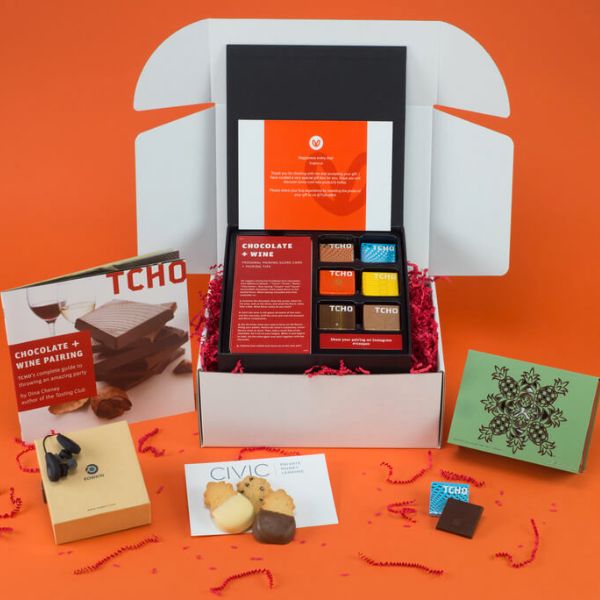 Eva allows companies to create personalized gift boxes for clients and orders unique, custom packaging for their orders. Akshay Gupta, co-founder and COO of Eva, relies on Packlane to source custom boxes that add to the unboxing experience for his customers.
The original problem they were trying to solve was to help people send gifts without them having to worry about the receiver's preferences, their likes, dislikes, and logistics. They discovered that many of their customers wanted to provide the wow experience of sending someone a custom gift in branded custom packaging. Being able to provide custom packaging for their clients was a win-win for both the sender and the receiver of the box. 
How corporate gifting benefitted Eva's real estate agent clients
Eva discovered that many of their clients were real estate agents and brokerage firms who wanted to send gifts in branded boxes. They decided to automate the entire process of gifting giving to make the experience flawless and easy.
They took a keen interest in focusing on real estate agents specifically and found that agents who sent corporate gift boxes to their clients benefitted from increased referrals better reviews, and social media praise.
Eva helps companies build & maintain key relationships to drive referrals & repeat business.
It's really hard to know the right gift for each customer, especially as the volume of customers grows. They either get their assistants to do this or default to the same gift for everybody or even worse, gift cards. Gift cards put a price tag on the gift and convert the experience into a shopping experience, not a gifting experience. Plus, there is no recall value. Moreover, It takes too much time & has the chance to go wrong disastrously like sending expensive chocolates to a diabetic.
With Eva, our clients can send amazing gifts tailored to every single customer without spending too much time while staying within budget.
Tip: Visit our website to design and preview your box in real-time absolutely free!
Designing your gift packaging boxes – an exceptional experience from the outside… in
Part of the charm of corporate gift boxes is in the way you design your gift packaging boxes. It's all in the presentation! Even small, inexpensive items benefit from the cohesive look of "kitting," or being packaged together neatly.
Kitting and other custom packaging options offer a way to enhance the value of a product in the eyes of the recipient. It provides a total gifting experience.
Not only will an aesthetic presentation make corporate clients more apt to purchase, but it will also provide an engaging and rewarding experience for the recipient.
To design the best boxes, you'll need to choose your gift packaging boxes and start looking for trustworthy and reliable gift packaging suppliers right away.
Choosing your gift packaging boxes (they're as important as what's inside)
Choosing the best gift packaging boxes is essential to create corporate gifts that please. Your gift box packaging should be:
In a Forbes article on the lucrative corporate gifting market, Laura Jennings notes, "The quality of the unboxing experience sends a strong signal to the recipient about the value of the items within."
Our clients have created some of the most memorable and personalized corporate gifting programs out there (although we might be a bit biased). Below, you'll find several examples of ways our clients utilize custom packaging to offer an exceptional gift-receiving experience.
Use case: Malvimallow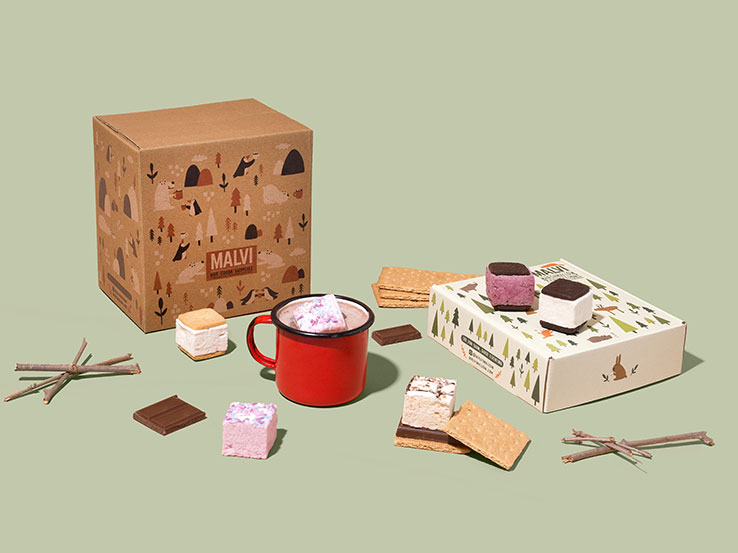 Malvi Mallow is an Atlanta-based confection company specializing in bold marshmallows and treats made with whole ingredients. From custom holiday and milestone gift boxes to company-themed s'mores snack bars, Malvi's corporate gift boxes are sure to delight everyone.
Malvi's boxes cue customers that they're in for a delightful treat. Inside customers will find a custom mix of all-natural, amply fluffy Marshmallow and/or S'mores flavors ready to bite into, warm in a microwave for an oozy treat, or dunk in a mug of hot cocoa.
According to founder Laura Curtis Retana, Malvi is focused on how they can actively meet the needs the needs of those looking for a unique corporate gift. Being able to offer custom packaging has allowed them to meet that goal.
When it was time to design their boxes, Malvi turned to Atlanta-based illustrator Katrin Wiehle. She created a series of wonderlands filled with s'mores-loving bears, penguins, bunnies, moose, and unicorns. They wanted to play with the s'mores connection to the outdoors, their personal commitment to caring for their environment, and the total joy of sharing sweets with friends and loved ones.
Ensuring their beautifully designed box arrives in one piece is top priority.
We needed a gift box that looked refined (hello Dreamcoat!) but also could hold up under tough shipping conditions without requiring an extra carrier box – our planet doesn't need that added bulk! We are able to customize sizes with Packlane so that our Mallows and S'mores fit perfectly in the boxes. Most single box orders ship in a compostable mailer. If we pack multiple boxes together we strive to use recycled & repurposed materials, e.g. label backings can be an elegant solution :)."
Pro-tips on researching your gift packaging suppliers
Choosing the best option from a sea of gift packaging suppliers is as important as the external box design and what's inside. As you begin your search looking for top-notch gift packaging suppliers, keep the following criteria in mind:
Previewing your boxes: Make sure your supplier allows you to preview your box in 3D before you move forward with a purchase.
Delivery time: How long will it take your supplier to deliver the boxes or packaging to you? Work this estimate into the delivery and shipping time for your customers.
Order minimums: Some suppliers require large order minimums. It's best to make sure you're dealing with a supplier who can accommodate small orders if you need small batches or want to create limited or seasonal orders.
Online reviews: What do others say about the supplier you're considering? If a supplier is reputable and trustworthy, you'll see positive reviews to back it up.
Supplier clients: What kind of clients does the supplier work with? Do you see other companies or businesses similar to yours in the mix? High-profile and high-volume clients aren't everything, but they are good indicators that the supplier can deliver on their promises.
Your final corporate gifting mission: shipping orders
Once the packages are in your possession, it's time to ship orders and ensure it's done promptly and with care. I know it's easy to get overwhelmed by the entire process, but don't worry! Safe shipping is a lot easier than it sounds.
Pro-tip: don't try to cut costs or ignore your shipping process – it may be the last step but that doesn't mean it's not important.
Step 1: Determine your shipping rates
When it comes time to ship your corporate gift boxes, you have several options on who pays for the price of shipping. Before you decide, consider your profit margins (i.e. if you can't afford to offer free shipping, don't). Here are your options:
Flat-rate – customers always pay the same shipping fee
Real-time – the actual shipping rates provided by your carrier
Free with stipulations – free shipping over a specific dollar amount or quantity
100% free – the shipping fee is absorbed in your product pricing and customers don't pay for shipping
Step 2: Choose a reliable carrier
When deciding on a mail carrier, consider delivery time, customer service, cost, and reliability. Make sure you have a business account with your chosen service provider. Preferably, you'll work with an account manager to solidify the details and have your gifts delivered on time (and in one piece).
Step 3: Make sure your gifts are safe (especially if they're fragile)
Shipping fragile items in the mail can be… scary to say the least. But, taking special care and paying attention to details can help ensure your goods arrive in pristine condition.
Once your boxes are safe and ready to go, drop them off with your carrier and give your customer the tracking number so they can track progress and be ready when your boxes arrive.
Step 4: Follow up
We recommend confirming the customer's receipt of your packages once the estimated delivery date arrives. This is also a great opportunity to get feedback on the process and to ask for a review or testimonial.
You're a few clicks away from corporate gift boxes of your dreams
From determining different price points that work for your audience to designing custom, fresh corporate gift boxes that pop, creating a corporate gifting program could be the best decision you make for your business this year.
By making a clear plan involving your corporate gift box pricing, product and gift box suppliers, marketing strategy, and shipping logistics, you'll position your company to provide important gifting solutions for millions of businesses each year.
These basic guidelines can help you begin building a corporate gifting arm of your business to create a new stream of revenue that bolsters your business year-round. Need help with custom packaging? We're here to help! You can design your custom box, read reviews, and browse examples for inspiration right on our website.
FAQs
What does corporate gifting mean?
Corporate gifting is a process in which businesses give gifts to their clients and employees. Businesses may give corporate gifts after hitting milestones, anniversaries, birthdays, or other special events as a way to show appreciation.
What do you put in a corporate gift basket?
Corporate gift baskets can contain a wide array of different products and goodies. We recommend including consumables, gadgets, functional items, experiences (i.e. gift cards or vouchers), or personalized gifts in your corporate gift boxes. The key to successful corporate gifts is thoughtfulness so take the time to understand what your recipient will appreciate.
Why is corporate gifting important?
Corporate gifting is an easy way to show customers and employees how much they're appreciated. Without them, business wouldn't be possible so taking the time to nurture and give thanks goes a long way. Corporate gifting is also an opportunity to develop a human connection by helping those involved celebrate special events.
What are good corporate gifts?
The best corporate gift boxes are personalized and meaningful to the recipient. So, take the time to get to know them and think about the types of gifts they would like to recieve. We recommend including snacks (that don't go bad), gift cards, personalized items, functional items, or cool tech gadgets in your corporate gift boxes.